DENT eSIM + DENT Teams (ins and outs)
DENT eSIM data plans. Features (current, upcoming, wanted), benefits, restrictions, 80 supported countries, supported smartphones and devices, installation, pricing, competitive analyses.
What is eSIM?
An eSIM ("Embedded Subscriber Identification Module") is a programmable SIM card that is embedded inside a device and can be connected to any mobile network. Which means you can install mobile data plans just like an app on your phone. eSIM gives you the freedom to change your carrier without changing SIM cards. Hence, no need to install or switch traditional physical SIM cards anymore. With as main benefit, of course, that you can just select the carrier with the cheapest tariffs.
However, there are more general benefits by using eSIM instead of physical SIM cards…
Having easy access to multiple operators on the same device for better coverage and piece of mind (if connectivity "must be guaranteed", or is needed).
Easy access abroad while avoiding high international (roaming) costs and spending time to find, buy, and switch to local SIM cards, or the necessity to hunt for free (hotel) WiFi, and still can get incoming calls at your primary phone number.
Avoid physical SIM card problems (as it gets stuck inside, difficult to get it out and switch cards).
Connect multiple phones, devices, and wearables with one data plan. Think about laptops/tablets and wearables always connected.
Besides these general eSIM benefits, DENT eSIM has some extra benefits:
DENT Teams. Share eSIM data plans among devices, or among family, friends, or team members no matter where they are, can be thousands of miles away (no hotspot needed anymore).
Worldwide Coverage (60 countries). You can use your data plan in any of these countries. Hence, no more need to buy separate country data plans for each country you visit.
Multi-Carrier Support. The DENT App automatically selects the "best" available (and supported) local carrier with the largest bandwidth and fastest speed.
Always 365 days duration. Most competitors have shorter expiration time schedules.
Free Global Voice minutes. For every 1GB purchased, the DENT app user will get 10 global voice minutes (with duration of 30 days).
[Upcoming feature Q2 2021] Sell unused eSIM data on the DENT Marketplace or on DENT Exchange.
[Upcoming feature, no ETA] Data savings and faster connection via local break-out, smart routing, data caching, etc.
[Possible upcoming feature as discussed internally by the team] DENT Cashbacks in case a DENT app user uses the data in "cheaper" countries. So, after "spending" 1GB of worldwide data for example fully in the "cheaper" country Germany, the user will get an amount of DENTs as cashback.
So, eSIM is especially very interesting for international (business) travelers as it avoids high roaming costs, and it allows you to buy data upfront from anywhere. With eSIM, before you start your trip, you can buy a data plan at home for instant use the moment you land abroad.
But of course, you can also use your eSIM data locally.
The eSIM feature is relatively new, and is currently only installed on the newest mobile devices of Apple iPhone, Google Pixel, Huawei, and Samsung Galaxy with dual SIM (both SIM and eSIM). There is one "eSIM only" smartphone, the Motorola Razr 2019.
Which smartphones and devices are supported by DENT eSIM?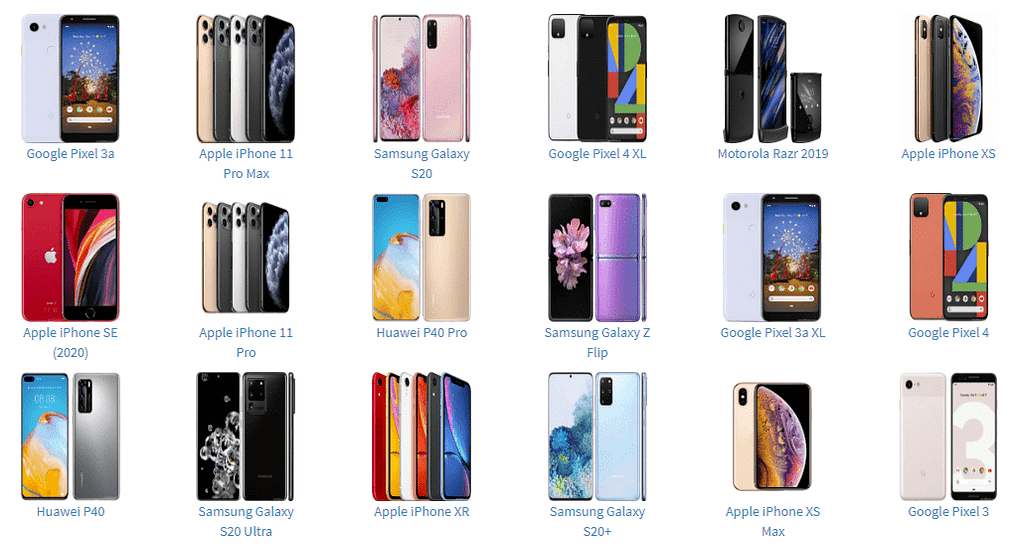 The following smartphones support eSIM and are supported by DENT Wireless:
Apple iPhone 12 ($829+)*
Apple iPhone 12 Pro ($999+)*
Apple iPhone 12 Pro Max ($1,099)*
Apple iPhone 12 Mini ($795+)*
Apple iPhone 11 ($699+)*
Apple iPhone 11 Pro ($999+)*
Apple iPhone 11 Pro Max ($1,099)*
Apple iPhone XS (out of order)*
Apple iPhone XS Max (out of order)*
Apple iPhone XR ($599+)*
Apple iPhone SE (2020) ($399+)*
Google Pixel 3 (out of order)
Google Pixel 3 XL (out of order)
Google Pixel 3a ($399+)**
Google Pixel 3a XL ($479)**
Google Pixel 4 ($799+)
Google Pixel 4 XL ($899+)
Huawei P40 (€799+)
Huawei 40 Pro (€999+)****
Motorola Razr 2019 ($1499+)
Nuu Mobile X5
(For Japanese) Rakuten Mini (21,800 yen ~ $180)
Galaxy S20, S20 Plus, and Galaxy S20 Ultra
Galaxy S21, S21 Plus, and Galaxy S21 Ultra
Samsung Galaxy Fold (LTE) ($1,980)
Samsung Galaxy Z Flip ($930+)
Know lack of eSIM support:
*eSIM on iPhone is not offered in China mainland. In Hong Kong and Macao, only iPhone SE (2nd generation) and iPhone XS feature eSIM. (https://support.apple.com/en-us/HT209044).
**Pixel 3a purchased in South East Asia doesn't support eSIM.
***Samsung Galaxy S20 Hybrid Dual SIM – Samsung produces both eSIM and no eSIM versions (So, be careful and buy the right one).
****Huawei Pro (regular) supports eSIM, but Huawei P40 Pro+ has no eSIM support.
About the pricing and "out of order"…
The mentioned pricing are just indications based upon the prices taken from the official websites of the suppliers (for USA habitants, except for Huawei which can't be bought in the US – hence prices for EU habitants and € prices used). Sometimes, these prices are "trade-in" prices. Also, some "older" models as the iPhone XS or Google Pixel 3 are no longer on sale at the official websites, but you can often still find deals from major carriers or retailers.
These Tablets and Notebooks are eSIM enabled and supported by DENT Wireless:
Acer Swift7
Apple iPad Pro 11 Zoll and iPad Pro 12,9 Zoll (3th Generation)
Apple iPad Air (3th Generation)
Apple iPad (7th Generation)
Apple iPad mini (5th Generation)
Asus Transformer Mini
HP Spectre Folio
Lenovo Yoga 5G
Microsoft's Surface Pro X
Samsung Galaxy Book S
You can find a list of all currently supported devices by DENT here.
But be sure that your eSIM hasn't been locked by your provider. Especially, if you have bought (or gonna buy) your eSIM enable device via your provider, it's possible that your provider has locked the eSIM usage for other eSIM providers.
So, ensure yourself about which policies your provider is using with respect to eSIM as it can be very annoying if you have just bought your new enabled eSIM smartphone, but you can't buy other eSIM data plans offered by other suppliers than your current provider.
How can I install the DENT eSIM profile?
Usually, before you can use eSIM data plans, you first need to install a so-called eSIM profile that you'll get from you eSIM provider. Once the eSIM profile has been installed (one-time action), you can buy eSIM any data plan offered by the particular eSIM provider. Data plans can be installed with a few clicks.
On eSIM enabled devices, you can install multiple eSIM profiles from different providers. So, it's very easy to switch from eSIM provider.
For both Android and iOS users, the DENT team made it even easier. Just select a data plan you want to buy (1 GB, 3 GB, or 10 GB), and the app will install the eSIM profile for you, and after turning on your roaming settings, you can start using data right away.
Watch the video to see how easy it is to (auto) install your eSIM profile directly in the app on your smartphone…
Steps to follow:
 1) Click "Set Up Your DENT eSIM" Red button (in the Data Plans Tab).
 2) Install Data Plan -> Click "Continue" -> Click "Add Data Plan".
 4) Data Plan Labels: Label the Secondary Plan as DENT.
 5) Select "Primary" (your current local provider) as the default line for calls.
 6) For iPhones only. Select "Primary" for iMessage and Facetime.
 7) Choose either "Primary" Default line for your Mobile Data (or DENT if you want). By allowing Mobile Data Switching, you can always switch between your installed data providers.
 8) You are ready to go.
If you have a (recent) Apple iPad that supports eSIM, watch this demo video how to install your DENT eSIM data plan by using a QR Code…
Just watch the videos above to see how easy it is to buy and install a DENT eSIM profile and data plan. And how to select the right settings for the default line, to label plans, to allow mobile data switching, and to turn on roaming. It can be done within minutes.
What kind of DENT eSIM data plans can you buy?
Currently DENT eSIM makes it easy for you. You can get a worldwide plan that covers 80 countries (soon to increased to 100+ countries), with a duration of 365 days for relatively low prices…
There are 4 data plans:
1GB for $9.99
3GB for $27.50
5GB for $44.99
10GB for $89.99
Get 20% extra data if you pay with DENTs
DENT Payment Bonus Example
At the moment, if you choose to pay with DENTs inside your DENT App, you will get 20% extra data no matter which DENT eSIM data plan you'll purchase.
Remark 1: you can purchase DENT credits from within the DENT App. The more DENT credits you'll buy at once the relatively more DENT credits you will get. There are DENT credit bundles for $3.99, $9.99, $19.99, $49.99, and $99.99. The DENT dollar conversion rate differs over time as prices fluctuate on external exchanges (and on DENT Exchange).
Remark2: Dent Wireless charges a markup on the conversion rate between 10%-20%. So, about 10% markup for the (largest) $99.00 credits bundle, and a 20% markup for the (smallest) $3.99 credits bundle.
Hence, the net benefit is lower than 20% extra data as you also have to pay a markup for purchasing DENT credits.
Remark 3: we don't know how long this 20% extra data campaign will be active. It's a up to the marketing team to continue or to end this campaign.
Get 50% Off your DENT eSIM data plans
Click on this link to see how you can get 50% extra off your DENT eSIM data plans while still paying with dollars.
Free 10 minutes Global Voice Calling for each 1GB purchase
For every new eSIM data plan that you'll buy, you'll get 10 free Global Voice Minutes for every 1GB you will buy. Hence, if you'll buy the 3GB data plan, you'll get 30 free minutes, and if you'll buy the 10GB data plan, you'll get 100 free minutes.
The free voice minutes have a 30-days validity (from moment of purchase of the eSIM data plan).
Which countries are supported by DENT eSIM?
DENT eSIM can be used in 60 countries…
| | | |
| --- | --- | --- |
| Albania | Hungary | Poland |
| Australia | Iceland | Portugal |
| Austria | Indonesia | Romania |
| Belgium | Ireland | Serbia |
| Bulgaria | Israel | Singapore |
| Canada | Italy | Slovakia |
| China | Kyrgyzstan | Slovenia |
| Congo Dem. Rep | Latvia | South Africa |
| Croatia | Lesotho | South Korea |
| Cyprus | Liechtenstein | Spain |
| Czech Republic | Lithuania | Sweden |
| Denmark | Luxembourg | Switzerland |
| Estonia | Malta | Taiwan |
| Finland | Mexico | Tajikistan |
| France | Moldova | Tanzania |
| Georgia | Montenegro | Thailand |
| Germany | Mozambique | Turkey |
| Ghana | Netherlands | Ukraine |
| Gibraltar | New Zealand | United Kingdom |
| Greece | Norway | USA |
Hence, these countries do include most of the countries in the EU, and the main countries in North-America, and Oceania. But check it out for yourself to see whether your favorite country that you are going to visit has been included.
Multiple Carriers Coverage
The DENT eSIM data plans always have the best coverage available. As the DENT App automatically selects the supported carrier with the best and fastest connection. No need, to select the best carrier yourself.
While other global eSIM providers often have a "single" contract with just one carrier per country, the DENT eSIM data plans are supported by multiple carriers in each individual country.
So, if there are for example 5 local network providers in a single country, does DENT eSIM support all 5 local networks?
No, but as far as we have tested, in all supported countries, there are always at least 2 supported carriers such that the DENT App can search and connect with the best and fastest provider.
Let's look at an example… the Netherlands.
In the Netherlands there are 3 main network providers (MNOs): KPN, Vodafone, and T-Mobile, and several MVNOs or sub-brands who use these main network providers.
To test which networks are available at your location, just "toggle off" your current connection and use the "Network Selection" feature of your mobile device.
In this case, we used an Apple iPhone and found 4 available providers (KPN, Vodafone, T-Mobile, and Tele2 (a brand name of T-Mobile)), see the left part of the image below.
So, now we know which providers are available…
After selecting and activating our DENT eSIM data plan (right part of image), we found 2 times DENT as network provider, and the other 2 providers.
Of course, the first labeled DENT network relates in this case to KPN, and the second one to Vodafone.
So, in this case, at this particular location, the DENT App has automatically chosen the KPN network above the Vodafone network as it has the best local connection.
Can you switch from "DENT" network provider yourself?
Yes, in this example, you can select the second labeled DENT (i.e. Vodafone) by just clicking on the second DENT name.
So, if you are not happy with your current DENT connection (KPN in our example), you can easily switch to another by DENT supported carrier (in this case, you can select Vodafone).
So, for the Netherlands, 2 (out of the possible 3) main carriers are supported by DENT eSIM. And there is no support for T-Mobile. Why not?
Well, it's guessing, but you can probably imagine that it's "undoable" to have contracts with all carriers worldwide. And in practice, it's sufficient to have contracts with the main carriers with excellent coverage. (Note: it's common knowledge that the networks of KPN and Vodafone have a better overall coverage than T-Mobile in the Netherlands).
So, to summarize, the carrier coverage is for each country different and based upon contracts and partnerships between network providers (MNOs), but the DENT eSIM data plans support multiple carriers with at least 2 "competing" carriers in each country. And the DENT App automatically selects the best local carrier (with the best and fastest coverage), but if you want, you can switch to another supported DENT carrier.
So, a great competing feature above other global eSIM providers who just use one carrier per country, or don't allow you to switch from carrier.
The only thing we would like to be adjusted, is the labeling. All supported DENT carriers are labeled with DENT. So, it isn't easy to see which actual carrier is being used.
Payment Methods
The DENT app user can pay directly via PayPal, Credit card, Apple Pay, or Google Pay in dollars. Or you can pay with these major cryptocurrencies: BTC, ETH, BNB, BAT, or DAI. Either by transferring the related amounts or by using the Samsung Galaxy Blockchain wallet (for those of you who have a Samsung Galaxy device).
And of course, you can pay with (earned) DENT.
In case, you have some "leftover" DENT (lower than the full amount that you have to pay in DENT), you can pay partly with (this leftover) DENT and the remaining part with dollars. In the example above, you can see that the leftover data of 116,696 DENT (worth $37.25 at that moment) was used to largely pay the $39.99 fee (and as a result $2.74 was paid via PayPal). All, in one transaction.
So, a great way to "spend" your referral or DENT welcome joiner bonus.
Due to the continuously changing price of DENT and other cryptocurrencies in comparison to the dollar, the price for the data plans expressed in these cryptocurrencies is often updated.
(Note: for each direct dollar transaction, on the background DENT Wireless automatically buys the required DENT on DENT Exchange by executing a DENT buy order in the DENT/BTC trading pair)
DENT Teams Web App features
The new DENT Teams feature is a special developed and easy to use Web App, where DENT App users who have an active DENT eSIM data plan, can share the same data plan among multiple (eSIM enabled) devices and/or share the same mobile data with friends, family, or colleagues.
So, no need to buy multiple data plans for multiple devices for all your "team" members. Now, just one data plan is enough.
The team members even don't need to have the DENT app installed. They just need to scan the QR Code (received via email) with their device, and the data plan will automatically be active to use.
This is how it works…
Just click on the "Add Team Member" link, and enter the team member's first and last name, and email address.
For team data sharing, there are 2 options:
Sharing of all the available data, where the team manager allows the new team member to use all the "Remaining Team Data", and pool the data with all active team members.
Sharing a "Dedicated Balance" where the new team member gets a specific allocated number of "X" GB assigned that the user can use for himself. The amount of "X" can only be a round number (1GB, 2GB, 3GB, etc.), no decimals. And after allocation, the remaining team data will (of course) be decreased with the allocated amount of GB.
These options are multiple exclusive. So, it's either "Shared" or "Dedicated Balance". Hence, if the "Use Dedicated Balance" is not selected (the green button in the image above), by definition pooling is used for this team member.
After entering the details (name, email address, and selection of sharing or dedicated balance), and clicking the button "Add Team Member", the new team member is added to the dashboard, and the system automatically sends an email to the new team member with instructions how to activate the DENT eSIM data plan by using a QR-code.
Note that the QR Code automatically installs a new eSIM profile on the device of the new user, that can be labeled with any name the user wants.
So, if the team member already has a (personal) DENT eSIM profile, the team member will get a new DENT eSIM (team) profile. But of course, if the team administrator allocates more GB (via the dedicated balance) to team member, this extra data will be counted up to the prior allocated (and unused) data for that team member.
From inside the dashboard, the team administrator can see whether the new user actually has installed the plan, and besides adding new members and allocation of extra data, the administrator has 4 options with respect to the management of existing team members:
Change the type from "Shared" into "Dedicated Balance" or vice versa.
Change and edit the personal information of a team member.
See all the eSIM details as QR Code with easy resend feature.
Activate, de-activate, and re-activate a team member.
Note: the team administrator has to be a registered DENT App or Exchange user, but doesn't need an eSIM enabled device himself to purchase and share DENT eSIM data plans from within the DENT TEAMS dashboard.
(Of course, if the administrator has no eSIM enabled smartphone, he can't use the eSIM data himself).
Ad option 3: As positive effect of using QR Codes, it's possible that the team member doesn't have to use the email feature, and can enter his own email address.
This can be handy if "the administrator" wants to connect his own other devices (as laptop or wearable) where he wants to use all his data with just one DENT eSIM data plan. In this case, the QR Code has to be "read" by the device to activate the data sharing.
Or in case a team member has no email address (for example a parent who wans to share with the kids), or if the administrator wants to send the QR Code via another medium (like messenger apps) to the new team member.
Ad option 4: although it's very easy to activate, de-activate, and re-activate a team member, at the moment, there is no feature to delete a team member.
Probably, because a "full" deletion also leads to a de-activation (i.e. not connected anymore) team member's eSIM user profile. And the only way to activate this team member again, will be via a new QR Code and new eSIM profile installation. So, by not having the team member deletion feature (but just the de-activation feature), a team administrator can't delete a user by accident and ensures that always the same DENT eSIM profile will be used by the team member.
Besides the easy pooling or sharing feature, the team manager can also easily purchase data plans from inside the Web App…
Hence, a team administrator or any regular DENT App user can directly buy new data plans from within the DENT Teams Web app using PayPal or your DENT balance directly without using the DENT App.
Awesome, for users who don't want to use their mobile for payments but prefer to use their PC. This feature is especially meant for businesses. And probably, bigger data plans will be added in the near future.
But the feature that you now can pay from within DENT Teams is also easy for users who want to share data among friends or family, as it's the central place to manage the team member (and devices). So, logically the best place to buy new data plans if you are running out of data, or want to share more data among other users and have to buy additional data.
How competitive are the DENT eSIM Data plans?
Well, first it should be noticed that the DENT eSIM data plans have a 365 days duration with "worldwide" coverage (80 countries).
And most other providers use a range of data plans where they combine the 3 main components together in a specific data plan with:
a certain number of MB/GB.
a certain country, region, or worldwide coverage.
a certain duration in days (1 up to 365 days).
The used pricing structure is logical and based on these principles:
Of course, the more MB/GB you'll get, the more you have to pay. But due to the "quantum-discount mechanism", the more you buy the cheaper the price per MB.
The more areal coverage, the higher the price. Hence, a regional package is always more expensive than the highest-priced individual country in that specific region. And the worldwide package is more expensive than the highest-priced regional package.
The longer the duration, the higher the price.
Providers usually offer several plans per country/region with different sizes and durations.
So, to avoid unnecessary costs, a user has to do estimate his usage (when, where, and how much), and select the data plan that suits his needs the most.
Often the selection goes like this…
If you are going to visit a single country, you'll buy the country plan, but if you are going to travel in a certain region, you'll buy the regional plan. Most of the times, for most users the worldwide coverage is not interesting (as it's priced higher, and people will stay in a region, also if you consider the often short duration limits, hence you can't use the data on your next trip to another part of the world as the data has been expired).
As said, DENT Wireless wants to disrupt the eSIM market with its long duration of 365 days, worldwide coverage, pooling of data among users and/or devices, and (upcoming) option to sell unused data (among other DENT App benefits as Afterburner, Offer Wall, referrals).
So, by definition, for all other providers, you'll see that the data plan with worldwide coverage and the longest duration, has the highest price in comparison to all other packages with less coverage and shorter duration.
Just do your own research, but the DENT eSIM data plans (with standard worldwide coverage and 365 days duration) are the cheapest that you can find anywhere else. No other provider can't compete with DENT.
But, of course, a user is free to choose and can select a data plan with coverage for a single country (or region), and shorter duration from any provider he wants, if that's just what the user needs.
As there are many user cases, let's simplify it a little…
How competitive are the DENT eSIM data plans in case of average usage?
Most business trips and regular vacations vary between a few days up to a maximum of 4 weeks while visiting 1 country most of the time. So, let's assume, for your mobile data abroad, you'll need a duration of 30 days, and 3GB data (as that's more or less the average usage per month worldwide (source Statista.com).
The DENT eSIM data plan for 3GB costs $27.50, hence $9.17 per 1GB.
Well, now we know what to look for on this eSIM comparison site (esimdb.com), 3GB with 30 days duration, and individual country (or region) coverage…
For Europe, there are several other providers who offer lower prices than DW is charging. There are providers who offer 1GB for 30 days for $2.00 or less (and the higher the size, the lower the unit price).
Outside the EU, the DENT eSIM data plans are more competitive.
So, to summarize…
The DENT eSIM data plans are competitively priced outside the EU, and have the most flexibility with worldwide coverage, 365 days duration, DENT Teams feature, and (upcoming) future feature to sell unused data.
Read this blog post How is DENT Wireless positioned to win the eSIM data market battle from its competitors? for a more in-depth eSIM market analysis.
---
eSIM is the future and the adoption is growing. DENT Wireless is fully prepared and can compete with any other supplier as the marketing mix is excellent…
One plan for 80 countries. One year duration. One price. One team.
At fair rates and with always the fastest possible 4G LTE/3G connection. And lots of…
New features in DENT App 4.0
What can we learn from the new screenshot images for the DENT iOS App 4.0 and some of the extra remarks from Mikko as announced on January 30, 2020 in the official Telegram chat group?
Instead of the Main Dashboard Tab, a new Welcome Screen is shown with button to get started, and instead of 5, there are now 4 Tabs: Data, Calls, Marketplace, and Earn.
Data:
The Data tab shows total available data, plus graph of actual usages for last 30 days. All valid Data Packages are shown in a graph and described with remaining size and existing validity in days.
Furthermore, inside this tab there is a section for "Data Sharing". Probably, this means that the DENT TEAMS features will be integrated into the DENT Apps. As Mikko didn't show the full screenshot for this part, we can only speculate whether DENT apps users will be allowed to share data from within the DENT app or that they still need to use DENT Teams but that the shared data is only visible in the DENT app.
I hope and expect that the DENT TEAMS features can be done from DENT App 4.0 in the future. Especially, as users also have to "split" data first before they can sell the data in the Marketplace. So, it's logical that this can be done from within the DENT App.
This is a huge improvement. Until now there was only the total data overview without break-down of the individual data plans with remaining size and validities.
And of course, there is a "Buy New Data" Package button to buy the regular DENT eSIM data plans.
Marketplace "Sell Your Data":
Here, you will see all the "active" data "packages" that you have offered to sell on the Marketplace. Again with size and remaining validity. As in the screenshot you can only see listings with full (integer) GB sizes, I expect that users can only sell in whole GBs as is the case now for DENT TEAMS (hence you can't sell xyz MBs, but only 1GB, 2GB, etc.)
There is also a special deal section. I expect that DW can offer a specific plan with a discount that can be changed and switched on/off by the marketing team.
Marketplace "Buy Your Data":
To search in the Marketplace, users can filter by Price, Data, or Validity.
As DENT App users can just hit the "sell data" button to sell, and use the filters to find a secondary data plan to buy, I expect that everything related to "trading of data", can be done from within the DENT App, and that no access is required for DENT Exchange.
But maybe users with access to DENT Exchange have more "trading features" as they now have for the SIM data and prepaid packages and voice packages.
Mikko didn't show new screenshots for the Tabs "Calls" and "Earn". Hence, I don't expect many changes there.
Furthermore, Mikko informed us about 2 other new aspects:
"We are also discussing about giving DENTS back as a reward after you have used a GB, as the real network cost for all 200+ operators vary a bit, even if the sales price of ours is the same, we will give the price differences and savings directly to the users. So after being for example in Germany, you can claim DENTs as a reward."
"There will be a completely new reward system, Afterburner will be replaced by a better one with more token action."
So, to summarize…
DENT App 4.0 is a huge improvement with:
-better usage stats (and insights if remaining sizes and validities).
-new feature to buy and sell data on the secondary market.
-special deal section (inside the Marketplace) where DW can offer and try out new deals (with specific sizes and validities).
And hopefully soon added with the new reward system (where users get a DENT cashback in case they have used data in a "cheap" country).
Other new upcoming announced features
In the new roadmap these new features have been included :
[Q3 2020] Research and development on GGSN technology to enable local breakout to save mobile network capacity and to make data transfers faster for the users.
[Q4 2020] DENT eSIM with an embedded telephone number. Hence, no need of any carrier subscriptions anymore.
[Q4 2020] Add eSIM benefits for DENT Afterburner.
[Q4 2020] Connect DENT with popular messaging apps like Apple iMessage, WhatsApp, Facebook Messenger and others to be able to send data packages in an integrated way.
[Q1-Q2 2021] Launch Data Trading for eSIM on DENT Exchange and on Mobile (DENT Marketplace). See above for the DENT App 4.0 features.
[Q1-Q2 2021] Enable DENT eSIM for Windows 10 tablets and laptops.
But of course, as heavy users, we still have some "wants" and ideas how DENT eSIM can be improved…
Ideas how to improve the DENT eSIM user experience
We want DENT Wireless to expand its telco services further. Now, the main focus is on using DENT eSIM as secondary data-only provider. Especially, targeting international (business) travelers. So, besides bundling with DENT Voice, we like to see SMS services, and the feature to purchase a Personal Extra Number (PEN) in as many countries as possible with the option of number portability such that users can (at least) port but preferable transfer their existing number to this new DENT services. Of course, with the idea, that no local carrier is needed anymore, and that DENT can become the primary (default) local and worldwide provider. (Of course, with competitive local, regional, and worldwide pricing, see below)
The eSIM data market for laptops, tablets, and wearables (as smart watches) will increase significantly the coming years. Truphone now has special eSIM products for laptops/tables and wearables, we think that DENT Wireless should also come up with dedicated products and services for these markets.
Besides just the one worldwide plan with 5 optional sizes and standard 365 days validity, we want to see individual country and regional plans with different sizes and different durations with a sales price structure based upon the actual "cost price". An excellent way to achieve this is via a Pay As You Go plan. For more background information and the underlying reasoning, read this post What's the optimal pricing strategy?
Until recently, you can only purchase your eSIM data plans via in-app purchases. With the feature to purchase (and pool) data plans via DENT Teams, team "managers" can now also purchase data plans via their PC or laptop via the DENT Teams Web application. This is a great start, but we want the option that any new DENT eSIM user has the option to pay directly via the DENT Wireless website Store without having to first log into the DENT App (meaning to first download and register the DENT App). Also, if the prior recommendation will be implemented, it will be much easier for users to quickly select (and filter) the proper plan via a webpage than inside an App. (A regular user will follow this process: select country/region, select size, select duration, select extra features)
Extra payment methods. After reading many reviews, we see that users like Alipay and WeChat Pay as extra payment methods.
For users while traveling abroad, it's not clear which local carrier is being used and whether this carrier offers the best quality (bandwidth, speed, network type 2G/3G/LTE/4G/5G). Some other Global eSIM providers do mention their international partners (f.e. check out Ubigi's coverage), and indicate that most of the network connections have a certain level as 4G/LTE. As far as we know, DENT Wireless is using the best local provider available (with the highest bandwidth and speed). But if this is true, it should be clearly communicated as a main benefit. Let alone, if DENT Wireless uses other techniques and becomes technical superior to other Global eSIM providers (as local break-out, smart routing and caching) to save data and costs, then go ahead, shout it from the rooftops. (BTW, the easy automatically installation of your DENT eSIM profile for the DENT Android App, is also an unique user experience).
As 45% of potential eSIM users (source: Ericsson Consumer Lab report Global) will just add another provider as back-up provider in case of bad or no access (especially important in emergency situations), we would like to see a (improved and clearly mentioned) carrier selection feature. Hence, that a user can select out of several local carriers (for example, if the standard automatically selected carrier is losing connectivity). We know that the DENT app already automatically switches from network carrier if the current connection falls away, and for most users that's enough. But most users don't know that they can switch from carrier themselves. Again, this current "hidden" and operational feature is worth to mention as it will give users a "piece of mind" and strong preference for using DENT eSIM above other global providers.
Chat/Support feature. During the checkout process via DENT Teams, there is the option to chat with support. We would like to see this option on DENT Wireless' website, and inside the DENT Apps as well. During checkout it's the most crucial to help potential new clients, but in general nowadays people expect an easy way to connect with a business. Just a formal email support system with a standard FAQ is not sufficient these days. Especially, if it can takes several business days (yes, no support during weekends) to get an answer.
As eSIM is relatively new, there are many questions potential users can have and that are not answered in the support sections (FAQ). Think about questions as "How can I see whether my eSIM device is locked?", "What can I do to unlock my device?", and many more, just look at the FAQs at the websites of other Global eSIM providers (just strive to answer any possible question in the FAQ).
With respect to the unlocking of devices, maybe, DENT Wireless should partner with an international online "unlock service".
A partnership with a VPN provider can also be very beneficial for both DW and DENT App users.
Speaking about partnerships… as far as I know, DENT Wireless is the only Global eSIM provider with a dedicated app for Samsung Galaxy users. Next step that DENT Wireless should go for… DENT Samsung Galaxy App installed as standard firmware on any new sold Samsung Galaxy? Of course, with a few DENT tokens as joiner bonus.
At the moment there is the DENT Afterburner Loyalty Program, where you DENT users get free DENT Voice minutes, DENT Exchange trading discounts, and extra DENT referrals and rewards, but the most logical benefit would be to get discounts on future purchases. So, the easiest way is to expand the Afterburner with additional discount percentages for future in-app DENT purchases. But why not come up with…
A Cashback (or better DENTback) system where users get a percentage (a few percent or number of DENT) of spent amounts that can be used for future purchases (or is automatically added to the AB Vault). Or…
A "Credits system" (as RedteaGO or MTX Connect already have in place) where users can buy credit bundles for future (in-app or via the website) purchases. For example, with RedteaGO you can pay $100.00 upfront and you'll get $150.00 in "credits" (50% bonus). Or MTX Connect uses a system where you have to buy your eSIM profile for $1.00 but you'll get $3.00 in credits to use for your first eSIM data plan. Or, you can buy a "MTX Connect Yearly Subscription plan" for $60.00, and you'll get 20% discount for any eSIM data plan you'll buy in that year. Of course, as DENT token holders, we like a credit system with DENTs involved as well.
Improve the referral program. Although DENT has a referral program, the actual benefit of 100 DENT (about $0.02) is too low for many users. If you compare that with other Global eSIM providers… for example, RedteaGO gives a $6.00 credit as referral bonus (and the referrer gets a $2.00 credit) by using a coupon code. [Update: with the limited time 5GB free data referral marketing campaign, this kind of campaign is exactly what we want]
But one step beyond a referral program, is an affiliate program. DENT has no active affiliate program yet (but technically they are ready and can easily implement this program), while most other Global eSIM providers do have one. Hence, it's no "accident" that you won't find DENT on eSIM comparison and review websites or blogs. Of course, an affiliate program comes with a (marketing) cost, but you'll only pay out after a real referred new client has actually purchased an eSIM data plan. And we know from the past that the marketing team could attract many "big influencers" who attract lots of new DENT App users. If you reward them better, I'm sure they can become great affiliates.
Besides the regular "invite a friend" referral campaign and DENT Earn Tab (Offer and Survey Wall), DENT Wireless has no "social sharing campaigns" where you can post about your "DENT liking", and get rewarded with DENTs (these can be used to purchase data plans directly, but may not be refunded, or exchanged for cash). But maybe, this will be part of the social media campaign as announced in the roadmap and planned for the first half-year of 2021.