DENT Earn (ins and outs)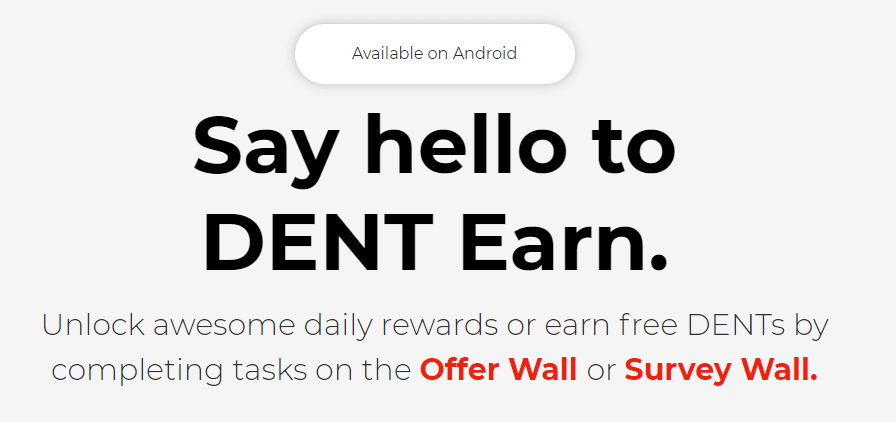 DENT Earn (Offer Wall and Surveys Wall). All features, benefits, restrictions, and things you have to know about getting free DENTs via the Earn Tab.
(Note: this feature is only available in the DENT Android App, and unfortunately not in the DENT iOS App)
What is the DENT Earn Tab?
The DENT Earn tab is one of the 5 main tabs inside the DENT Apps. It gives users the possibility to earn free DENTs by either performing tasks in the DENT Offer Wall, or by answer one or more surveys in the DENT Surveys Wall.
DENT Offer Wall
By clicking on the DENT Earn Tab, you enter the DENT Offer Wall, where you get rewarded with free DENTs by watching instant videos, playing mini-games or downloading apps. You'll see upfront how much DENT you can earn and you decide whether you like it or pass it on.
The Offer Wall consists of 2 tabs. The "Playtime – earn DENTs now" tab and the "Recommended Apps" tab. Plus the daily video reward.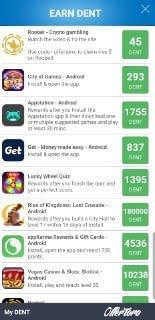 Especially, the reward for watching daily videos is interesting as there is a 3-days built-in mechanism that that doubles your rewards, two times.
Hence, if you'll watch a video the first day, you'll get 100 DENT, if you watch the second one within 24 hours, you'll get 200 DENT, and on the third day, you'll get 400 DENT. And thereafter, the "loop" starts again.
To make it even more interesting, you can lock up DENT into the Afterburner Vault and get a percentage on top up of these daily rewards. The extra percentages starts with 11% if you have deposited 30,000 DENT, and counts up to a 100% bonus (so, double the amount) if you have deposited (almost) 10 million DENT into the AB Vault.
Note: the number of received DENT can change over time. It depends on what the advertisers want to pay and what the price of DENT is. It's even possible that there are no Offer Wall items available due to lack of interest of advertisers in certain countries or specific period of time (holidays for example). This can be annoying as you'll only see this message "Earn Tab is not available". And you have to regularly come back to see whether the Wall is open again or not. And yes, if you have added DENT into the AB Vault (the Loyalty Program), you won't get the extra free DENT rewards either.
To prevent fraud and misuse, access is limited to verified DENT App users only. So if your EARN tab is not active, your country is either not eligible, or your account is not verified (you can check that by going to your account overview where you will see a notification if your account verification is not complete).
For those of you who want to know which "monetization service" is being used? The DENT Apps use services from Offertoro.com.
DENT Surveys Wall
Answer surveys and get rewarded. If you love to earn free DENT, just answer some questions, and/or give your opinion on different online surveys or polls. In return you will receive free DENT.
Some surveys are long and others are short. Usually, the more time it costs, the higher the free DENT rewards.
However, for most of the surveys, you first have to answer some basic questions about yourself to see if you match the criteria for participating in the survey/poll as the issuers want answers/opinions from their target audience.
No big deal, but for some surveys, you won't met the criteria as for example you have to be an entrepreneur, or has to be a citizen of a specific region/country.
Again, the Surveys Wall is subject to availability.
For those of you who want to know which "monetization service" is being used? The DENT Apps use services from Pollfish.com.
Refer a friend and get free DENT
Besides earning free DENT via the Offer and Surveys Wall, you can earn free DENT by referring/inviting friends to download the DENT app.
Both you and your "friend" will get the same number of free DENT. At the moment for most of the countries, the referral amount is 400 DENT.
In order for you to receive your DENT referral credit, your referrals are required to download and install the DENT app, as well as complete the account registration process.
Occasionally the network gets overloaded, often the case with a new country launch for example, and referral credits may take up to a day to show up in your DENT account.
DENT Wireless reserves the right to limit referral bonuses in any situation, including but not limited to, cross country referrals and the maximum number of referrals.
Limited time Campaign
If you have an eSIM enabled device, you can invite your friends and you can both earn 5GB for free DENT eSIM data. The only thing your friend has to do is (besides the download of the DENT App and registration) to buy his first eSIM data plan. This can be any of the 3 plans (1GB, 3GB, or 10GB).
So, yes, by buying just 1GB eSIM data plan for $4.99, you'll both automatically get 5GB for free. For all details, read our post about this 5GB for free campaign.
Other remarks
Note: As the marketing team often starts, adjusts, or even (temporarily) ends referral marketing campaigns, the number of free DENT can change over time. Also, they have a "fraud detection" system to avoid misuse of the referral system.
It's also important to know that free DENT received via referrals or rewards can only be used inside the DENT App (for data/voice purchases, or for depositing into the Loyalty Program) and can't be withdrawn to external wallets.
Overall, the Offer and Survey Wall are easy to use.
And as per roadmap in Q4 2020, the Offer Wall functionality will be improved for app users. So, who knows what's coming next.
Earn Tab Recommendations for the Management Team
Dent daily (video ad) rewards should be based upon received (USD) ad income. So, rewards should be higher for Tier1 countries, and lower for countries with lower ad income (per video view).
All incentives can be switched on/off by the marketing team in accordance to their marketing plan, or it depends on the availability of advertisers and their (video) ads and offers. However, there is a group of users who rely on this feature and watch the video ads daily (and who even deposited Dent in the AB Vault to get extra daily rewards). Turning off this feature and by just showing this message "Earn Tab is not available" leads to lots of questions and complaints (and even bad App rating reviews). So, please improve the "communication" about this feature with the "what and why" in case of turn-off, and upfront info that this feature is subject to the "availability" of new offers.
We want to see the team evaluate whether it is possible that DENT App users will get DENT rewards by giving access to their mobile data usage, app usages, and or internet browsing data. At the moment, there is a very interesting pilot to use Streamr's Data Union concept for mobile user data. We wonder if DW can introduce its own Data Union and using DENT instead of DATA as revenue payout to marketplace subscriptions. Of course, DW should set up a Streamr account, use the Core App, and create a smart contract in ETH, and the system calculates the revenues in DATA, but maybe it's possible to transfer the DATA into DENT via an extra smart contract or pay-out script. We think it would be awesome if DENT App users can "sell" their "privacy" as personal data and browser behavior and will get DENT in return. But maybe the solution to get paid out in DENT instead of DATA is even easier if you just allow DENT App users to easily convert the DATA into DENT. As both are ERC20 contracts, and either by using a sidechain or by using a layer 2 on top of ETH as Matic, the transfers from DENT into DATA and vice versa on a user level and in small amounts can be done very cheaply (i.e. low transaction costs).
Partnerships with other (ERC20) utility tokens who reward their (app) users with free tokens for performing tasks. Think about BAT and PRE (SEO/browsing rewards), STORMX (completing micro-tasks or shopping), and others. Why not cooperate with each other such that users can exchange these tokens with each other from within their apps/accounts.