DENT Apps (ins and outs)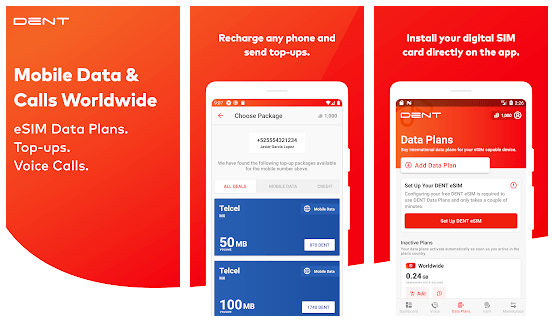 Everything you have to know about all DENT Apps. The features, benefits, restrictions, upcoming and wanted new features, FAQs, and more.
Where to download the DENT Apps?
There are 4 different DENT applications that can be used on different mobile phones (depending on which mobile operating system you are using).
---
For these 4 Apps together, there have been more than 26 million App downloads, with registered and verified users.
As terms of services and policies what kind of app may be developed, can be different among "App Stores", not all features are available in each above mentioned 4 different types.
The Android App has currently the most (and all) features, while the iOS app has less features.
Overview of all DENT Apps and DENT Exchange features…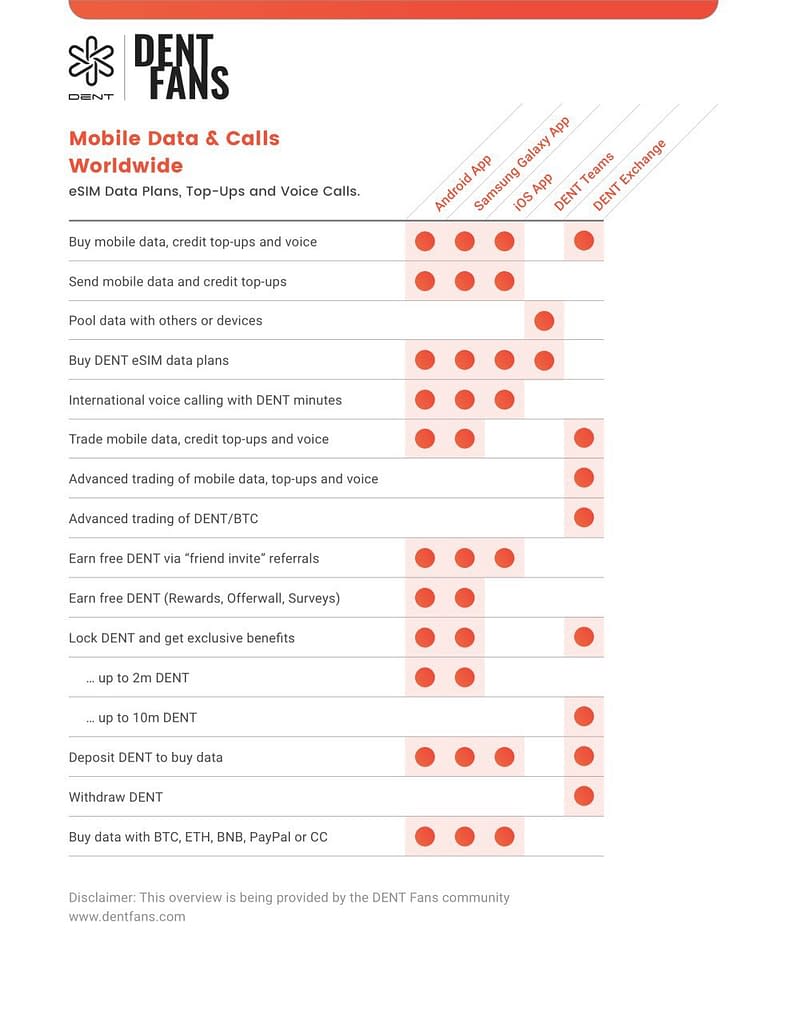 Check your individual situation to see which features you can use
DENT Wireless tries to offer all features worldwide to as much users as possible. But mainly due to legal requirements, technical specs of devices, different terms of services (for app developers), and required cooperation with local operators, not all features can be offered to anyone.
So, it depends on your situation whether or not you can use all these features. Follow these questions to see what you can do with your device, and where you can use the DENT App:
What mobile operating system are you using? See the overview above between the differences in features between Android, iOS, and Samsung Galaxy. (For Chinese inhabitants who have no access to Google Play, download the Android apk app).
Who is your local telco provider? Is the provider supported? Hence, can you buy mobile data or prepaid top-ups from inside the DENT Marketplace for this provider? (See list of supported countries and operators)
What type of mobile phone do you have? eSIM enabled or not?
Where do you live? "Only" inhabitants of 43 countries are allowed to open up an account on DENT Exchange (due to different legal international policies about exchanges). Also referral bonuses and Offer Wall offers are subject to availability and are different in each country.
Where you are abroad? You can use DENT eSIM in 60 countries.
Do you have internet access or not? You can only use DENT Global Voice Calling (to call to any mobile or landline in 141 countries) if the caller has internet access as it uses VoIP technique. (Note: the receiver doesn't need internet access, just a mobile phone or landline)
So, check out the official pages, to see if you can have access to DENT Exchange, if your operator is supported, and in which countries you can use DENT eSIM and DENT Global Voice Calling.
Below the links to all current DENT products (as described and analyzed in-depth on this website):
The main current DENT Apps features
DENT Marketplace. Buy/sell mobile data and prepaid top-ups.
DENT Voice. International Voice Calling to 141 countries.
DENT eSIM. "Worldwide" data plan for 60 countries, with 365 days duration, and 4 plans: 1GB, 3GB, 5GB, and 10GB).
Activate and use voice/data packages.
Send bought carrier data packages to friends.
DENT Earn. Get free DENT Tokens for watching video ads, completing questionnaires/surveys, or playing games (Offer Wall).
DENT Afterburner Loyalty Program. Get extra benefits and discounts.
As payment methods, you can choose between paying with USD by using Credit Card, PayPal, Apple Pay, or Google Pay. Plus, you can pay with cryptocurrencies/tokens as DENT, BTC, ETH, BNB, or DAI. Or you can use the Samsung (Galaxy) Blockchain Wallet.
The following features are "hidden" inside the "My Account" page (click on the profile image to open the "My Account" page.
DENT Balance, My Packages, and Vault Balance overview with history.
Buy DENT with dollars (DENT packages valued at $3.99, $9.99, $19.99, $49.99, $99.99).
Deposit DENT. Users can deposit DENT from any (exchange) wallet address to the App (but once deposited, these DENT can't be withdrawn and can only used inside the app).
Redeem Voucher. Here you can enter the code to redeem your free first eSIM data 1GB trial (if applicable).
[If open for your country] Referral Program. Invite a friend and get free DENT Tokens or free data.
Account and App settings as Email Settings, Privacy, FAQ, T&C.
International versions. Just select your favorite language: English, French, German, Indonesian, Korean, Portuguese, Simplified Chinese, Spanish, Traditional Chinese, Turkish, and Vietnamese.
For the main features we created separate posts. Just click on these hyperlinks above in the overview.
Notice that you can now buy data packages and plans with USD directly. The system automatically buys the exact required DENT amounts as necessary. So, there is no need to buy bundles of DENT (priced in USD) anymore, unless you want to deposit some in the Afterburner program or buy DENT upfront for future purchases.
Besides these 4 DENT apps, there is a DENT Teams Web App for users who have an active DENT eSIM data plan and want to use multiple devices and/or share the same mobile data pool with friends, family, or colleagues. (With the DENT Teams Web App, you can also directly purchase eSIM data plans. Hence, no need for in-app purchases, instead purchases can be done via the web page)
If you live in one of the 43 supported countries, you can have access to DENT Exchange. Here users can trade in mobile data and prepaid top-ups, or trade in the DENT/BTC pair.
Extra features for users who have also access to DENT Exchange
In above overview, you can see that DENT Exchange users can also lock up more DENT tokens in the Afterburner Vault (Loyalty Program) up to almost 10 million DENT, while DENT App users can lock up to a maximum of 2 million DENT. Why this difference?
Well, it all has to do with KYC/ALM procedures. For registration and verification of the DENT App, a new user only has to enter his email address and mobile number. (The verification process for email is simple as usual where you have to confirm the received welcome email, and the mobile phone confirmation goes automatically via a SMS verification process).
To get access to DENT Exchange on the other hand, a user also has to give more personal details and send a copy of ID card or passport.
Another important difference is that…
All DENT inside the DENT Apps (either deposited, bought inside the App, or earned for free as referral bonus or Offer Wall reward), can only be used "inside" the App. Hence for data or voice purchases, or deposits into the Afterburner Vault).
So, these DENT (aka DENT credits) can't be withdrawn from the App, or send to an external wallet. So, be careful and don't buy or deposit too much DENT inside the DENT App.
(Side note: as you don't own the private keys of your DENT credits inside the DENT App, you can't lose them. Hence, in case something happens with your telephone (broke, lose, theft), you won't lose your DENTs as you can always install the app on your new device and just log in to "get back" your balances)
As any regular cryptocurrency exchange, you can withdraw all your DENT (and BTC) from your DENT Exchange balance to any external wallet you want. However, daily/monthly maximum limits are applicable ($1.000 per day, and $5.000 per month).
For all mobile Apps, the Teams Web App, and the DENT Exchange, a user (if applicable) can access these applications with the same login username (mobile telephone number) and password. The applications are interconnected with each other. (Note that for the DENT Exchange you have to set up proper 2FA (2-factor authorization) for extra security).
How to use the DENT Apps?
Just log in with your mobile phone number as user id, and your password. There are 5 main Tabs, and a "My Account Page":
Dashboard. Here you will get a quick overview of the DENT token price (historical graph), Global Coverage (number of supported carriers and countries), the top 3 best-selling Data Deals, and the top 3 best-selling Prepaid top-ups. On top of the Tab, you can enter a mobile phone number and send a data top-up to your friends, or top-up your own prepaid card with over 220 operators currently available. The App automatically detects the carrier when typing in the phone number and suggests available package deals for you.
Voice. Use this tab if you want to make a (international) voice call. Just enter the telephone number you want to call, and if you have enough voice minutes (inside your voice bundle or free Afterburner minutes), you can call immediately. If not, you will enter a new screen where you can buy a voice bundle of 50, 100, or 200 minutes.
Data Plans. If you have an eSIM enable smartphone, you can buy and use the worldwide eSIM data plans. Just follow the easy steps.
Earn Tab. Here you can earn free DENTs by performing tasks (DENT Offer Wall), answering surveys (DENT Surveys Wall), or watching daily video ads.
Marketplace. Here, you buy and trade mobile data and prepaid top-ups. Just click on the "Buy Button", select your preferred package, and go to the checkout process.
My Account. You can enter this page by clicking on the "profile" picture. Here, you'll see your account settings and your DENT and Afterburner Vault balances and history. Plus some buttons to buy, deposit, or earn DENT, use the redeem code, or to enter the Afterburner Loyalty Program page. And finally, you'll see some Privacy settings, FAQ, and legal pages.
Most of the features are very easy to use, and you won't need any explanation… just follow the steps by clicking on the buttons and selecting your preferences.
For sending a data package or start a voice call, just enter the mobile phone number of the receiver, and it shows you how to progress.
DENT Apps review ratings
In total over 25 million DENT apps have been downloaded with verified users. Of course, the DENT Android app and DENT iOS app are used the most, but remarkable there is a difference in (average) review rating…
App Store Review (Apple)
---
Google Play (Android) Review
So, as you can see, there are relatively many 1 star reviews given by Android users. Why?
Most of the times, the low reviews came from users who couldn't do something they could do before…
Less or no referral free DENT joiner bonuses ("Invite a friend"). Often, the amount of free referral DENT was lowered (or stopped) as the marketing team can adjust this amount or stop the program temporarily. For example, when a new country with new local providers are added to the product arsenal, the referral amount is set high at the start to stimulate people to refer and to boost the start. But after the "launch" campaign is over, the marketing team often lowers the referral amount of DENT.
(Temporarily) stop of Earn Tab (Offer Wall + Surveys Wall). As this is also subject to change and availability of advertisers, this program can be on or off.
Sold out data package. Sometimes a data package can be sold out. However, this doesn't happen often, but instead what happens more often…
Non-competitive pricing of data packages. As a result of traders on DENT Exchange (who want to make a profit), and the free DENT that users can acquire as referral and/or Offer Wall rewards, prices can be higher than you normally will pay at your local provider. (Read the DENT Exchange post to see how this can happen)
Technical issues. Especially with trying to log in with errors as "Too many requests, try again later". This issue has been solved.
So, the above "complaints" mostly relate to users who get less benefits as before, or see price increases (hence users can't buy the required data package anymore with just free DENT).
Plus there were many (Android) users who tried to "make a living" and misused the system by creating "fake" new profiles to get the free DENT referrals. As DENT Wireless uses a smart "fraud detection" system, it happens that these users were "banned" with as result that as kind of "revenge", these users gave a bad review.
Overall, the DENT Apps are working great, with no technical issues, but it's not a paradise for "freebie seekers" anymore…
New upcoming announced DENT App features
The items below are included in the new roadmap:
[Q4 2020 – postphoned] DENT eSIM with an embedded telephone number. Hence, no need of any carrier subscriptions anymore.
[Q1-Q2 2021] Integrate DENT with popular messaging apps like Apple iMessage, WhatsApp,  Facebook Messenger and others to be able to send data packages in an integrated way.
[Q1-Q2 2021] Launch Data Trading for eSIM on Exchange and on Mobile.
For the main features, we have wishes with respect to new features, but these are described inside the separate blog posts.
Besides the DENT Apps for Android, iOS, and Samsung Galaxy, and the apk version, we would like to see that there will be a DENT app for the Huawei AppGallery.
With respect to registration features, we would like to see easy one-step registrations via the user's Facebook, Google, or Apple (ID).
Also, we would like to see AliPay and WeChat Pay as extra payment methods, but we are quite happy with the existing payment options.