DENT Marketplace (ins and outs)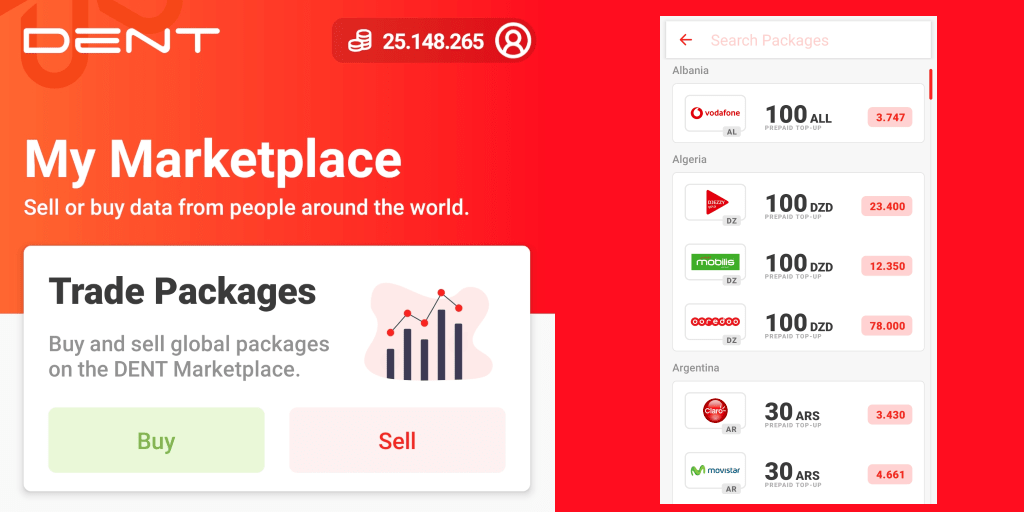 The DENT Marketplace is the place where DENT App users can buy and sell mobile data or prepaid top-ups for 227 carriers in 56 countries.
These data packages can be split into packages that are tradeable on DENT Exchange, or packages that are non-tradeable on DENT Exchange.
You are not obligated to send or activate your purchased packages right away, but instead, you can hold on to them and activate, send, or sell them when it best suits you.
DENT Marketplace supported countries and carriers
DENT Exchange users can trade data packages for 31 countries with a total number of 113 Carriers. While for the other countries and carriers, DENT app users buy the packages directly from DENT Wireless inside the DENT App.
Click on the green colored countries to see which carriers are supported.
And/or check out (our own created) DENT Products Availability Matrix to see which countries do have tradeable packages on DENT Exchange and which countries can only be bought inside the DENT apps (in the Marketplace tab).
Another easy method to check if your carrier is supported…
Use the "Send top-ups to" Box (on top of the main dashboard inside the DENT App), and enter the mobile number for which device you want to buy data or prepaid top-ups (for own usage or sending to a friend). The system automatically checks whether the related local provider is being supported by DENT, and redirects you to the available packages.
Then just follow the steps and buy your favorite package.
Common asked questions about the Marketplace
Where do I find my bought and tradable packages?
The packages you have bought on "My Marketplace" without activation will be in your account overview under "My packages".
You may also access them through "My Marketplace" and clicking on SELL. Now a list with all your packages will appear.
Is there are fee to buy and sell packages?
There is no fee for buying packages. There is, however, a transaction fee of 1% for each package you sell. (If you participate in the Afterburner Program, you may have a discount in accordance to your status in the program)
Differences in trading features between App users and DENT Exchange users
(Note: DENT Exchange is only available for inhabitants of 43 countries, and you have to pass KYC procedures, while for buying/trading inside the DENT App, no KYC is required)
While DENT Exchange users have all the trading features to buy and sell mobile data or prepaid top-ups (as in-depth order book, order history, order entry widget, historical price chart), the DENT App users don't have these trading features.
If a DENT app user clicks on the green buy button inside the Marketplace app (see featured image on top of this page), he sees all the available data packages categorized per country on alphabetical order.
So, both the packages directly offered by DENT Wireless and the packages offered by traders on DENT Exchange.
As purchase price, a DENT app user only sees one price… Either the lowest sell price as per the order book on the exchange (for tradeable packages), or the sales price set by DENT Wireless (for non-tradeable packages).
So, a DENT App user has just one choice… to buy the data package or not. He can't set a (lower) bid price inside the App.
What about the sell feature for DENT App users?
Of course, DENT App users can only sell a package he owns. Hence, after he has bought it first (or got the package from a friend). But what price is being used? Well, not surprisingly… the best (highest bid) price as per the order book on DENT Exchange.
To see the difference between the DENT App Marketplace and DENT Exchange in action, watch this short video…
Another limiting feature for DENT Apps users is…
When you have put up a package for sale you won't be able to buy that very same package at the same time in order to avoid buying from yourself. (While in DENT Exchange, you can place multiple buy and sell orders at different quotes)
So, to summarize… the trading features for DENT App users are very minimal, and the Marketplace is mainly used for App users who want to buy a specific mobile data or prepaid top-up package for their own local provider, or for sending a package to a friend.
And the Marketplace is only incidentally used to sell (unnecessary) packages (f.e. a package bought by mistake, or in case of changing from telco provider).
As all available data and prepaid top-ups are initially purchased by DENT Wireless, and either are sold directly to app users, or are first sold on DENT Exchange to traders… why are some of these packages being traded on DENT Exchange, and why does the marketplace exists as DENT Wireless doesn't "need" the traders as "resellers", especially taken into account that traders also have to make a profit, hence resulting into higher prices?
Well, it has organically grow this way…
As per original whitepaper and roadmap, DENT Wireless wanted to develop a marketplace where everyone can buy/sell mobile data or prepaid top-ups. As market participants you can think about telco providers selling packages directly to end users (by using the telco trading desk), but also about users who can sell (and buy or trade) unused data to each other.
Unfortunately, to create such a marketplace involves full cooperation by telco providers. Either by participation in the telco trading desk, or by allowing users to sell unused data. And until now DENT Wireless couldn't convince telcos to cooperate (except for a trial with provider PLDT).
By becoming a MVNO (Mobile Virtual Network Operator) and offering eSIM data plans, DENT Wireless has now the option as own provider to allow users to sell unused data on the marketplace.
This feature is not live at the moment, but will be possible in a few months.
Hopefully soon followed by other (eSIM and SIM based) providers who will open up the option to sell unused data or become a participant of the telco trading desk.
Announced new features
[Q1-Q2 2021] Launch Data Trading for eSIM on Exchange and on Mobile.
Future Marketplace features we would like to see
More advanced trading features for DENT App users (as in-depth order book, order history, order entry widget, historical price chart).
Option to buy more than just 1 single data or prepaid top-up at once.
Launch of the telco trading desk with onboarding of telcos who offer packages directly on the marketplace.
Selling unused data for both "SIM" packages and eSIM data plans. Therefore, we need more carriers who cooperate and are open for this feature. Read this article The future of Selling and Trading of (Unused) Mobile Data. At the bottom of this article, it explains our wish for…
An Auction marketplace for selling unused eSIM data.