DENT Exchange (ins and outs)
DENT Exchange is the mobile data market place where buyers and sellers trade with each other in mobile data, prepaid top-ups, and voice minutes, or trade DENT against BTC.
DENT Exchange the engine of the DENT ecosystem
The DENT Exchange is also the "engine" of the DENT ecosystem as transactions triggered from within the DENT apps (or other related platforms) are automatically executed on the DENT Exchange. Think about…
A DENT app user buys a product on the marketplace (mobile data, or prepaid top-up).
A DENT app (or a DENT Teams) users buys an eSIM data plan.
A DENT app user buys a DENT bundle (Buy DENT feature with 4 packages between $3.99-$99.99).
A DENT app user gets free DENT as a referral bonus or reward for completing tasks (Earn Tab).
For example, if a DENT app users buys an eSIM data plan and pays via Paypal with dollars, the system automatically buys the required number of DENT on DENT Exchange via the DENT/BTC pair.
Or the moment, a user gets rewarded with free DENT, the system automatically buys the necessary DENT on DENT exchange.
As extra feature you can use DENT Exchange to manage (deposit and withdraw) DENT inside the Afterburner Vault. Read or separate blog post about all ins and outs about the Afterburner Loyalty Program.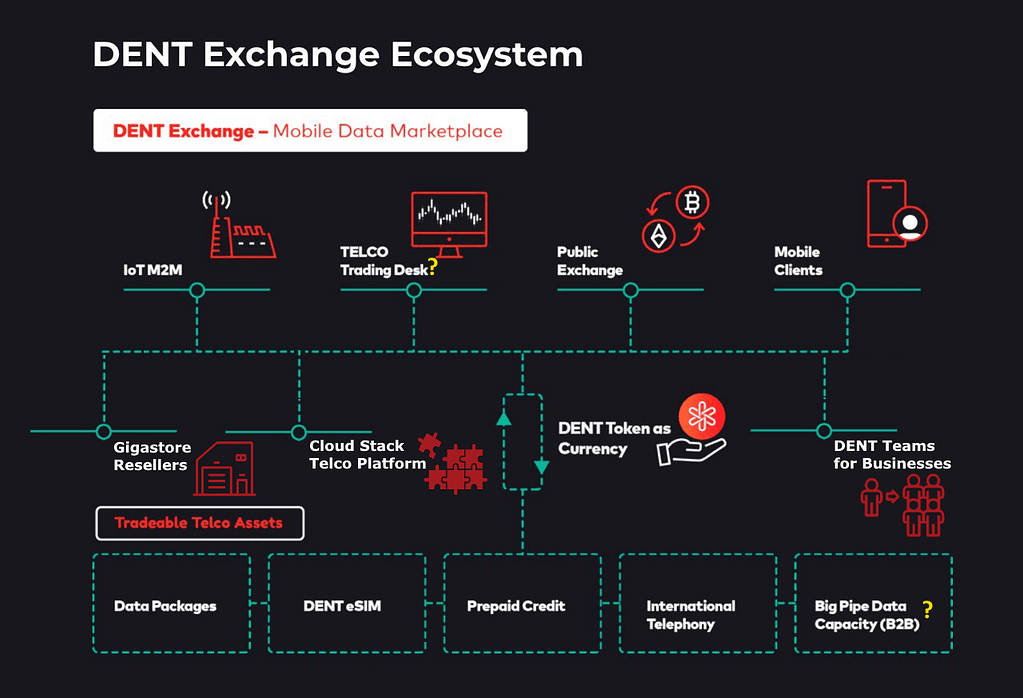 DENT Exchange Supported Countries
Of course, you'll need first access to DENT Exchange. Unfortunately, due to different legal policies with respect to cryptocurrency exchanges, this access is restricted to inhabitants of 43 countries. So, check the DENT Product Availability Matrix to see what you can do in your country, but for your convenience, here is the current list of DENT Exchange supported countries…
| | | |
| --- | --- | --- |
| Argentina | Hungary | Portugal |
| Australia | Iceland | Singapore |
| Austria | Ireland | Slovakia |
| Belgium | Italy | Slovenia |
| Brazil | Japan | South Africa |
| Canada | Kenya | South Korea |
| Croatia | Liechtenstein | Spain |
| Cyprus | Luxembourg | Sweden |
| Czech Republic | Malta | Switzerland |
| Denmark | Mexico | Turkey |
| Estonia | Netherlands | Uganda |
| Finland | New Zealand | United Kingdom |
| France | Norway | Uruguay |
| Germany | Paraguay | |
| Greece | Poland | |
DENT Exchange Account
So, if you live in one of these countries, you can register yourself for a DENT Exchange Account. To get approved as DENT Exchange user, you have to pass the so-called KYC procedures (Know Your Customer). This can take some days and depends if you deliver all necessary information (as a copy of your passport) the right way (and whether or not you respond quickly with respect to possible questions).
Once approved, your DENT Exchange account is automatically connected with your DENT App. So, you can log into both applications with the same user ID (your mobile phone number) and password. To protect your DENT balance, 2FA (2-factor authorization) is required for using DENT Exchange.
Trading Mobile data and prepaid top-ups on DENT Exchange
Out of the 56 countries, where DENT Apps users can buy mobile data or prepaid top-ups for, DENT Exchange users can trade in these products for 31 countries. While for the other countries, DENT app users buy them directly from DENT Wireless inside the DENT App.
Check out (our own created) DENT Products Availability Matrix to see all tradeable on non-tradeable countries and supported carriers.
Per "tradeable" country, you can at least trade one data or prepaid top-up package for at least one operator. But most of the times there are more than one carrier per country (113 Carriers in total) for which you can trade several different data/prepaid top-ups. Take Brazil for example…
Source: DENT Exchange (click on this link to see the live overview, and from there you can click on an operator link to see the live trading screen)
In this example, there are 6 local operators in total. For all of them, you can trade in 1 prepaid top-up (dominated in BRL), while for carrier Oi you can also trade in 4 different data packages (10MB-200MB).
Watch this demo video to see the main DENT Exchange features…
How do new packages come on the DENT Exchange?
Initially, all these packages are bought by DENT Wireless in bulk amounts (from either data access middlemen or directly from local providers) and are sold on the exchange to traders.
From that moment, an active market between traders exist where traders buy and sell from each other, and set their prices in the order book (bid-ask prices).
However, most of these packages are bought by DENT App users who often buy (just) 1 package to activate and use himself (or the user can send the bought package to a friend via the DENT App).
A DENT app user doesn't see all the sell orders in the order book (aka market depth). He only sees the current best ask price (i.e. the lowest minimum price that a particular trader/seller wants to get).
If a package is bought on the market place by a DENT app users who wants to activate and use the product, the product is taken of the DENT Exchange and be automatically delivered to the buyer. And of course, the seller receives the related DENT.
On the other side, a DENT App user can't see all the buy orders, but only the best bid price for just the package he owns (has bought earlier and didn't activate yet). So, most of the times a DENT App user won't sell a package but prefers to activate and use it (or send to a friend).
So, you maybe ask "If DENT Wireless brings all the packages on the market and the DENT app user (eventually) buys them, why is there a marketplace?
I mean, traders want to make a profit. Hence, by allowing traders to set prices higher, what's the benefit for DENT Wireless and App users?
And why are some packages tradeable and others non-tradeable (i.e. directly offered by DENT Wireless to App users inside the app)?
The answer is that the original plan was to allow local telcos to offer and trade packages on DENT Exchange directly via the tradingdesk.
However, for reasons unknown, the telco tradingdesk is not live yet.
Hence, all packages are nowadays introduced and sold by DENT Wireless, allowing them to sell a bunch of packages at once to traders, and get paid immediately (instead of having to wait and get paid later until App users will eventually buy these packages).
And it's also to DW's management to decide which packages are tradeable or non-tradeable.
Trading Voice Packages on DENT Exchange
A DENT App user can buy International Voice Calling bundles (25, 50, 100 minutes) for 141 countries.
On DENT Exchange only 7 countries out of them are tradeable. However, there is almost no volume in these voice packages, so not worth your time to investigate any further.
Note: as DENT Wireless (in theory) can bring an "unlimited" number of these voice bundles on the DENT Exchange, they can set and determine the price at any level they want (due to unlimited supply). Hence, no need for trading in Voice Packages.
As the volume in data packages and voice packages trading is getting lower and lower as described in this post INSERT LINK, traders have left the exchange, and it isn't that interesting anymore to become a trader.
So, what's left?
Use DENT Exchange for the Afterburner Loyalty Program, or for…
Trading DENT/BTC pair on DENT Exchange
(Note: there is the option to sell DENT against ETH and BNB as well, but these pair have no volume, so won't be discussed further)
By clicking on this link, you can see the live DENT/BTC trading in action.
As you can see the exchange has all the "basic" trading features as:
Order book.
Recent transactions.
Buy/Sell order entry widget.
Open orders – Order history widget.
Historical chart.
And "basic" management features. Under the "Assets Tab", you can:
See your total Balance (DENT, BTC, Mobile packages).
Deposit (DENT or BTC).
Withdraw (DENT or BTC).
See your Pending orders.
See your Transaction history.
It's interesting to know that the quotes of the DENT/BTC pair have 11 BTC "decimal" digits. So, the common 1 sat (the 8th BTC digit behind the dot) is further divided in thousands of 1 sat.
Of course, this leads to an improved liquidity as there is a huge percentage difference between a bid-ask spread of 0.00000002-0.00000003 BTC, or a spread of 0.0000000211-0.0000000213 BTC.
Also, there is always (a little) volume on DENT Exchange in the DENT/BTC pair as every minute products are being bought inside the DENT Apps, or free DENT incentives are given, that result in automatic purchases of DENT on DENT Exchange.
What fees do you have to pay for DENT Exchange transactions?
DENT Exchange charges a 0.1% fee for all transactions (trades and withdrawals).
(Note you can get up to 75% discount on your trading fees if you lock up DENT inside the Afterburner Loyalty Program).
But there are some restrictions you should be aware of:
Daily ($1,000) and Monthly ($5,000) "total" withdrawal limits for both BTC and DENT counted up together in USD dollar amounts. These are rolling limits, not calendar month. So the system will calculate all your withdrawals of the past 24 hours or 1 month from the time you intend to withdraw. If you have surpassed the limit within that period a further withdrawal will be denied.
Minimum BTC withdrawal limit of 0.005 BTC.
Access to DENT Exchange is only possible for inhabitants of 43 countries, see the full list of available countries our DENT Product Availability Matrix. And users have to pass KYC procedures.
Unequal playing field
Rather sad is that there are at least two DENT Exchange users who have more privileges than others.
One of them is a "top employee" who has no withdrawal limitations. If you'll analyze the DENT Exchange wallet on etherscan or ethplorer, you'll see this wallet address used by the owner who can withdraw unlimited amounts of DENTs (Note: he often uses transfer amounts of 20 million DENTs as the maximum number per transfer).
How do we know that this person is a "top employee"?
Well, he uses this same wallet address to get paid out his "monthly salary" from DW as you can see (for example) in this transaction.
Even more "unethical" is that this same top employee often knows upfront when DW will sell the new released tokens from the main company wallet (war chest) on DENT Exchange (in case when the released DENT tokens are transferred to DENT Exchange). These DENTS are sold (for too cheap) by DW to this top employee, who immediately transfers the DENTs to Binance to sell them with a profit for personal benefits.
Have a look to this chart below. Look at the volume bars. Every day with a high volume (above 100 million DENTs), the day that DW "dumps" its tokens, you'll see a trade bar with a long tail. The bottom of that tail is the actual price at which the top employee could buy the DENT tokens "for cheap". Yes, there were days that the price of DENT on external markets was above 1 sat, but DW sold for half a sat.
And if this top employee was a "market maker on the payroll" of DW, this wouldn't be a problem. But if you'll analyze the trading on DENT Exchange, you'll notice that there is no "market maker".
Also, there is at least one other "trader" on DENT Exchange who can withdraw multiple times $1,000 per day. Maybe, he has multiple (fake) user accounts, or he uses "family or friends" accounts that he can manage, but the effect is the same, higher daily withdrawal limits than the regular user.
Furthermore, there is one trader who has earned so much with trading on DENT exchange that he dominates the trading.
Overall, the playing field is not equal, and that's why I advise new potential traders to not use DENT Exchange for trading in the DENT/BTC pair (for other users who just do one or a few transactions to (de)invest in DENT, it's no problem).
Why is there still a DENT/BTC pair on DENT Exchange?
I mean, there is no relationship between DENT and BTC. DENT is an ERC20 token and hence has more relationship with ETH than with BTC. The DENT/BTC has (artificially) to be traded in 10 or 11 digits, which increases the chance of wrong order entries.
And the main trading pairs on Binance are DENT/ETH and DENT/USDT).
So, a "better" trading pair on DENT Exchange should be either ETH or USDT.
Both are easier for arbitrage on other exchange (i.e. Binance), and if USDT is being used, it's much easier to convert and make the "link" with the fiat prices for the telco products.
Now, a DENT Exchange user can only have BTC or DENT and can't "step out" and stay on the sideline if the crypto market is in a bear phase.
So, our advise…
Make DENT/USDT the main trading pair.
And maybe in the future there will be a USD stable coin (CBDC) that is supported by the USA government, and can act as the primary trading pair on DENT Exchange.
Announced and wanted new features
As per the roadmap 2020-2021, these new features have been announced:
[Q1-Q2 2021] Launch Data Trading for eSIM on Exchange and on Mobile.
[Q1-Q2 2021] Launch a major update on DENT Exchange to enable new kind of trading experience for mobile assets.
Below some features we want DENT Wireless to change with respect to DENT Exchange:
Increase the daily ($1,000) and monthly ($5,000) withdrawal limits.
Make DENT/USDT the main trading pair, and skip the DENT/BTC trading pair. (Where the USDT should be transferred to a "better and by SEC supported stable coin (CBDC) if applicable)
Stop trading features (i.e. delisting) for local carrier data packages as long as there is no telco trading desk. This avoids inflated prices by traders who buy up the whole supply and can "set prices as high as they want".
Use DENT Exchange data trading only for trading of unused data (eSIM and local carriers).
Allow users from more than the current 43 countries to open an account on DENT Exchange.
Introduce an Auction marketplace for selling unused eSIM data (Read the section at the bottom of this article The future of Selling and Trading of (Unused) Mobile Data).
Since the launch of DENT Exchange at December 31, 2018, the exchange had no major issues and was always accessible (except for some maintenance periods), and showed to be robust in any market situation. And in all cases, when there were some hiccups (as page speed load), the support and development team managed to get it sorted out fast.