How is DENT Wireless positioned to win the eSIM data market battle from its competitors?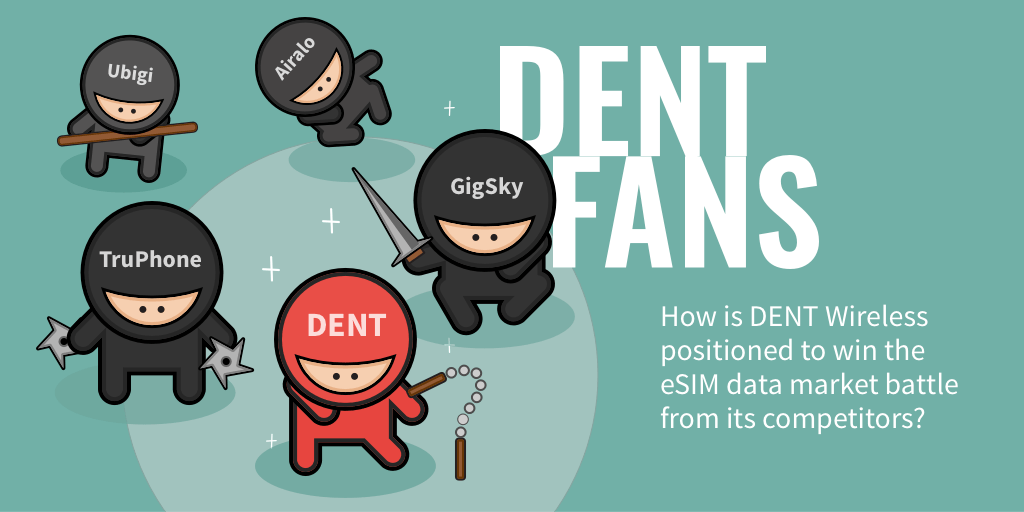 We all know that eSIM is the future and will replace SIM sooner or later.
The eSIM data market will be booming the coming years as 60% of smartphone unit sales will be eSIM-compatible in 2025, and between 2 and 3 billion smartphone connections worldwide will use eSIM (low and high adoption scenarios, respectively).
Based on Ericsson's latest Mobility Report, the number of Internet of Things (IoT) connections will reach nearly 25 billion by 2025. Out of those devices, 4.1 billion will have cellular connections. But of course, not all IoT devices will be connected via eSIM.
Besides the switch from SIM to eSIM for smartphones, lots of other devices will be using eSIM. Think about laptops, tablets, gaming consoles, wearables, smart glasses, etc.
Also, the average need of mobile data per user will grow significantly the coming years. With as important drivers, 5G and network slicing (that leads to greater bandwidth availability for different functionalities), and the increased usage of video screaming (combined with virtual and augmented reality).
So, this post is about… How will DENT Wireless position itself and take advantage of this huge increase in mobile data demand and switch from SIM to eSIM?
But before we answer that question, we first need to understand that DENT Wireless is an MVNO (Mobile Virtual Network Operator) and not an MNO (Mobile Network Operator). And that this distinction determines the playing field on which DENT Wireless can operate. Read this blog post to get a good understanding about the differences between MVNOs, MVNEs, MVNAs, and MNOs.
---
In short, if you don't want to read that article. An MNO owns the necessary network and radio equipment, while an MVNO is the wholesaler who doesn't own the network and uses (sub)systems of the MNO, or just resells mobile data products from the MNO with its own branding, marketing and sales (and MVNEs and MVNAs are "facilitators" who offer services on behalf of MNOs for MVNOs).
---
So, DENT Wireless is a MVNO, but what type?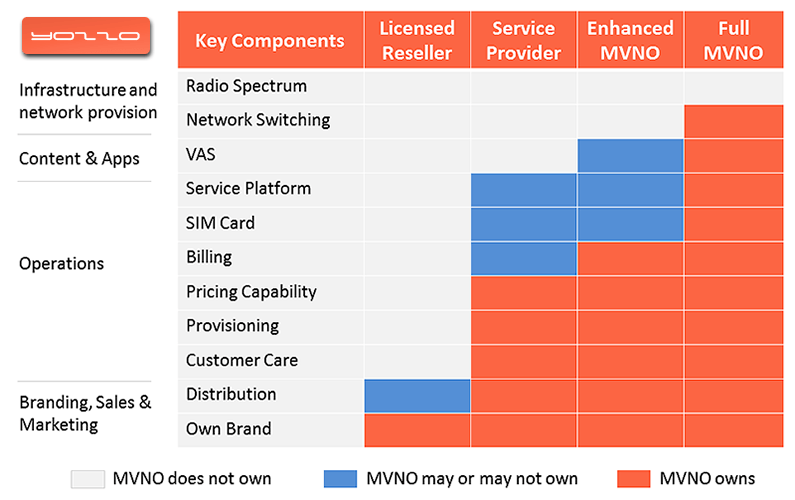 We don't know all the details about the technical implementation, partnerships and contracts, and whether or not an MNVE or MVNA is used, but we do know that DENT Wireless has its own customer support, marketing, sales and distribution operations, and has the ability to set its tariffs independently from the retail prices set by the MNOs.
So, we can assume that DENT Wireless can be categorized (at least) as a Service Provider, or sometimes referred to as a "Light MVNO", and it is using at least one MVNE (or MVNA).
---
Why is this distinction between MNO and MVNO so important?
First, it should be noted that only about 3-4% of the current 9 billion mobile connections are connected via an MVNO, the remaining part (96-97%) is directly connected via an MNO.
So, although the percentage of MVNO connected devices is expected to increase (up to 12% in 2025, and up to 20% in 2040), the major mobile data market is and will be supplied by MNOs.
Second, it shows the dependency for DENT Wireless (as MVNO) on MNOs directly (or indirectly via MVNEs/MVNAs). As MNOs own the wireless network infrastructure, they can decide whether or not an MVNO is allowed to use their infrastructure, and under what conditions.
(Note: in theory MNOs can ban or don't allow MVNOs to use their network, but to open up the market for competition, in many countries there are often telecom regulations in place forcing MNOs to give access to MVNOs)
Third, MNOs and MVNOs can live together and have their own way to serve the market…
The MNOs already have to invest heavily in the network infrastructure. And there is the broad consensus that 5G will drive up the total cost of network ownership.
As a result, a recent McKinsey 5G survey found that 93 percent of chief technology officers expect increased network sharing to occur with the onset of 5G (sharing with other MNOs and allowing more MVNOs to use their networks).
Due to these high investments, MNOs are often primarily focused on offering monthly postpaid subscription plans on a contract base (usually for 12 or 24 months) where users get a certain number of voice minutes, SMS, and mobile data each month. As "additional income stream", MNOs often sell mobile devices that clients can pay via monthly redemptions.
Also, MNOs often offer their mobile products together with broadband and TV subscription as package deals (in many countries MNOs have been merged with broadband/TV suppliers).
MVNOs, on the other hand, don't have to invest in the network infrastructure, and can focus on marketing and branding for specific groups that the MNOs can't or don't want to reach themselves. Or where MVNOs are just more efficient than MNOs to reach and serve those markets.
Think about ethnic groups, youth, business who all need a different marketing approach. But also for brands who already have a customer base, like Virgin, it's easier and more cost efficient for this brand to become an MVNO (Virgin Mobile) and to reach the target group than for an MNO.
Traditionally, many MVNOs focus on price as they only have to focus on marketing (and have no other costs). As long as they can acquire new clients on average cheaper than they earn on average per client, they make a profit.
Furthermore, an MVNO can sell mobile products from multiple MNOs. So, not spending unnecessary (advertising) costs on prospects who will ultimately buy products from their competitors.
Also, some MVNOs have a presence in multiple countries, either as subsidiaries, joint ventures, or through brand licensing agreements with local partners. i.e. Lycamobile, Virgin Mobile, or Lebara among others.
And the more countries, usually the more cost-effective an MVNO can be.
Other big players who can act like an MVNO…
In the US, Google Fi gives users data service on three mobile networks (T-Mobile, Sprint and U.S. Cellular), which the users phone will intelligently switch between – it also uses Wi-Fi to make calls and send texts whenever available – so making it a multi Host MVNO.
Amazon has introduced Kindle devices with not only mobile connectivity but with free Cellular connectivity included in the upfront price of the device effectively separating the user from any direct Telco relationship.
And what will Apple and Microsoft do as more and more devices will be eSIM enabled? Of course, their users can select the best and/or cheapest eSIM provider, making these devices pricewise more attractive, but they can also come up with cellular services or acting as an MVNO.
Furthermore, there is the increase of OTT (over-the-top) media platforms and services, where media content is delivered over the Internet. Of course, this is a huge driver for the growth of the mobile data market, but for traditional MNOs and MVNOs, it's also a threat as these platforms/providers can become data providers themselves.
How many MNOs and MVNOs are there worldwide?
Worldwide there are about 800+ MNOs and about 1,500 MVNOs, branded resellers and sub-brands with business models varying from brand licensing, brand resellers, full MVNOs, light MVNOs, and operator-owned second brands acting as virtual operators.
As you can see in this image below, the group of MVNOs is expected to grow to 4,200 players in the year 2040.
Source: Red Dawn Consulting
This image also shows the 8 key customer segments that have driven the growth in MVNO players across the world being:
Discount
Specialist data
Retail
Ethnic
Business
International/ roaming
Youth/ media
Bundled
(Note: I don't think this segmentation is mutually exclusive, and there are other segments, but it gives a good idea about the possible segmentation options)
Furthermore, for each country (or region), average usage, data products, mobile data prices, segmentation, and competition on the market are all different.
With respect to discount, the standard "price rules" apply as
The higher the number of MB/GB someone buys, the lower the price per MB/GB. (Quantum-discount mechanism).
The larger the areal coverage, the higher the price. Hence, a regional package is always more expensive than the highest-priced individual country in that specific region. And the worldwide package is more expensive than the highest-priced regional package.
The longer the duration, the higher the relative unit price (in MB/GB).
But in the long run, prices will tend to decrease and will be priced more and more as a "commodity". Hence, discount (or price) becomes less important as segmentation driver.
As you can see in the image, a big part of the MVNO market will go to the new "hyperconnected services" and IoT connections, while others as international roaming and discounts will be less important.
(Note: Hyperconnected services include innovations such as virtual education, health and entertainment (reality), plus major new technologies such as driverless cars)
Hence, to survive, MVNOs have to specialize even more and have to cooperate with new partners to target new specific audiences. Think about cooperation with services providers and further integration with third parties, such as payment gateways, social media platforms, application providers, retail and content partners.
OK, so far the theory about MNOs and MVNOs, and the prediction about where the market is going to.
We can conclude that the market is challenging and evolving, and we now have an idea about the number of participants, the expected fast growing size of the full mobile data market, and ways MVNOs can specialize.
---
How is DENT Wireless positioning itself in the eSIM mobile data market?
Let's start with the consumer market…
The positioning is based upon worldwide coverage, simplicity (easy of usage), long duration (365 days), multiple carrier coverage (always the best and fastest connection), backup or secondary provider (in case of no or bad connection with primary local provider, out of bundle usage, or while traveling abroad to avoid high roaming costs), data pooling/sharing among users and devices, data savings (upcoming feature), selling of unused data (upcoming feature), free global voice minutes, and low pricing…
Summarized in this slogan…
One World, One Operator, One Plan, One Year, One Price, One Team = #DENT
And more psychological, it you look from the consumer's possible pain point of view…
"Never lose any data that you have paid for – instead save data"
With the long 365 days validity, features to pool/share data among others and devices, and (upcoming feature) to sell unused data, and no contract or other minimum requirements, but simply pay if you need data, a DENT App user will never lose any data. On the contrary, with the upcoming new technical features (as local break-out, traffic steering, circuit-switched routing services, caching, nodes (GGSN and SGSN), and GPRS tunneling), DENT App users will save data.
"Never lose data connection – always be connected"
With the Multiple Carrier Coverage, DENT App users can always connect to a backup data provider in case of no or bad data connection with their primary (local) data provider. Although DENT eSIM automatically selects the local carrier with the best and fastest connection, it has even a "hidden" feature that you can select your favorite local carrier yourself in case you are not happy with the current carrier. This "peace of mind" feature ensures that users will always be connected with the best and fastest connection.
"Don't pay expensive prices for mobile data in case of out-of-bundle usage or while traveling internationally"
While the prior 2 pain points solutions are unique for DENT eSIM, this is the more common used benefit to avoid paying high roaming costs and/or high out-of-bundle usage charges.
"Peace of Mind and cost savings not just for the DENT App user personally but also for family, friends, and/or colleagues"
As a DENT App user can pool/share data among family, friends, or colleagues, all these "TEAM members" will never lose data or data connection, and/or won't pay too much for out-of-bundle usages.
And yes, TEAM members can save on mobile data costs as they can buy and share bigger data plans with relatively lower prices per GB.
Also, in comparison to other eSIM suppliers, who only offer a eSIM profile and a QR code to activate the eSIM plan (or a basic app), DENT Wireless offers extra services via the DENT Apps.
For example, DENT App users can earn free DENTs (via the Offer and Surveys Wall), or get free DENTs via referral of friends. Plus they can get extra benefits by using the DENT Afterburner Loyalty Program. All resulting in even cheaper prices (or free international voice minutes).
And in the near future, DENT App users can send DENT and eSIM data to each other via popular messaging apps like Apple iMessage, WhatsApp, Facebook Messenger and others.
So, the team doesn't target specific countries, but initially focuses on international (business) travelers who wants to avoid high roaming costs. And the marketing is focused on users who already have an existing local mobile telephone number (i.e. prepaid or postpaid plan from a local provider).
But this policy can change the moment that the DENT eSIM has an embedded telephone number (expected in Q4 2020). In that case, users don't need any prepaid or postpaid plan from their local supplier, and can buy DENT eSIM data any time they want or need data. Hence, it can be even interesting in local markets.
Furthermore, the team can't come up with long-term contracts and monthly subscriptions as this is against DW's mission of "liberalization of the mobile data market". An autorenewal services if the user is getting out of data is the maximum commitment they can ask from its users…
Hence, DENT Wireless doesn't offer (monthly) subscriptions or full bundle products (voice, SMS, data, device) as most MNOs offer, but "just" a stand-alone mobile data (top-up) product. Although, DENT App users can also use DENT Global Voice Calling as an additional separate product, and get free 10 global voice minutes for each 1GB of DENT eSIM data they'll purchase.
Initially, the main target group is (business) travelers who want to avoid high international roaming costs.
But DENT eSIM data plans can also be beneficial for other groups. Think about:
as back-up provider (in case of no connection with current provider, or if better connection is needed). As DENT eSIM uses Multiple Carrier Support, a user can always switch to another provider.
out of bundle data purchases (as offered by local providers). Usually, providers charge substantial higher prices per GB in case out of bundle.
pooling/sharing/allocation of data (for families, friends and teams).
pooling/sharing/allocation for devices (just one data plan for all your connected devices).
unregular data users who have peak data usages a view times a year (vacation in own land, or events).
as temporarily solution in case of theft or lost device.
as standard data solution for prepaid devices or on top of (cheap) prepaid plans (only necessary to keep an existing mobile phone number).
for users with an eSIM enabled device but with a contract (monthly subscription) from an MNO who doesn't support eSIM.
due to the long duration of 365 days, it can be beneficial for users to buy larger data plans which are cheaper per MB. Hence, more discount in comparison to other eSIM suppliers who use shorter duration periods (and where the user can lose data due to expiration).
This list is not complete. As you can use DENT eSIM (if you have an eSIM enabled and unblocked device) on top of (i.e. separately of) any existing prepaid or postpaid plan, you can probably think about many other usage cases where it can be beneficial to use DENT eSIM (even while users are in their home country and not abroad).
Also, the developers team is busy with adding new features. Think about the expansion of DENT Teams, DENT Web App (for easy multiple user and device management), selling unused data, and adding more supported countries (from 80 to 100+).
So, to summarize… these are the 13 unique selling points (USPs) for the consumer market and business travelers:
1) Worldwide Coverage (80 countries).
2) Long 1 year validity.
3) Multiple Carrier Coverage. Always the best and fastest connection worldwide, and backup in case of bad or no connections via primary provider. (Plus hidden feature: select your own preferred local carrier)
4) Easy pooling of data (DENT Teams) among other users (friends/family/businesses) and devices (smartphones, tablets). Soon to be expended with data allocation and sharing (also via major messenger platforms integration, vouchers), and support for Windows 10 PCs and wearables as smartwatches.
5) DENT Apps for Android, iOS, and Samsung Galaxy devices for data usage measurement, purchase/deposit and store DENTs, notifications, and other features as…
6) Easy installation via auto-installation, QR Code, or via voucher.
7) Easy in-app purchases with multiple payment options as Credit Card, PayPal, Apple Pay, Google Pay, Cryptocurrencies/tokens (BTC, ETH, DAI, BNB, DENT), or Samsung Galaxy Blockchain Wallet.
8) Earn discounts via DENT Earn Tab (Offer Wall) and/or free data (invite friends).
9) 10 free voice minutes for each 1GB purchased. And optional cheap Global Voice Calling via DENT Voice.
10) Free Global Voice Calling by using DENT Afterburner Loyalty Program (and in near future eSIM benefits).
11) [Future feature] Data savings by using smart techniques as local break-out, traffic steering, circuit-switched routing services, caching, nodes (GGSN and SGSN), and GPRS tunneling.
12) [Future feature] Selling of unused data.
13) [Future feature] Own telephone number (hopefully with number portability).
And that's not all, what to think about the DENT Gigastore for B2B resellers?
Here DENT Wireless can offer its own eSIM data plans to resellers, who can sell the data plans to their own customers (either under the DENT label or under private label?).
Hence, a great new way to expand the distribution to consumers but indirectly via the resellers.
What kind of resellers, can you think about?
Well in theory, any reseller, but think about resellers on airports and beaches, taxi drivers, or SIM card companies like Lebara, Sim Local etc.
So, any local store or reseller will be able to capitalize on DENTs growth and adoption.
But why restrict the Gigastore to DENT eSIM only and just offering the worldwide data plan?
Because why would a local airport sell an eSIM plan that covers the world?
It's more logical that they offer a data plan for that specific country for a short period of time.
In that case, DENT Wireless can either decide to create a huge store with thousands of products, I mean per country say at least 10 data plans with different sizes and durations.
Or…
They can act as middlemen and allow telcos to sell eSIM data plans directly to wholesalers and resellers in the Gigastore where DENT Wireless gets a commission or transaction fee. (I would like to call this the new "Telco Trading Desk" for resellers)
And what about the Cloud Stack Telco Platform?
As far as I understand, it's a new service offered by DENT Wireless for other MVNOs who can "pick" services and sell their own eSIM data plans under private label. Yes, DENT Wireless acting as an MVNE.
A very interesting concept, where MVNOs do their own marketing and DENT Wireless is more or less the wholesaler and offers the technical support, know-how, and data supply "services".
Again it depends on the situation, but these MVNOs can either buy eSIM data in bulk from DENT Wireless, or from other providers via the marketplace (new Telco Trading Desk for resellers).
And what about DENT eSIM for businesses and specific solutions for IoT devices?
With the new roadmap for Q3 2020 – Q2 2021, it's clear that team will focus on businesses as well.
The DENT Teams Web App features will be extended with easy management (sharing and allocation) and payment features (outside the DENT Apps). Such that businesses can easily manage the mobile data usage of employees and connected devices.
And we know that the team will create a new DENT IoT Dashboard and develop an IoT prototype for security cameras with a physical DENT SIM card, and also a new IoT product' "eSIM on a chip".
So, probably as the result of the partnership with G + D, we can expect some more strategical new IoT and/or M2M related products. But the how and what will be speculating.
So, with all this knowledge…
Who are the main competitors for DENT Wireless?
Well, in essence, all MNOs and MVNOs, who operate and offer mobile data plans (in the by DENT eSIM supported countries), are possible competitors.
That said, the MNOs, where DENT Wireless is using their network infrastructure from to "deliver" the mobile data to the DENT app users, are also partners.
Furthermore, DENT Wireless does not offer monthly subscription plans as MNOs prefer to do. Hence, DW is no major competitor for the MNOs.
So, it's probably the best to look at other MVNOs, who also operate worldwide and are offering "stand-alone" eSIM data plans for consumers.
Hence, think about Truphone (113 countries), Airalo (190 countries), RedteaGO (100+ countries), Ubigi (160 countries), MTX Connect (90+ countries), Yesim (45 countries), and GigSky (116 countries).
With 75 supported countries, DENT Wireless has to catch up a little with the others.
Most of these suppliers have apps that you can download, where you can install your eSIM profile and can buy either data plans from within the app or via the website (and you'll get a QR code to activate the plan).
So, very similar to DENT Wireless. Although, the DENT Apps have some additional features (DENT Earn, Afterburner, Marketplace).
What about the price settings?
The DENT eSIM data plan for 3GB costs $12.99, hence $4.33 per 1GB.
In our eSIM post, we did a test on an eSIM comparison site (esimdb.com), where we used a 3GB with 30 days duration as main test object (as this is about the average worldwide usage per month), and we looked at the prices for individual country (or region) coverage…
And we couldn't find any country with a lower price than $12.99 for 3GB and at least 30 days of duration.
Only, in case someone needs more than 3GB or for a very short time (1-7 days), there are data plans in individual countries that have a lower price per 1GB in comparison to the $4.33 DENT eSIM data plan.
So, to summarize…
The DENT eSIM data plans are extremely competitively priced and have the most flexibility with worldwide coverage, 365 days duration, data pooling (for devices and users), extra App features, and upcoming feature to sell unused data.
But the DENT eSIM products are just launched and need more awareness in the market. In this blog post, you can read about some of our recommendations with respect to DENT Wireless' marketing for the eSIM data plans.
On the other hand, there are more than 25 million registered and verified DENT Apps users. So, the team can start with a huge user base of (in the long run) potentially interested DENT eSIM users who sooner or later will have an eSIM enabled device. And of course, this user base can be a great marketing channel by using referral marketing or social media marketing.
For all mentioned eSIM competitors, I didn't notice any specific segmentations. They are all targeting people in as much possible countries for personal usage (or businesses travel). Plus, some providers (as Truphone) have specific eSIM data plans for laptops and/or wearables.
Also, some of them (Truphone, GigSky, Ubigi) have specific solutions (and departments) for businesses and/or IoT and M2M solutions.
We know that the develop team is busy with some pilot projects in this IoT/M2M market (with the new DENT IoT Dashboard and development of an IoT prototype for security cameras (with a physical DENT SIM card), and also a new IoT product' "eSIM on a chip").
And as far as I know, DENT Wireless is the only one with "wholesale activities" as setting up it's own "Gigastore for B2B selling" and "Cloud Stack Telco Platform" initiative for MVNOs.
As the market is evolving and changing, it's for sure that DENT Wireless sooner or later has to adopt and change its positioning strategy and plans over time.
The question is whether you trust that the team is flexible and can react fast enough to achieve the new goals?
I can't answer that question for you, but I hope this post has given you some insights about the current positioning, the level of competition, and strategical options the team already has chosen and can make it in the future.
Suggested further reading:
Pricing strategy: What's the optimal eSIM pricing strategy for DENT Wireless?
This article goes into more detail about what the disadvantages are of using average worldwide pricing in comparison to the Pay as you Go pricing model.