Get 50% off your DENT eSIM data plan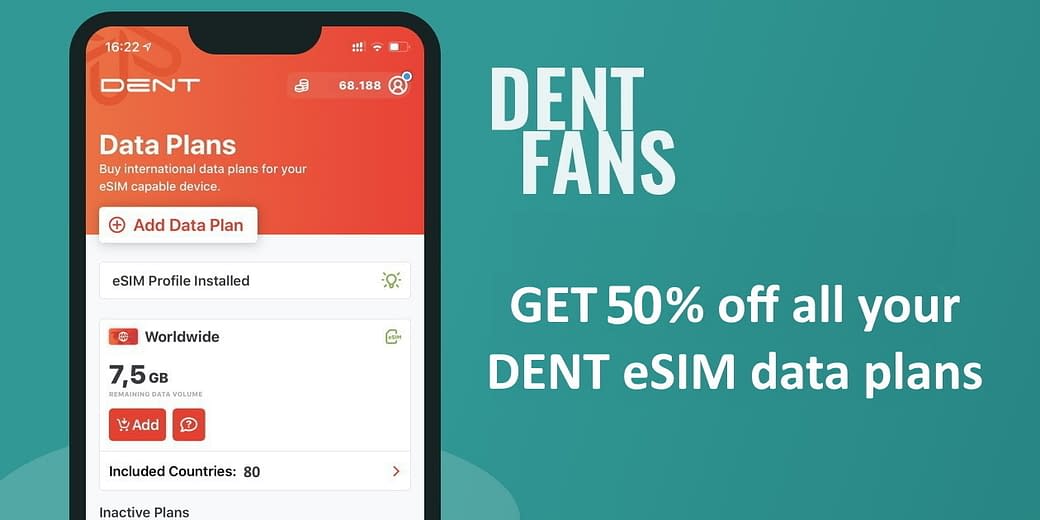 How to get 50% discount on your DENT eSIM mobile data plan?
As you probably know, included in you regular DENT eSIM data plan, you'll get 10 free DENT Global Voice minutes for each 1GB you'll purchase.
But what if you don't need these free minutes?
Well, if you don't need them, these free minutes will expire after 30 days.
And you can't share these minutes or sell them to others.
So, what did we do?
We stripped these voice minutes out of the plan, and we can now offer you the DENT eSIM data plans with a 50% discount.
However, as we bought a bunch of data plans almost half a year ago, the remaining validity is 180 days.
Hence, you'll get the regular DENT eSIM Data plans of either the 3GB or 10GB (but without the free minutes), with a 50% Discount and validity of 180 days.
As we are using DENT TEAMS to allocate the data to our fans/clients, the delivery of your DENT eSIM data plans is via email (with inside the QR Code and instruction how to activate the data plan).
So, you can use your DENT eSIM data plans as any DENT App user with all DENT App features and benefits.
Or you can install, activate, and use the data on any eSIM enabled device (smartphones, iPads, or tablets) without having to use the DENT App at all.
So, this is the perfect deal for those of you who already have the DENT App installed (and already used their free data trial or one-time "try-and-buy" deal), but who don't need the free voice minutes, and just want to get 50% off.
(For those of you who never installed the DENT App, check out this awesome introduction deal for new users)
You can choose out of two DENT eSIM worldwide data plans (180 days validity):
| | |
| --- | --- |
| 3GB for $13.75 (50% discount instead of $27.50)* | Buy Now |
| 10GB for $45.99 (50% discount instead of $89.99)* | Buy Now |
Limited Supply: don't wait too long and watch the counter on the checkout page
Just click on the buy button to purchase your favorite plan.
*) Conditions and extra information:
As we live in the EU, EU VAT rules apply. Citizens from within the EU (and UK) will be charged with standard VAT tariffs on top of quoted prices.
Data plans consist of data-only (without extra free voice minutes).
We are trying to automate the "delivery" process via the DENT eSIM API for developers, but it's not yet operational. Therefore, we will manually send you the email with QR Code and installation instructions as soon as possible. So, it can take a few hours, but we promise to send you the email within 24 hours. (If you don't get your email, please check your spam folder first, and send an email to [email protected]).