How DENT Wireless will evaporate international mobile data roaming costs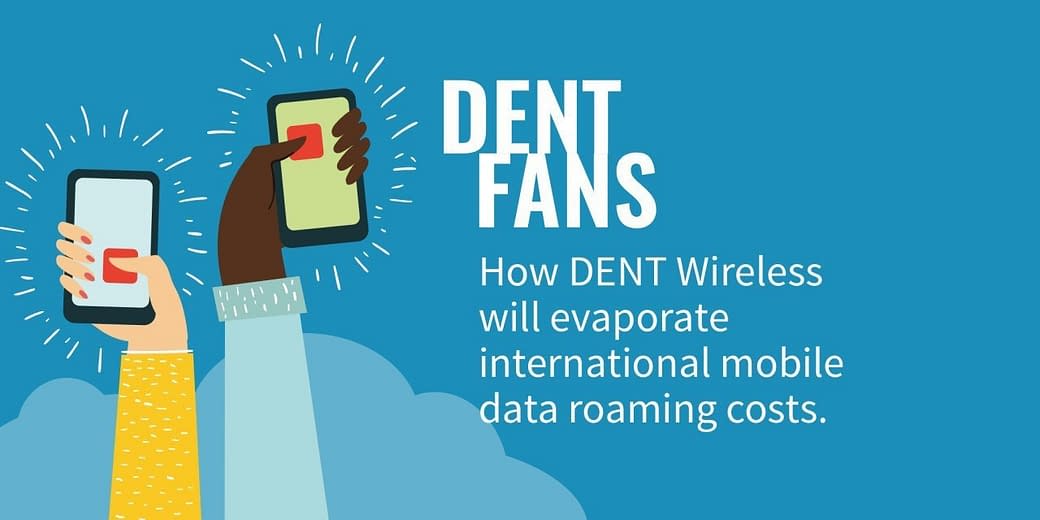 Introduction
After analyzing the new roadmap, it is clear that the management team has chosen to primarily focus on eSIM related products and services.
Besides new product and App features (as split payments, eSIM embedded telephone number, bundling Voice with eSIM, data sharing/allocation, messaging apps integration, improved Offer Wall, the marketplace for selling of unused data), new IoT solutions (Camera project, "eSIM on a chip"), and new distribution channels (DENT Gigastore, Cloud Stack Telco Platform, IoT platform)…
One of DW's main pillars for the eSIM data market, is trying to be technical superior with new advanced ways to evaporate the "high costs structure" of international mobile data roaming by developing and implementing new technical features for "Local Break-out", GGSN (Gateway GPRS support node), and circuit switched routing services.
All with as purpose to make data transfers faster and to reduce total costs by:
terminating the customer's data traffic directly into the internet,
reduce data transfers (for example by using caching),
automatically select the cheapest and best covering local network operator with…
"direct communication" between the user and this local operator.
automatically switching from network operator (if more beneficial or better coverage) when the user is traveling from one place to another.
And once operational, DW wants to sell these new developed features as services to other M(V)NOs as well via the DENT Cloud Stack Telco Platform.
In this article, I'll first summarize the relevant items in the Whitepaper which describe what DENT Wireless (DW) original ideas were in summer 2017 about how they could play a role in disrupting mobile data roaming costs.
Then I will summarize the relevant roadmap items with indicated planning horizon.
Thereafter, I'll try to explain what the current status is and how I interpret DW's expected (new) role based upon the few sentences in the roadmap.
Of course, I don't have any access and insights in the team's management discussions. So, this article is rather speculative, but I hope it opens up your imagination about what's possible and how DW can play a major role in the process of disrupting international mobile data roaming costs.
Why Mobile Roaming is up for disruption – and the role of DENT (§9.2 WP)
Below the integral copied text out of the Whitepaper (June 2017).
Drivers for the high – and sometimes incredibly high – retail prices for roaming customers are interconnect costs, data carrier fees, margin to the home operator and others.
Total costs could be reduced by terminating the customer's data traffic directly into the internet, rather than routing it back to the home operator, as well as by reducing the expected margin and by otherwise smart data traffic management (caching etc.).
Local break-out for data traffic is not employed today. Reasons are multi-fold, such as:

Economic considerations of local retail vs. international wholesale prices.
Existing bi- and multilateral roaming agreements, which are further complicated by the balance of in- and out-roaming customers, which are also optimized by traffic steering into different roaming networks.
Lacking billing relationship of the local provider with the in-roaming customer.
Overall traffic steering considerations, e.g. caching of local content.
Standard practice to avoid direct customer (marketing) communication to foreign in-roaming customers.
In case of pure data local break-out, the customer would not be reachable on GSMA voice and SMS.
For first-time network connect, the customer has to manually select the right operator for local break-out (unless it happens to be the home operator pre-defined preferred network) .

DENT is set to provide the platform to overcome those challenges:

Data pricing will be at local level, through the transparent DENT marketplace.
No complex roaming agreements need to be considered.
Billing relationship is already established between the global DENT user base and the DENT platform, which will be made available to all operator partners.
All customers of the DENT community will have the DENT mobile app, so communication will be targeted and direct to customer, rather than sending old-style SMS.
Voice services can be provided through IP services, such as WhatsApp, Skype, or an own DENT communication platform; in addition, DENT can provide circuit switched routing services to be always reachable.
DENT mobile app will also give an easy to use access to the right roaming network for local breakout.

There are further opportunities to disrupt the roaming market and provide a global service, such as by leveraging an own MVNO or by partnering with innovative service providers.
Relevant New Roadmap items
Below the most relevant roadmap items with respect to international roaming cost reductions:
[Q3 2020] Research and development on GGSN technology to enable local breakout to save mobile network capacity and to make data transfers faster for the users.
[Q4 2020] Research on SM-DP+ Technology for eSIM management, to extend the "Cloud Telco" platform of DENT Wireless.
Current situation
Well, the original Whitepaper is still very relevant. DENT Wireless became an MVNO for eSIM services and is still very busy with the planned developing of new features to disrupt the high costs of international mobile data roaming.
Also, as per original whitepaper, DENT Global Voice services (via IP services) are being offered, while the original idea of developing an own DENT Communication (messenger) platform has been switched into DENT App integration with all major Messenger Apps (as Apple iMessage, WhatsApp, Facebook Messenger).
And what's new in comparison to the whitepaper, is the DENT Cloud Telco platform, where DW will offer telco services to other MNOs or MVNOs.
So, lots of plans, but how far is DENT Wireless with the implementation, and what can we expect the coming year?
Ideal Situation
The terms used in the new Roadmap are "Research", and that's something different than developing or even better launching.
That said, I have hope and expect that DW's development team is actually further than just in the "research phase".
For us as token holders and users, the ideal situation will be that…
DENT App users have automatically access to the cheapest and best local network operator without having to switch themselves from carriers or perform any actions themselves.
As much as possible, data is being processed locally at local rates by using smart break-out (local internet and IP addresses), traffic steering, circuit switched routing services, caching, nodes (GGSN and SGSN), and GPRS tunneling. (And who knows what other technical processes) All automatically ran by the DENT Apps.
This way, by definition, DW has the lowest operational costs, and can offer the cheapest pricing on the market on a global scale. Hence, an Unique Selling Proposition (USP).
Of course, there are many barriers and challenges along the road to achieve this ideal situation, but I think it's worth to strive for as there are not many (or no other competitors at all?) who strive for the same end goal.
I mean, MNOs focus on building and maintaining their networks primarily for their local users. Of course, they also want to give travelers access to their local network, and try to sell access "mobile data capacity" and partner with other local MNOs (for better coverage and to reduce costs), but that's more out of necessary to offer their own users local and abroad mobile access everywhere.
MNOs have no incentive to develop local break-out techniques and all other mentioned technical improvements to decrease the international roaming costs. On the contrary, it's a major income stream. Why kill the goose with the golden eggs?
MVNOs on the other hand, often don't have the technical know-how and staff and are more focused on marketing than DW who heavily invest in technologically superiority.
Conclusion
So, out of all roadmap items and ideas, for me the most exciting and interesting is this one… to evaporate international mobile data roaming costs with smart technical features.
All other eSIM features as data size, coverage, validity, data pooling (sharing, allocation), pay as you go plans, own number, marketing and pricing, and even selling of unused data, can be copied by other providers.
But technological superiority with as a result the lowest possible costs, is the true USP and can lead to market domination in the eSIM mobile data market.
During the coming AMA, I will try to focus my questions about this subject. For me, it's now a black box. When will we see results?
But if the plans are rolled out, together with a intelligent marketing campaign, it can go fast.
Hopefully, the (scheduled for the first half year of 2021) launch of a new world-wide marketing campaign, targeting travelers in international markets with eSIM Promotions on Facebook, Snapchat, Instagram and on Twitter, has been planned by the management in the belief that every technical new feature as described above will be ready at that time.
I'm not sure whether parts of these technological "advantages" are being offered in the Cloud Stack Telco platform, but I hope that DW will first get a significant market share before "giving away" its head Start.
But maybe, to open up the market, DW has to agree with MNOs that other M(V)NOs can also benefit from the aimed technical advantages and cost reductions (before they cooperate and want to invest time and money for further developments).
Anyway, I hope that you now get the picture what DW is striving for and can see all the benefits of evaporating international mobile data roaming costs with smart technological solutions.
As usual, do your own research. This is not an investment advice.