What can DENT Wireless do to increase the transaction volume in 2020?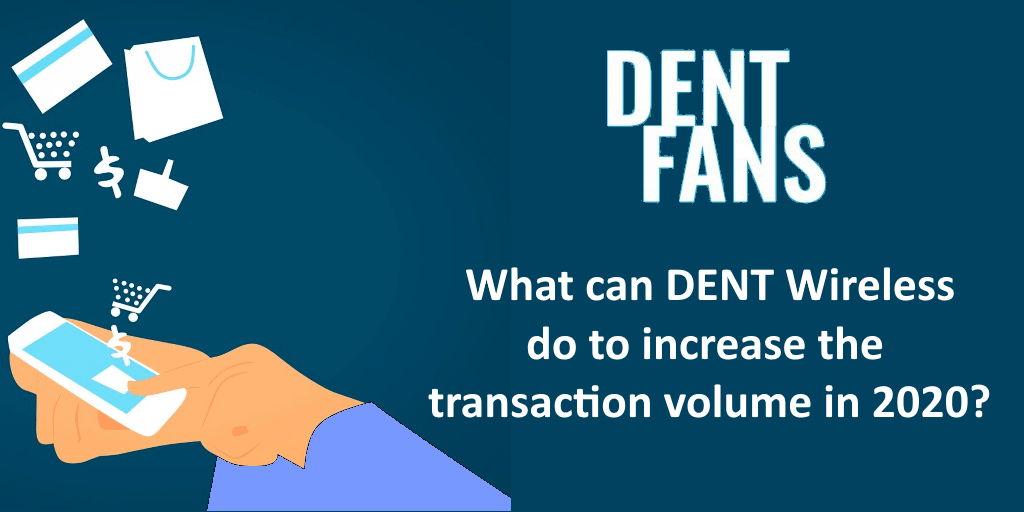 Introduction
After analyzing the new roadmap, it looks like the management team has chosen to primarily focus on acting as an MVNO with clear focus on eSIM related products and services.
To follow this strategy, the remaining of this year, the team will focus on further development of the eSIM related products and services. And starting in 2021, the focus will shift to the marketing for all eSIM products.
Therefore, it's is to be expected that the transaction volume during the rest of 2020 will be low. Not only for the new eSIM data plans but also for the "SIM related" mobile data and prepaid top-ups.
We know that DENT Wireless spent a lot of time, energy, and used a huge part of the DENT war chest for user acquisition, and setting up the ecosystem and marketplace for the traditional "SIM related" products.
To avoid spoiling these investments, I'll give some advice how the team can increase the transaction volume for the rest of 2020, while still going forward "in speed mode" with product development for the eSIM related products.
Therefore, I analyzed all 6 current revenue streams. For each of them, I'll look at the current revenue, profitability, and what the management can do to increase transaction volume for the rest of 2020. While becoming (more) profitable, increasing user experience, and getting more clients (i.e. paying DENT "ecosystem" users).
What are DENT Wireless' main current revenue streams?
Selling DENT eSIM mobile data plans as MVNO under private label.
Selling DENT Global Voice minutes as MVNO under private label.
Selling "SIM" mobile data and prepaid top-ups from other carriers (on DENT Exchange and via DENT Marketplace).
Advertising income from in-app ads, surveys, and other tasks performed by DENT App users in the DENT Earn tab (Offer Wall).
Trading fees on DENT Exchange.
So, let's start with the first one…
Selling eSIM mobile data plans
After analyzing daily transactions in the DENT/BTC pair, with respect to DENT Wireless' eSIM revenue, we can conclude that it's minimal as the data plans are hardly sold at the moment. So, let's look at the plans for the future…
As we can conclude by analyzing the roadmap, DENT Wireless will use different distribution channels, will target different niches, and will build or expand different (sub)platforms as:
DENT Apps and DENT Teams for consumers.
DENT Teams for businesses.
DENT Gigastore for resellers.
DENT Cloud Telco Stack for MVNOs.
DENT IoT dashboard for IoT/M2M solutions.
All eSIM products and channels have the same underlying unique selling points: optimal user experience with as few restrictions as possible.
Think about worldwide coverage (50+ countries), long validity (365 days), easy sharing of data (DENT Teams, sharing coupons, integration major messenger apps), automation and auto-renewals (via smart contracts), technological superiority (Local Breakout, "eSIM on a chip" for IoT devices), and the selling of unused data.
The target audience to start with are (business) travellers who want to avoid high roaming costs and people (consumers and businesses) who want to pool/share data among other users and devices.
With respect to pooling/sharing, think about families (parent who shares data with spouse and kids), companies (allocate mobile data among their staff), and users who want to connect all their devices on a single data plan (smartphone, laptop/tablet, wearables).
Mainly due to COVID-19 and the Olympic Games 1-year postponement, the team has decided to start their eSIM related (social media) marketing campaigns somewhere in the first half-year of 2021.
At that moment, (hopefully) all new eSIM related features will be ready (as quota/sharing features, selling unused data, own number, faster and more efficient connection), together with new features for the Offer Wall, Afterburner (eSIM benefits), and DENT Exchange (new trading experience).
And (hopefully) all the new distribution channels will then be operational.
Although I really like these new features and channels, I think the current eSIM product is already competitive with the one worldwide plan, 1 year validity, easy pooling (via DENT Teams), and 3 competitive priced data plans (1GB for $4.99, 3GB for $12.99, 10GB for $39.99).
Read this article How is DENT Wireless positioned to win the eSIM data market battle from its competitors? to get a better understanding why I think the team has already a competitive product, that only will be better.
So, why wait with some basic, easy, and not expensive DENT eSIM marketing campaigns?
I can imagine that the team wants to wait with their "big" marketing campaign until the "international traveling" picks up, but the team can start "small" but still effective. I will give some examples…
First, DENT eSIM is "invisible" and has no "web presence" on eSIM price comparison sites (as esimdb.com), manufacturers' eSIM supported carriers listing URLs (Apple, Samsung), eSIM smartphone and carrier review blogs, and in SERPs (Search Engines Results Pages) for any eSIM related search term (except of course for "DENT eSIM").
And no matter what happens the coming years, many potential eSIM users will use the internet to search for "the best and cheapest eSIM providers".
So, a missed opportunity if DENT eSIM doesn't "show up" in any search query or product comparison site, etc.
Now, most of the news is shared via a Tweet (and re-shared via Telegram, Instagram, and Facebook), incidentally leading to a "hidden" landing ("press") page, or a YouTube video (on the DENT Wireless YouTube channel).
I don't say that the Tweets or videos are unprofessional, but it's unprofessional to have no company blog or press directory where people who are interested in your products, services, or want to partner can find more information about DENT Wireless and its history.
At least, I expect the company to have its own blog where it informs the community (and that can be found by people using Search Engines).
Second, the current referral marketing campaign is still focused solely on acquiring new DENT Apps users instead of acquiring new eSIM users. (Click on that link to see some proposed referral marketing campaigns focused on eSIM users).
Third, the team should take advantage of the first-mover principle. I mean if you have unique features as pooling/sharing mobile data, or selling unused data on a marketplace, and you are the first, you can "market" this fact for years to come.
For example, this text is copied from the term Wikipedia "SIM Card"…
"The first SIM card was developed in 1991 by Munich smart-card maker Giesecke & Devrient, who sold the first 300 SIM cards to the Finnish wireless network operator Radiolinja"
Note 1: DENT Wireless is now a proud partner of G + D, a subsidiary of Giesecke & Devrient (G + D).
Note 2: DENT Wireless can maybe be the first one who claims to be the producer of the "eSIM on a chip".
Also, it would be awesome if DENT Wireless truly becomes the first provider who allows the selling of unused eSIM data on a new marketplace (the marketplace for buying/selling (new, i.e. still to be activated) mobile data is another example of first-mover).
And if you have read my article The future of Selling and Trading of (Unused) Mobile Data, you'll know that I prefer the selling of unused data to be done via an Auction marketplace.
But as long as this feature has not been built into the ecosystem (either on DENT Exchange or DENT Marketplace), you can't claim to be the first one who guaranteed allows you to sell all your unused data (and preferable with a guaranteed minimum price).
So, maybe, you can even start with just a simple web form where DENT App users who have eSIM data left over, can fill in the number of MB/GB they want to sell, and where DENT Support will reply with an "offer" to buy the eSIM data back.
I know it's not that advanced but at least you can now claim to be the first one. BTW if this feature becomes "operational", in practice, I don't expect many DENT App users to use this feature (as users have 365 days validity and/or can share data with others).
But now I deviate a little, so let's get back to my "thesis" that the team can (and should) do more in the rest of 2020 with respect to the marketing of eSIM.
As we don't see any (marketing) progress, it's kind of frustrating to see other eSIM suppliers getting more awareness, while DENT Wireless "is sleeping".
Just to end this topic. With the new upcoming platforms for resellers (Gigastore) and MVNOs (Cloud Telco Stack), we don't know anything about the progress and ideas behind these platforms.
We even don't know who is "in charge". At least, I would expect the announcement of a (new) Sales or Marketing Manager who is responsible for the acquisition of new resellers and MVNOs. Together with a blog post about what the purpose is of these new platforms, and how potential resellers and MVNOs can contact the right person involved.
(As it's much easier if potential resellers and MVNOs will find you than that you have to go out and try to find them yourself)
Maybe, with this last example, I ask too much as the roadmap has been introduced just a few weeks ago, and these items are scheduled for 2021. But I hope that we'll see earlier and more press releases and updates from the team. For me, it doesn't make sense to implement everything first and then later inform the whole community as in the meantime the "free" publicity attracts new partners (as resellers and MVNOs) who also have to prepare themselves before they can go live.
Selling DENT Global Voice minutes
To start with the DENT Voice revenues and profitability. The actual sales are minimal, and the majority of used minutes are free minutes from users who did deposit DENTs into the Afterburner Vault.
So, it looks that DENT Voice is just an extra product offered to users to "compete" with other telco providers who offer bundles. (You know, combinations of mobile data, voice, SMS, and mobile device purchase).
But without much "management attention" as I conclude out of these facts…
For months, the prices of the bundles (50, 100, 200 minutes) were not priced logically. Sometimes, the prices for bundles with more minutes were priced lower than the bundles with less minutes.
Only, after some "complaints" while adding 35 new countries (from 86 to 141), this inconsistent pricing has been corrected. But now, for about 20 new countries, the bundles are "sold out" (and not all flags are show inside the DENT App).
Also, there are almost no transactions in voice bundles on DENT Exchange. And some tradeable voice bundles are even sold out, or are offered (by traders) against inconsistent prices.
DENT Voice Tradeable Bundles on DENT Exchange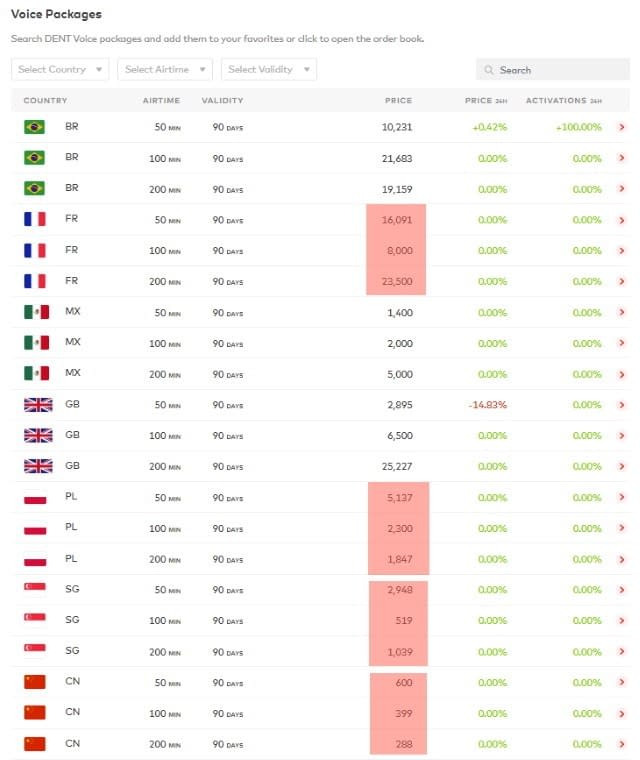 As DENT Exchange users can trade voice bundles for only 7 out of the 121 countries, and in theory DENT Wireless can bring unlimited voice bundles on the market, there is no reason to have tradeable voice packages on DENT Exchange. Hence, my advice… delist these voice trading pairs.
As a result of COVID-19 and the lock downs, you would expect that people would call more to their friends and families abroad, but DENT Wireless didn't take advantage of this situation.
So, what should the management team do to increase voice transaction volume?
First, on the website it should be clearly stated that a caller needs internet access and uses bandwidth (i.e. mobile data) to call (besides the purchase of a voice minutes bundle).
Also, it would be "helpful" for potential users, to give an indication about the average bandwidth usage per one minute of voice calling.
Second, explain that the tariffs are cheap because DENT Voice is using VOIP technique, but that the one you call to (the receiver) doesn't need to have internet access.
Hence, the perfect solution if you want to make (international) telephone call to people who don't have internet access. Think about older people, or people abroad who have no WiFi or internet connection.
Also, it should be clear to voice buyers that the bundles are only valid for 90 days.
But why should people buy voice minutes bundles upfront? Why not just let them pay what they actually use (postpaid)?
DENT Voice is perfect for post charging per minute called. And, of course, we want users to pay with DENTs (micro-payments).
(Of course, the team has to set a specific minimum number of DENTs that is required before a user can make a call)
So, my advice…
Emphasize the DENT Voice benefits more, be more transparent about how it works (VOIP and that internet connection is needed), and introduce a pay-as-you-go model with postpaid charges in DENT micropayments.
And until the team has implemented this pay-as-you-go model, delist the tradeable voice bundles, and increase the validity from 90 to 365 days.
Selling "SIM" mobile data and prepaid top-ups from other carriers
This frustrates me the most. With 25+ million registered DENT App users, where more than 95% have still a mobile phone with a "plastic" SIM card, and the majority of users have a SIM-only plan, you should say that this is the ideal target audience to sell mobile data packages and prepaid top-ups via the DENT Marketplace and DENT Exchange.
But as you probably know, the revenue is minimal at the moment. Why?
Simple, the package prices are too high. It's cheaper to buy these packages from your own carrier or another reseller than from within the DENT App.
For the tradeable packages on DENT Exchange, this is mainly a result of the incentives system. As long as DENT App users can get free DENTs (via referrals and/or the DENT Earn Tab), users are willing to pay more than the regular price (they would otherwise pay to their own carrier) because they can pay (partly) with free DENTs.
But also the trading itself will cause prices to "inflate" as traders want to earn money and buy all the packages originally introduced on the market by DENT Wireless, and immediately set the prices higher.
But for some "strange" reason, non-tradeable packages are also priced too expensive. Hence, it looks like the team wants to be compensated with higher prices to partly "offset" the freely given referral DENTs.
Just to give you an example, and look at India, the last top 5 country added to the DENT ecosystem.
For several carriers as Airtel, BSNL, Idea, and Vodafone, users can buy 10 IDR prepaid top-ups.
At the current rate 1 INR = $0.013
DENT Wireless introduces these prepaid top-ups on the DENT Marketplace (non-tradeable) and on DENT Exchange (tradeable) for prices between 1,400-1,600 DENTs.
At current price for DENT, the 10 INR packages are sold by DENT Wireless for about $0.30.
Hence, 2.5x the regular price!
And look what happens if traders are buying these packages…
As you can see, prices are pushed higher by traders from 1,400 DENT to 5,045 DENT.
Yes, a package that should be priced around 620 DENT is sold for more than 8 times as high!
Of course, Indian DENT App users will only buy at these prices if they acquired free DENT credits as incentives.
But what happens when a DENT App user has no free DENTs anymore… will he buy the expensive data and/or prepaid top-up packages the next time?
Of course not.
So, this whole "system" sucks as there are no recurring buyers, except some "influencers" who continue to refer new users and who get free DENTs as referral bonus.
But regular users will buy once (with the free DENTs) and will never buy again.
Note: some people think that a lack of supply is also the cause of the (too) high prices. Maybe that is true for some packages from certain carriers who don't want to cooperate with DENT Wireless. But other carriers do cooperate and are willing to sell sufficient packages to DENT Wireless.
Also, I'm sure that DENT Wireless can buy "unlimited" packages at consumer prices. Hence, without a (quantum) discount. (Read below why this can still be interesting for DENT Wireless if they combine it with advertising income via the Offer Wall)
Just ask yourself this question: Why can other resellers offer an "unlimited" number of data packages from multiple carriers (either per country or worldwide), and DENT Wireless can't get these packages?
To open up your eyes, look at these 2 examples:
etopuponline.com. They offer mobile data top-ups for 220 carriers in 100+ countries. They have an Android and iOS App, but these are not necessary, you can just order online on their website and pay with credit card or PayPal. And yes, their pricing is (often) cheaper than from within the DENT App. Also, they allow users to auto-renew their purchases with a self chosen interval. The loyalty program is minimal (2% credit that you can use if you have saved $5 in credits). Just try it out yourself, and you'll see that it's easier and faster to buy on their website than by using the DENT App.
MobiKwik India. This is a website where people easily can recharge all kinds of products as Prepaid and Postpaid mobile data, Electricity, EMI Payments, Insurance, Landline, Broadband, Piped Gas, LPG Booking, Water, Digital Cable TV, Data Card, Metro, Traffic Challan, and Property Tax. Users can get all kind of benefits as cashbacks, shopping deals, credit (loan), points. And have their own wallet.
So, if you "understand" what DENT Wireless is doing wrong and look what others are doing, it's easy to solve…
First, I think DENT Wireless should have its own web shop where people can easily buy all products only with any device they want (PC, laptop, or mobile device).
Now, if users don't want to pay via their mobile device, but prefer to pay via PC or laptop, DENT users can only buy eSIM data plans from within the DENT Teams Web application.
Also, by using an online store, on PC or laptop, product pages do load faster, and you can filter (country/carrier) easier and faster.
Next, all data and prepaid top-up packages should be priced competitive or at least market conform, the number of free referral DENTs should be minimal, and all packages should be non-tradeable (hence delisted from DENT Exchange).
But users should also get additional benefits and discounts…
Luckily, DENT Wireless can do many things to allow DENT App users to "buy with a discount".
Let's divide the discount in first time users and regular users…
Of course, I still want new users to get a discount for first time usage. This can be a fixed amount of DENT as joiner bonus (just as in the current referral program but not high enough to get a package for free – not just a discount). In this case, it should be possible to pay with DENT and fiat (upcoming feature).
But there are countless other options to reward referrers and new users.
Anyway, the idea is that there will be a new referral program where new users get a first time bonus/discount and referrers get rewarded but in another way as the current system. Just read this article to see some examples… DENT Wireless Marketing (Paragraph 8: Bonus Types).
What about structural discounts for recurring users?
Well, the DENT Earn Tab (Offer Wall) already is an excellent way where DENT App users can earn free DENTs. But there are some hiccups and shortcomings, and the program can (and should) be further improved (see topic below).
And what about other benefits?
Of course, we already have the DENT Afterburner Loyalty Program, but this requires users to first buy DENTs and then to deposit them. And as users can now pay directly with USD via PayPal or Credit Card, most users won't buy extra DENTs.
But what if DENT Wireless will "copy" the "etoponline 2% model" where 2% of all purchases are locked as credits?
But this time DENT Wireless will lock up 2% (or another %) in DENTs and put them automatically in the Afterburner Vault of the DENT App user.
The user can't get access to these locked DENTs unless the minimum threshold is achieved (nowadays 30K DENT). From that moment, the user gets all the AB benefits or is allowed to withdraw the DENT Amount to his or her balance for further purchases.
A great way to reward loyal clients, and excellent way to lower the token velocity.
So, with a little "creativity" and some small adjustments, DENT Wireless can easily boost the sales of data and prepaid top-ups.
But way more important, DENT Wireless can offer the current 25M+ registered users more value. Hence, they will come back, buy the top-ups, engage within the app, etc.
And most and fore all, DENT Wireless won't lose these users and has a better chance to transform them into DENT eSIM buyers the moment they have an eSIM enabled device.
And as we will see below, the combination of an affordable priced top-up in combination with the option to earn free DENTS (i.e. discount) makes it so strong that users will prefer the DENT App above their own carrier (or reseller).
Advertising income from in-app ads, surveys, and other tasks performed by DENT App users in the DENT Earn tab (Offer Wall).
Most DENT Token holders think that the DENT Earn Tab is just some "side-income" for DENT Wireless. But if you have read the paragraph above, you'll probably now see that it can be the "trigger" that allows DENT App users to buy a telco product with a discount, or even for get if for free if they earn enough DENTs.
A huge part of the user base consists out of people living in developing countries. For them, it's even more interesting as mobile data is often expensive in those countries and by definition the average income is low.
So, the Earn Tab is a win-win for both DENT Wireless and its users.
Unfortunately, in many countries the Offer Wall is "unavailable" at the moment.
We don't know all ins and out, but it probably has to do with less demand from advertisers. Or that advertisers are willing to pay less then before due to worse economic circumstances as result of the COVID-19 pandemic
Especially, the 3-days cycle of video ads is interesting as users will come back every day and know upfront that they can earn an increasing number of DENTs each day (or more if they use the Afterburner Vault).
The Surveys on the other hand often have hiccups or after answering some (personal) initial questions, a user doesn't qualify for the survey, and has spent time without getting rewarded. Both rather annoying. But for some users, who fit in the ideal profiles, it's a nice method to earn free DENT.
The "CPA task bar", where users get rewarded after completing a certain task, is for most users not interesting, except for people who like to play the specific games.
All these 3 "earnings methods" are integrated stand-alone apps tailored per country offered by third parties. Nothing special developed by the DENT team.
However, the marketing team can easily add some extra "interesting offers" to make the Offer Wall more appealing (see below).
My rough estimate is that on average less than 20% of all DENT incentives are Earn Tab related, and the other 80% comes from referrals.
As total incentives are on average lower than 10M DENT each day, you can say that not many DENT App users are using the Earn Tab.
The question is why?
Is it because the Earn Tab is for many not available, that the rewards are not sufficient or interesting enough, that the earned DENT can only be used for in-app purchases, and/or that the package prices are so inflated?
Difficult to answer, it's probably the combination of all factors together.
So, what can DENT Wireless do to make the Earn Tab more interesting?
Well, first it is important to understand that DENT App users only will spend their time and energy if they can get sufficient rewards. But also that most users are trying to achieve a certain goal, i.e. they want to buy a certain top-up package, or achieve the Afterburner threshold of 30K DENTs.
Hence, why not take advantage of this "knowledge" by ensuring that users from a specific country can ("guaranteed") reach a certain package after performing a certain number of tasks.
As it's very frustrating to see the price going up for your wanted package (due to traders who buy up all available packages), the first requirement is that the package prices should be competitive (or market conform), and stay equal in USD value (as explained in the prior section).
Another "requirement" is that the rewards should be primarily based upon what advertisers do pay out in each country to DENT Wireless per performed task. I mean, in Tier1 countries, advertisers will pay more than in developing countries.
So, if advertising tariffs are decreasing as now with COVID, the DENT rewards should be less.
(Note: I suppose that due to this price decrease, it became "unprofitable" for DENT Wireless to reward the daily videos with a series of DENT for some countries. And the team could do 2 things. Either stop the Earn Tab for these countries (temporarily), or lower the DENT reward amounts for all users. I think that the team chose the first option)
Hence, for each country, the marketing team should set the proper DENT rewards (based upon ad income) and ensure that at least one package is "achievable" within a certain time span (maximum of 30 days). Such that DENT App users come back each day to watch the daily videos.
Yes, this means more "workload" for the marketing team, but it gives them also the opportunity to set up marketing campaigns for a specific country for a specific "action" period.
For example, let's say the team managed to get a "nice" quantum purchase discount and can buy sufficient data packages in India for all supported carriers. Instead of just throwing these packages on DENT Exchange and let the traders take all the profit, these packages are now offered inside the DENT Marketplace (as non tradeable packages) for a market conforming price.
Plus at the same time, the marketing team also starts a new referral program (or adjust an existing program with temporarily higher referral amounts) together with an unique offer in the DENT Earn tab specifically for Indian users.
This way, it can be very exciting for Indian users as they can get the normal priced packages with a discount (via free DENT referral and reward incentives), and they will tell their friends about this "opportunity" and invite them to download the DENT App. (And the campaign can go "viral)
This brings me to the question: what kind of offers can be added to the DENT Earn tab to make it more interesting?
Well, I suppose that the team has already some ideas as per roadmap in Q4 2020, the Offer Wall functionality will be improved.
But be creative, and add offers from (local) partners. The concept is simple, users can get DENT rewards if they perform tasks, and these tasks can be anything…
So, to summarize this section.
The marketing team should not just look at the Offer Wall as a stand-alone income stream, but treat it as the "trigger" to sell more data and prepaid packages (and later eSIM data plans) in each country.
Therefore, the "regular" and continuously available offers on the Offer Wall should get DENT rewards set per country based upon the ad income for that specific country.
And the marketing team should create "tailor-made" campaigns (with interesting offers, referrals, and rewards) for each country specifically based upon the availability of packages such that these packages become "achievable" for DENT App users who can get them with a discount (as a result of the earned "free" DENT rewards).
Trading Fees
As explained above, due to the lack of transaction volume in the analyzed revenue streams above, it's no wonder that the current transaction volume on DENT Exchange is minimal
And, of course, if transaction volume in the above mentioned income streams increase, the trading transaction fees will increase as well as long as DENT Wireless is not executing the transactions themselves but transactions are done by users.
As you probably know now, at the moment, I don't see any added value allowing traders to trade on DENT Exchange in DENT Voice bundles and in mobile data and prepaid top-up packages. As prices are inflated unnecessary.
For me, it just doesn't make sense to set up an exchange where there is just one major participant (DENT Wireless) who brings in all the products, can determine when and how much, set the initial prices, and where the other participants can only buy from the "issuer", and all traders do is to set the ask prices higher and offer them to regular DENT App users who are already a client from DENT Wireless.
And even in case that other telco providers will bring in new packages (Telco Trading desk), the traders will again inflate the prices. And it will be better for these telco provider if they just can set their price, keep it constant at the level they want, and sell them directly to DENT App users.
Currently, I only see added value in the trading of the DENT/BTC pair. But only in case the maximum withdrawal limits will be increased ($1k per day, $5K per month) as this is now a too great hurdle and too risky for (arbi)traders to trade high volumes.
In the near future, I will appreciate a marketplace for selling and trading of unused data. Read my article The future of Selling and Trading of (Unused) Mobile Data to see why I prefer an "Auction" marketplace.
Summary and conclusion
Although I agree with DENT Wireless management's shift to focus on eSIM related products and services, I'm not happy with the current lack of management attention for the current "SIM related" products and other DENT App features as the Offer Wall.
I hope that the team, after reading this article, will implement several of my recommendations about how the team can increase the transaction volume in 2020 and the years thereafter.
Not only to offer the current 25M+ registered users more value and to stimulate them to buy the current "SIM related" packages. And to ensure that they will come back, engage within the app via the Offer Wall, and spread the word about and invite friends to download the DENT App.
But most and fore all, that DENT Wireless won't lose these users and has a better chance to transform them into DENT eSIM buyers the moment they have an eSIM enabled device.