DENT Wireless (history + background)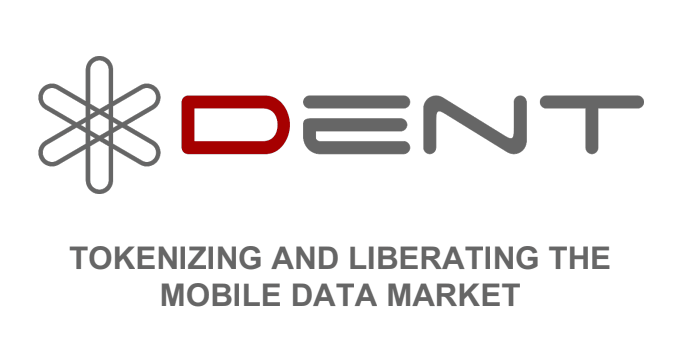 This is the first article on this blog. So, let's start with some background and history about DENT Wireless Ltd and the DENT token…
While skipping the "idea phase", let us start with the Whitepaper and ICO in July 2017…
Well, this Whitepaper is a must read for every potential token holder. It clearly describes the mission and vision, the people behind the company, the roadmap, the ICO sale details, the key drivers of the telco industry, the role of DENT, the technology used (Etherium platform with smartcontracts), and more…
But just to give you an idea during the ICO there was a lot of information about DENT Wireless and its mission… I think this was the first video "explaining" about the concept of "unused" data, and the "purchase" power of united consumers… (Note: it was a teaser for the upcoming ICO)…
And another video about the high roaming costs…
Would you pay 8 Bitcoins or $20,000.00 USD for 1 GB mobile Traffic?
$20,000.00 USD for 1 GB (1000 MB) of mobile traffic!?
But probably the best information about what DENT Wireless wants to achieve is a podcast interview with Mikko Linnamäki about 5G vs 4G and the Future of Mobile Networks. (Highly recommended to listen and therefore we made a special post about it… just click on the link above).
The ICO (Initial Coin Offer)
From the maximum of 100 Billion DENT tokens, the company tried 70% to sell in the token sale (pre sale + public token) that ended July 27, 2017.
The intended Exchange Rate was: 1ETH = 400,000 DENT, resulting in a targeted token sale of 152,000 ETH (after taken some bonus tiers into account).
However, only about 10.7% was sold with a total collection of 21,467 ETH…
We want to thank you for the successful token sale – a total of 21,467.15 ETH was collected!!! #dentcoin #token #TokenSale #ICO #ethereum pic.twitter.com/EbUzgA7UYQ

— DENT (@dentcoin) July 27, 2017
Note: the ETH/USD rate on July 27, 2017 was about $200. Hence, the total token ICO sales value was about $4.3 million.
Sidestep: the ETH/USD price started to increase significantly from end July 2017, didn't dip below the $200 (for 15 months), and even reached a high of about $1,350 mid January 2018. (However, we don't know how much and when the received ETH of the ICO was sold and for what price)
So, DENT Wireless has to start with a substantial lower "war chest" as intended. But that didn't stop the team with developing and implementing the promised Roadmap items.
---
Roadmap included in original Whitepaper, 10 July, 2017:
Phase 1: Development and DENT user acquisition
Organize mobile operator customers in key countries into a collective power by acquiring members with the help of the DENT Token sale and other incentives, such as sign-up data bonus of operator partners.
Launch the DENT Exchange on Ethereum blockchain for buying, selling, and donating mobile data packages.
Partner with telcos to offer mobile data packages and enable user-to-user data transfer.
Phase 2: Enrich domestic offering via the DENT Exchange
Grow DENT community and operator partner base to allow their users to transfer data packages even across networks.
For multi-national operator partners, the DENT Exchange represents an ideal platform to facilitate international data transfer for their user base.
Enable users to donate excess data as DENT, e.g. to people in developing countries.
Phase 3: Provide international data offers via DENT Exchange
Lobby with public bodies, such as EU regulation (which successfully enforced "roam like at home" and removed roaming fees within the EU) and governments of key countries to discuss rules for data liberation for their citizens.
Continue adding more users to the network, start interconnecting domestic DENT markets to create the international DENT Exchange.
Allow users to internationally sell and buy data packages.
==> DENT Token is the standard instrument for world-wide mobile data exchange.
---
The original idea was… as explained by Tero Katajainen, CEO and founder of DENT Wireless:
"DENT will allow subscribers to monetize their unused data or quickly buy extra mobile data at low prices. DENT will also prove to be of enormous benefit to travelers who can avoid very expensive roaming charges by buying data locally via the marketplace. The platform will unlock the full potential of global data usage, thus benefiting users and telcos alike."
After months of hard work, end December 2017, finally the first DENT iOS app was released to the public. The first 2 markets where users could buy (and send) data top-ups were USA (AT&T, Verizon) and Mexico (Movistar, Telcel). And all new users got 30 DENT free, a week later adjusted to a free 100MB.
In february 2018 DENT Wireless expended with a new Operations Center in Singapore…
Followed by the new updated roadmap for 2018…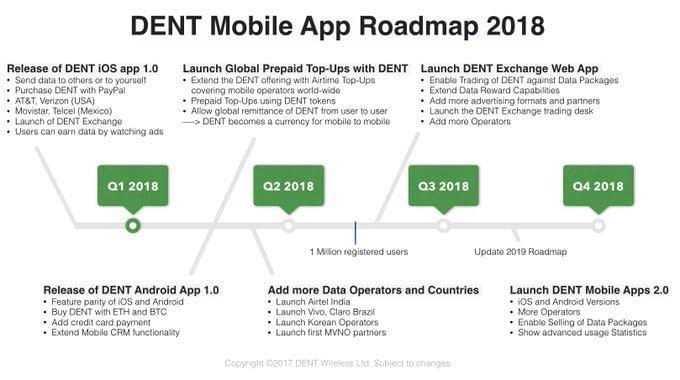 On February 26, 2018, the DENT Android App was released…
After getting carriers in Brazil onboard, DENT Wireless introduced (in May 2018) a new referral marketing system where users can invite a friend, and both referrer and the new user get free DENT.
The team learned a lot of doing referral marketing and by just starting the campaign with some ads, the viral effect will take over and the campaign can run by itself. As you can see in this tweet…
Also, in May, 2018, the milestone of the first 100,000 DENT App installations was reached. (Note: the main target audience was still focused on USA and Mexico)
From that moment, it went fast and many more countries were added… just an example…
On June 8, 2018, the milestone of 1 million registered and verified DENT App users was achieved.
And just 11 days later, the milestone of 2 million users was reached.
Although DENT was already listed on several exchanges, on July 6, 2018, the highly wanted Binance listing was a fact…
On July 26, 2018, the team celebrated its first anniversary… Pretty amazing what the team did accomplish in just a year with a war chest of only $4,3 million…
Just some other highlights…
Nov 19, 2018 – DENT App adds Chinese interface.
Nov 23, 2018 – Crypto payment enabled within DENT Apps.
Dec 11, 2018 – DENT "Offer Wall" released world-wide.
Dec 23, 2018 – DENT reaches 7,000,000 users.
Dec 31, 2018 – Launch of DENT Exchange

Note: Check out DENT Exchange to see the full list of all 43 currently supported countries.
Jan 2, 2019 – Current consumed amount of DENT is 1.5 Billion/month.
Jan 11, 2019 – Indonesia the first country to reach 100 million Dent token usage on mobiles in 1 day.
Jan 25, 2019 – 10 million Users Reached on the Apps months ahead of Schedule. Users have spent over 230 million minutes on the apps creating 527 million screen views.
Feb 12 – New 2019/20 Roadmap launched with AMA session.
Feb 23 – Dent and PLDT launch Mobile Data Trading in Hong Kong – Sell unused data.
On March 31, 2019, DENT Global Voice Calling for 60 countries went live (and China was added 2 weeks later)…
On the same day, the DENT Afterburner Loyalty Program went live, but only for users who have access to DENT Exchange.
At the end of Q2 2019, the team delivered some Q2 roadmap items.
First, all DENT Android App users can use the simplified data trading feature from inside their app.
And although not on the roadmap, the team managed to launch the new DENT Samsung Galazy S10 App.
Check out all details about DENT Earn (Offer Wall + Survey Wall).
(Note: the DENT Afterburner Loyalty Program is not available for iOS users)
A major milestone was reach on February 7, 2020, when DENT eSIM went live for 50 individual countries (later on May 5, changed into 1 worldwide plan covering these 50 countries).
To make the on boarding process of new users even more smoothly, DENT App users can now pay directly in USD for their mobile data, prepaid top-ups, eSIM data plans, and voice bundles.
On the background the system automatically buys the necessary DENT on DENT Exchange. Watch the video to see how it works.
(Note: as soon to be released additional feature: DENT App users will get the option to buy with both DENT and USD via split-payments)
Mobile Data. Simplified. Instead of 50 separate data plans, the DENT team launched the Worldwide Data Plan!
As great new feature DENT eSIM data plans, DENT Teams was launched on May, 22, 2020.
DENT users can now use multiple devices with one data plan. Or they can share their data plan among friends, family members, or colleges. Just pool your data with anyone you want via this easy to use new Web Application.
Later followed with the additional feature for quotas…
Not only for DENT App users who want to allocate a fixed (dedicated) number of GBs to a specific team member, but also as the "start-up" for anyone (private person or business) who wants to resell mobile data to others.
For professional businesses, there is a developers DENT eSIM API portal (now in Beta) that allows them to automate TEAM features like the allocation and "delivery" of the data to their clients.
Plus these business will be allowed to buy data in bulk with a discount in the new DENT Gigastore.
On June 26, 2020, DW increased the number of supported Global Voice countries to 140.
On June 29, 2020, the long awaited new roadmap for Q3 2020- Q2 2021 has been released together with a major restyling of DENT Wireless' website.
And per September 3, 2020, the number of supported eSIM countries has been expanded from 50 to 75 countries.
Followed on December 18, 2020, with 5 additional countries.
Summary of all achieved milestones
25 million registered and verified DENT App users.
DENT Apps for Android, iOS, Samsung Galaxy, and Android apk users with specific e-Wallet integrations (Samsung blockchain and KasPro wallet), and translated versions in multiple languages.
DENT eSIM data plans for 80 countries (including the DENT Teams feature where users can share (pool) data among team members).
DENT Marketplace where users can buy/sell mobile data and prepaid top-ups for 227 mobile operators in 56 countries (for devices with traditional physical SIM cards).
DENT Voice: International Voice Calling for 141 countries.
DENT Earn (aka Offer Wall and Survey Wall) where users can earn free DENT by performing tasks as watching daily video ads, playing games, or completing surveys.
DENT Afterburner Loyalty Program where users get extra benefits if they deposit DENT into the AB Vault for at least 30 days. Benefits as trading discounts, free (international) voice minutes, extra DENT rewards and referrals.
DENT Exchange where users can trade in prepaid and data top-ups, voice packages, and in the DENT/BTC pair.
DENT ETHscanr (just as extra gimmick for the ETH community).
Strong Partnerships with G + D, and others. And lots of new contacts and contracts with telcos all over the world.
Growth in staff – for example with Singapore Operations Center.
Multiple exchange listings (Binance, KuCoin, and others).
Continuously development on new features and Roadmap items.
Many international new contacts and agreements made by visiting conferences worldwide.
DENT tokens released: 86.9 billion. Still 13.1 billion DENT available in main company wallet (aka war chest) among other liquidity assets.
Almost 23 billion DENT tokens are stored/kept by DENT Exchange and DENT App users (actual token usage by users, not by investors, traders, or speculators).
And lots of interesting and challenging plans for the future as you can see in the roadmap. Just to name a few:
DENT eSIM improvements as an embedded telephone number such that you don't need any local telco subscription anymore.
Connect DENT Apps with popular messaging apps like Apple iMessage, WhatsApp, Facebook Messenger and others to be able to send data packages in an integrated way.
eSIM solutions for IoT devices as new products and IoT dashboard.
Feature to sell/trade unused eSIM data.
DENT Gigastore for resellers.
Cloud Stack Telco Platform for MNVOs.
Tokyo Olympics 2021 marketing campaign.
So, the future looks bright with lots of opportunities…
We'll updating this post and keep you informed.
Enjoy the DENT experience.