DENT token: exchange listings and what to know about these exchanges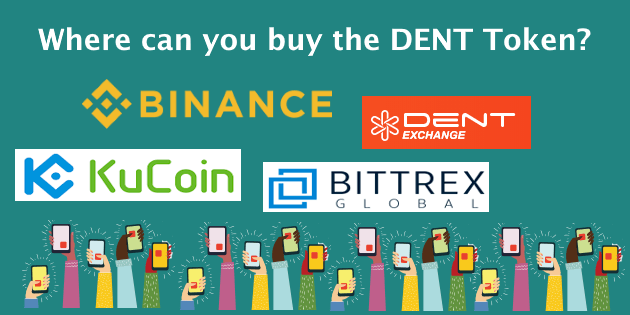 Which exchanges have the most liquidity and highest volume to buy and sell the DENT token? And what to know about these exchanges? Where and how to safely store your DENT?
What is DENT token (aka DENT coin)?
The DENT token is an utility token (and the required payment vehicle) for buying, selling, and trading mobile data, prepaid top-ups, and voice minutes to be used in the DENT ecosystem (DENT Apps and DENT Exchange). The DENT token is an ETH ERC-20 token. Hence, you can store your token in any ERC-20 compatible wallet. The DENT token is listed and can be traded on several cryptocurrency exchanges as Binance, KuCoin, Bittrex Global, and on DENT Exchange.
(Note: Utility tokens are digital assets designed to be spent within a certain blockchain ecosystem)
In this post, we explain how to store your DENT, and what the best exchanges are to buy, sell, or trade DENT.
---
How to store your DENT?
Don't keep your DENT too long on exchanges, only use them in case you want to buy/sell, and move your DENT (and other cryptocurrencies) into a wallet where you own the private keys (offered by a reliable and trusted wallet provider), and preferable use a hardware wallet.
You can use any ERC-20 compatible wallet like: MEW, MyCrypto, Coinomi and/or any ERC-20 compatible hardware wallet like Ledger and Trezor (but only buy hardware wallets directly from the vendor or reliable resellers).
NOTE: Please note the DENT App is not a wallet for storing DENT but an app for users to buy telco services! Hence, you can't withdraw your DENT to an external wallet. Only, if you have also access to DENT Exchange, you can withdraw DENT via the exchange (note: maximum daily withdrawal of $1,000 and monthly $5,000 are applicable).
Be sure to always take the proper steps to back-up your private keys, and as extra security use a Trezor or Ledger wallet.
---
Over the last few years, the DENT token has been listed on several exchanges.
You probably noticed that some of these exchanges even disappeared while others got insufficient volume and did de-list the DENT token.
This has nothing to do with DENT Wireless or the token itself, but more about the exchanges and traders/investors that these exchanges can attract in different regions. Or due to insufficient security measurements or even "doubtful" exchange owners who want to make money fast without caring for their users.
Yes, it was (and to some extend still is) the "wild-west" for cryptocurrency exchanges.
So, we can't guarantee anything about exchanges. There is always the chance of a hack or that authorities can close an exchange.
---
KuCoin Hack
Update: On September 25th, 2020, KuCoin has been hacked and about $281 million of crypto currencies and tokens were stolen. The hacker(s) stole 3,066,372,838 (yes, over 3 Billion) DENT Tokens.
Read our article about this KuCoin Hack about the (possible) consequences for DENT token holders.
After this hack, KuCoin users could still trade in the DENT/BTC and DENT/ETH pair, and users will still see their DENT balances. But KuCoin (temporarily) stopped the deposit and withdrawal feature and resumed full services for DENT on November 17, 2020.
Although KuCoin's management has made a statement that they will "cover the losses", we strongly advice you to stop using KuCoin, and wait until it's more clear how KuCoin will respond further to this huge hack and how it will affect the trading volumes and liquidity in the DENT trading pairs.
---
Current active exchanges where you can trade DENT
On CoinMarketCap.com you can see the current active listings for the DENT token. Below a recent overview (as per October 12, 2020):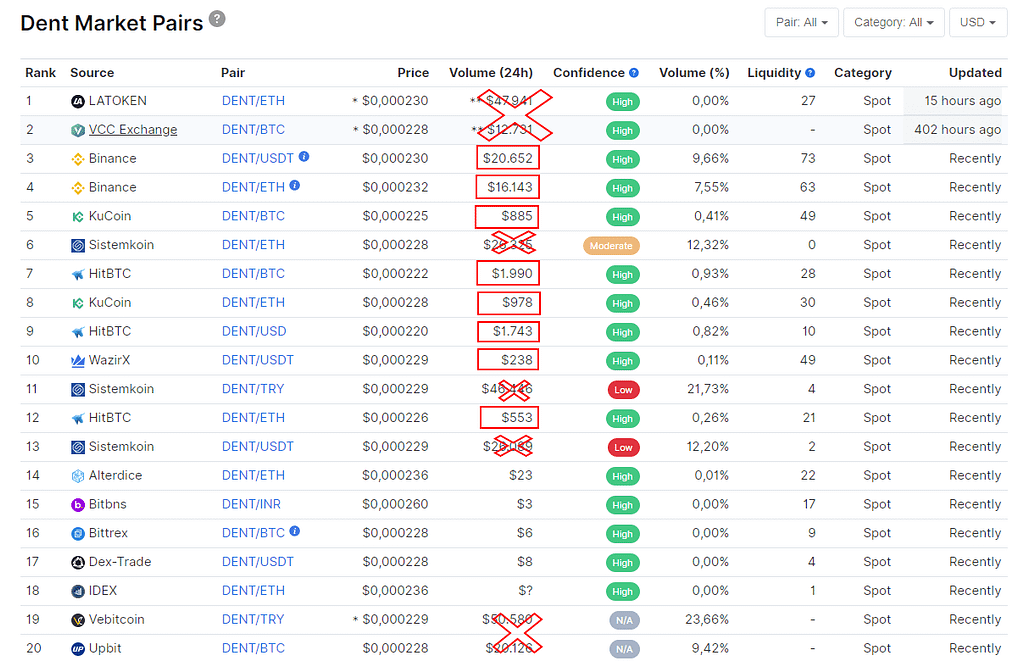 Note: there are more exchanges but don't use them as the volume is just too low. The marked/crossed exchanges report fake volumes or can't be trusted.
Also, it's very difficult to verify the reported volumes. Some exchanges "inflate" their volume via wash trading and other techniques. But you can find lots of information about the best exchanges with real volume if you just Google them. But don't try to invest the wheel, we did the work for you…
We just analyzed etherscan.ico to see which exchanges hold the most DENT on behalf of their clients. For us a good measurement about reliability, trust, and real volume.
On October 12, 2020, we found the following holdings:
| Exchange | Amount of DENT |
| --- | --- |
| Binance 7 | 22,596,466,402 |
| Binance 8 | 150,000,000 |
| Binance 1 | 108,591,660 |
| Binance 9 | 67,309,095 |
| Binance 3 | 41,644,634 |
| Binance 4 | 43,116,762 |
| Binance 2 | 83,987,809 |
| Total Binance | 23,091,116,362 |
| DENT Exchange 1 | 5,768,852,363 |
| DENT Exchange wallets | 19,000,000,000 |
| Total DENT Exchange | 24,768,852,363 |
| Bittrex 2 and/or UpBit* | 5,217,494,536 |
| Bittrex 1 | 1,765,058,318 |
| Total Bittrex | 6,982,552,854 |
| KuCoin 2 | 3,066,372,838 |
| KuCoin 1 | 932,212,628 |
| Total "Kucoin" | 3,998,585,466 |
| Freewallet: Cold Wallet | 172,239,362 |
| OKEx 1 (no DENT trading anymore) | 186,019,629 |
| Cashierest | 66,211,421 |
| EtherDelta 2 | 59,103,733 |
| HitBTC 1 and HitBTC 2 | 168,500,036 |
| LAToken 3 | 4,583,223 |
| IDEX 1 | 22,083,522 |
* As September 27, 2019, UpBit ends orderbook partnership with Bittrex Global. So, it's "unclear" for us whether this wallet belongs to either UpBit or Bittrex.
Update: as per November 20, 2020, Bittrex Global delisted the DENT/BTC pair.
Which exchanges are the best to buy and sell the DENT token?
First, let's look at in which DENT trading pair can be traded, by whom, and how many digits are used?
| Exchange*** | USA* | Trading Pair | Digits** |
| --- | --- | --- | --- |
| Binance.com | No | DENT/ETH | 8 |
| Binance.com | No | DENT/USDT | 7 |
| KuCoin | Yes | DENT/BTC | 10 |
| KuCoin | Yes | DENT/ETH | 8 |
| DENT Exchange | No | DENT/BTC | 11 |
*Can inhabitants of the USA use this exchange? Yes or No?
**The number of (decimal) digits used in the bid-ask quotes of the trading pair.
***Main exchanges (we are less positive about LATOKEN, Upbit and HitBTC)
By far, the exchange with the most and "real" volume is Binance. So, Binance is our favorite exchange. You can trade there in both the USDT and ETH pair. If you use their BNB token to pay for the trading fees, you'll get a 25% discount on trading fees.
So, from the 84.6 Billion DENT tokens in circulation, 23.1 billion are kept on Binance (by traders and investors who keep their DENT in (sub)wallets owned and controlled by Binance – hot and cold wallets).
Hence, Binance is the place where the price of DENT is determined with the highest volume and best liquidity (smallest bid-ask spread).
(Note: the Indian Exchange WazirX has recently been taken over by Binance. You can even connect these 2 exchanges with each other, and easily transfer cryptocurrencies and tokens from your accounts between each other within seconds (and for USDT without paying fees). But the DENT/USDT bid-ask spread on WazirX is quoted with 1 "decimal" digit less than on Binance, resulting in less liquidity. So, unless you live in India, stick to Binance).
Unfortunately, inhabitants from USA are not allowed to open a new account and trade on Binance.com – as per Binance.com TOS Article 3B (v).
Note: if you live in the USA and had opened a Binance.com account before September 12, 2019 and passed KYC, you are still alleged to use Binance.com. But new users from USA are not accepted anymore. (Source: Can 'Old' Users from U.S. Still Trade on Binance.com?
Some of you prefer trading in the DENT/BTC pair. However, due to the relatively low price of DENT in sats (the 8th "decimal" digit behind the dot), and in case an exchange only allows traders to set prices in sats units, the bid-ask spread is relatively higher (in comparison to other trading pairs as ETH or USDT), resulting in less liquidity and less volume.
Just read…
---
Why did Binance.com delist the Dent/BTC pair on Sept 30th, 2019?
This is direct from Binance's announcement:

"To improve liquidity and user trading experience among our wide range of available assets, Binance will remove and cease trading on the following trading pairs (as requested by most project teams) at 2019/09/30 8:00 AM (UTC):

ANKR/PAX, ANKR/TUSD, ANKR/USDC, BCPT/PAX, BCPT/TUSD, BCPT/USDC, BTT/BTC, DENT/BTC, DOGE/PAX, DOGE/USDC, ERD/PAX, ERD/USDC, FTM/PAX, FTM/TUSD, FUEL/ETH, GTO/PAX, GTO/TUSD, GTO/USDC, LUN/ETH, NCASH/BNB, NPXS/BTC, ONE/PAX, ONE/TUSD, PHB/PAX, PHB/USDC, TFUEL/PAX, TFUEL/TUSD, TFUEL/USDC, WAVES/PAX, WIN/BTC.

Note: At the moment of announcement, all 4 Token/BTC pairs that had quotes below 10 sats (BTT, WIN, NXPS, and DENT) were delisted. So, it looks like Binance is using a "cut-off" quote price at 10 sats.
When will Binance.com list the Dent/BTC pair again?
It's up to Binance… but it will probably only happen if the price of the DENT Token will be above 10 sats for a certain time.
What will be the effect if Binance will list the DENT/BTC pair again?
Well, probably there will be an initial short spike caused by enthousiastic traders/investors. But this effect will diminish fast. Let me explain…
At the moment you can trade in DENT/USDT and in DENT/ETH on Binance. The regular bid-ask spreads for these pairs are around 1% (slightly below for USDT and slightly above for ETH).
But if Binance re-introduces the DENT/BTC pair, at current prices, the bid-ask spread will be 2-3 sats. This means a spread of 33-50% (it depends on if you count from the bid or from the ask price).
Still, extremely high, and every smart buyer or seller who want to execute his order immediately will use either the USDT or the ETH pair instead of the BTC pair.
The only effect will be that some "traders" will enter 2 sats buy orders and 3 sats sell orders, resulting in huge buy and sell walls at these levels. But with low volume. So, traders have to wait for many days to maybe see their orders get filled.
What is the risk that Binance will delist the DENT/USDT and/or DENT/ETH pair?
Well, if we look at the actual trading volumes and compare these to other trading pairs on Binance, the risk is pretty high that one of the pairs will be delisted…
As per October 12, 2020, out of all 804 trading pairs, the DENT/USDT pair was ranked on place #683 (with only $21,322 trading volume in the last 24 hours), and the DENT/ETH pair was ranked #703 (with $15,681 trading volume).
Note: this overview was on a typical low volume day, a Sunday. Hence, not the perfect sample for the average volume, but it gives a good view about the current ranking on Binance.
So, both pairs are at risk for delisting. That said, on our example date there were 19 other ETH pairs with lower volume, and only 4 USDT trading pairs with a lower volume.
That said, USDT is not the only stable coin used on Binance. There are also trading pairs in PAX, USDC, and BUSD.
As usually the volume in the DENT/USDT is slightly higher in comparison to the DENT/ETH pair (due to often lower bid-ask spread in percentages), we expect the chance of a delisting of the DENT/ETH higher than for the DENT/USDT listing. Also, we expect a delisting of just one pair higher than a delisting of both pairs at the same moment. By delisting just one pair, you can expect the related trading volume to move to the other pair.
However, you can't just count up the volumes in the 2 DENT pairs as bots do arbitrate between DENT/ETH and DENT/USDT. For example, if the spread in the DENT/ETH pair is higher, a trade in this pair often leads to the (bot) counter trade in DENT/USDT to make a small profit.
---
So, some people did prefer KuCoin as you can trade in the DENT/BTC pair (with 2 extra digits) and fact that KuCoin is allowing people from the USA to trade, but be in mind that the volume is significantly lower than on Binance and with the recent KuCoin Hack, we don't advise you to use KuCoin anymore (at least until there are more details about how KuCoin will react further in response to the hack, and whether and how it affects the trading volume and liquidity in the DENT trading pairs).
But of course, you can also use DENT Exchange to buy your DENT.
Read here about all pluses and minuses about using DENT Exchange.
The only 2 other exchanges that can be considered but with very small volumes are WazirX and HitBTC.
But overall, we are not happy with the Binance dominance and still low volumes (with the risk of delisting), and fact that many potential investors from the USA simply have no option to buy the DENT tokens.
Hence, we would like to see some more exchanges with DENT listings.
Therefore, we advise the management to try to get DENT listings on exchanges as Coinbase, Gemini or Kraken, and look whether it's possible to allow people from the USA to get access to DENT Exchange.
But if volumes on Binance will stay that low, no other exchange will be interested to list the DENT token, and we don't expect an active market on decentral exchanges as well.
Unless the team will increase the liquidity pool on UniSwap for the DENT/ETH pair (or similar DEXes) with sufficient liquidity.
The team has sufficient DENT and ETH to start this pool. This allows people from the USA (and from other countries not supported by Binance) to buy the DENT token, and DW can earn some extra (fee) income.
To come out of the vicious circle of lower volumes, we'll need more volume first as it used to be in times when the transaction volume on DENT Exchange was higher due to active DENT App users…