Status of Liberation of the Mobile Data Market as pursued by DENT Wireless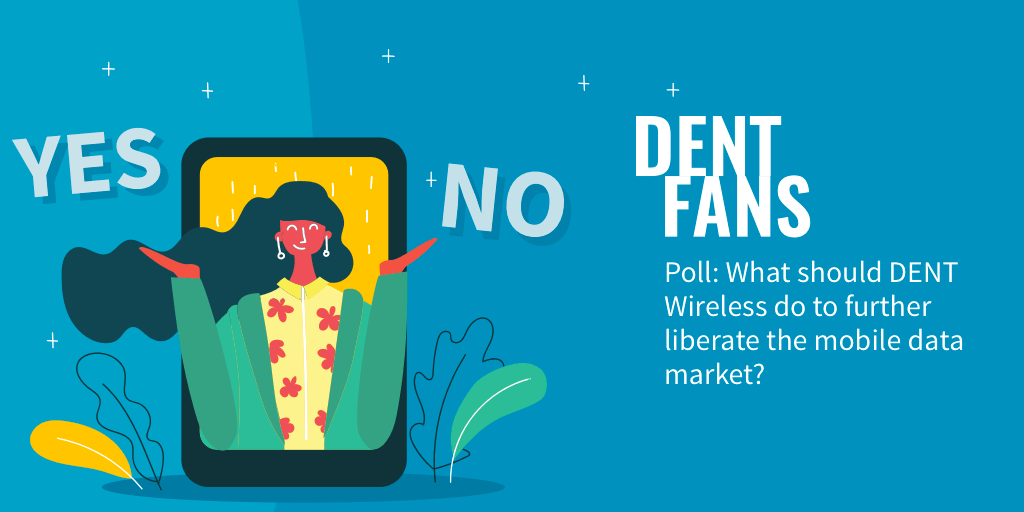 What is the current status and how far is DENT Wireless with respect to its aimed goal of liberation and disruption of the Mobile Data Market?
After a quick refresh and sum up of the original aimed goals of liberation and disruption of the mobile data market (as set in the Whitepaper in July 2017), I will analyze the current situation (3 years later in June 2020), followed by the question what's the next route, and a poll what should DENT Wireless do to further liberate the mobile data market?
Original aimed goals of liberation and disruption of the Mobile Data Market
As you probably know, there are Three Disruption Megatrends on Mobile Operator Business that DENT Wireless is addressing (source Whitepaper):
Liberation of Mobile Data. DENT enables a "Data Sharing Economy" where users are able to freely buy, sell and donate their mobile data, from any user to any user. The DENT Exchange acts as horizontal marketplace for trading of mobile data. The DENT Token will be the world-wide currency for Mobile Data between telcos and the user community.
Disruption of international Roaming. DENT facilitates the removal of data roaming cost drivers, such as expensive routings between telcos. For example, with local data break-out, the foreign telco terminates the user traffic directly to the internet, instead of routing the pay-load to the home telco.
Facilitation of mobile data purchase. DENT enables automated purchase capability of data packages for consumers and IoT devices. The user always gets the best price from the most suitable operator in his region, without having to worry about buying too much or too little data. Operators can easily connect with the DENT platform to serve a global customer base, without the need to establish silo'ed own platforms.
Short explanation (extracted from Whitepaper)…
DENT will be the global exchange for mobile data where – in the final scale – the world's mobile data is sold, bought or donated, just like other commodities such as currencies are traded today.
DENT will make data pricing transparent, and through automated bidding increases efficiency of purchase, just like spot markets and mobile advertising today.
DENT Tokens will be the global currency for the exchange of mobile data packages. The possibility of exchanging a package to a more suitable one, especially in the advent of eSIMs will allow the use of multiple operators on a single phone will drive telcos to compete.
---
Original Roadmap included in Whitepaper (10 July, 2017)
Phase 1: Development and DENT user acquisition
Organize mobile operator customers in key countries into a collective power by acquiring members with the help of the DENT Token sale and other incentives, such as sign-up data bonus of operator partners.
Launch the DENT Exchange on Ethereum blockchain for buying, selling, and donating mobile data packages.
Partner with telcos to offer mobile data packages and enable user-to-user data transfer.
Phase 2: Enrich domestic offering via the DENT Exchange
Grow DENT community and operator partner base to allow their users to transfer data packages even across networks.
For multi-national operator partners, the DENT Exchange represents an ideal platform to facilitate international data transfer for their user base.
Enable users to donate excess data as DENT, e.g. to people in developing countries.
Phase 3: Provide international data offers via DENT Exchange
Lobby with public bodies, such as EU regulation (which successfully enforced "roam like at home" and removed roaming fees within the EU) and governments of key countries to discuss rules for data liberation for their citizens.
Continue adding more users to the network, start interconnecting domestic DENT markets to create the international DENT Exchange.
Allow users to internationally sell and buy data packages.
==> DENT Token is the standard instrument for world-wide mobile data exchange.
A simple use case of how DENT Exchange will work internationally:
Mike is a customer of a US carrier, he owns 2,000 DENT Tokens. As he lands in Australia, he accesses the DENT marketplace at the airport though Wi-Fi and buys the mobile data he needs.
This data could, for example, have been offered by Jane, who is a customer of an Australian carrier.
Mike needs no extra agreements with any carrier, no SIM card changes, he just starts to use his phone on the Australian network. Jane is happy to earn DENT and will spend them on her next trip to Europe during her summer holidays. Mike's US carrier earns transaction fees, and Jane's Australian carrier has increased his utilization against his respective cost share.
So far the original plans, let's look at…
---
The current situation as per June, 2020
Simply stated, the phase 1 of the original roadmap has been completed and achieved…
At the moment, the user base is over 25 million verified and registered users who have downloaded, installed, and used one the DENT Apps.
Instead of free data, as method of acquiring these users, the marketing team used primarily referral marketing with free DENTs (where users can invite friends, and once registered, both the referrer and the new app user get free DENT as a referral or joiner bonus).
The DENT Exchange was launched on the last day of 2018, and it became the mobile data market place where buyers and sellers can trade with each other in mobile data, prepaid top-ups, and voice minutes, or trade DENT against BTC.
What about the aimed partnerships with telcos to offer mobile data packages and enable user-to-user data transfer?
Well, via the DENT Marketplace, DENT App users can buy and sell mobile data or prepaid top-ups for 236 carriers in 87 countries. And every bought package can be activated and used by the app user himself, or can be transferred to "a friend".
This "send to a friend" is a one-way activity. The user sends a data package, but there is no "exchange" or "trade" option, where the receiver sends a package in return (as in the Mike and Jane example above).
Also, all data products on DENT Marketplace are top-up products brought on the market by DENT Wireless. At the moment, there are no products directly offered by telco providers (via the pursued "Telco Trading Desk"), and users can't sell/buy/trade unused data.
Furthermore, these products are often acquired by DENT Wireless from middlemen instead directly from the telco itself. So, no formal approval or cooperation is required from these telcos.
And this formal, but more important, active cooperation of telcos is required to enter the next phase…
To allow users to sell unused data, and to transfer data packages even across networks.
As DENT Wireless can create awesome apps and a smart trading platform, but in the end, telco providers have to permit their users to sell unused data, and/or to transfer this data to others.
Unfortunately, DENT Wireless has not yet announced any partnership or cooperation deal with a telco (or group of telcos) allowing their users to sell (or transfer) unused data (except for a small pilot project for PLDT customers in the Philippines).
Also, due to the "lack of cooperation of telcos", it looks like that DENT Wireless is not yet capable of taking advantage of the pursued "purchase power of united customers" to purchase (sufficient) data packages directly from the telco providers with a (quantum) discount.
So, without discounts, and also due to the upwards price effects of the referral marketing strategy (as users can use free DENT to buy packages, and are willing to pay higher prices), prices on the DENT Marketplace are often too high, and DENT App users just "stick" with their local provider (or other supplier) for buying mobile data and prepaid top-ups.
Hence, DENT Wireless should get (more) telco providers on board. Telcos who want to:
Sell their data packages and give quantum discounts to DENT Wireless for selling on the DENT Marketplace, or
Get access to the Telco Trading Desk (and sell the data package on DENT Exchange themselves), or
Allow their users to sell and/or transfer unused data.
And as long as these providers don't want to cooperate, then the process of further liberation will stop…
At least for the traditional SIM based mobile data and prepaid top-ups as offered by local providers where DENT Wireless needs the cooperation as it can't can't operate on its own.
---
What's the next route, and what should DENT Wireless do?
At the moment, it's unclear whether DENT Wireless will still try to get telco providers on board and what the chance of success is. We have to await the new upcoming roadmap to see whether current not yet achieved roadmap items are postponed or cancelled, and whether the focus has been fully switched to eSIM, or not…
As DENT Wireless became a MVNO (Mobile Virtual Network Operator) with its own private label products eSIM data plans and Global Voice Calling, it has now the option as free independent operating provider to allow its users to:
Sell unused data on the DENT Marketplace.
Share, Pool, and Allocate data via the DENT Teams.
Send data packages via DENT Messenger.
Plus DENT Wireless can set its own conditions and create the data plans as they like. So, by definition, the team can create very attractive and competitive plans (with easy onboarding process).
Side step: the eSIM launch started impressive with worldwide coverage (50 countries), long duration (of 365 days), and 3 competitive priced plans (of 1GB, 3GB, and 10GB). Combine this with the already announced extra features (as selling unused data, expansion DENT Teams, and DENT Messenger) that will be added in the near future.
Also, eSIM enables DENT Wireless to execute number 2 and 3 of the "Three Disruption Megatrends" (see above), i.e. Disruption of international Roaming, and Facilitation of mobile data purchase.
So, it's very logical that (from the outside, it looks like) DENT Wireless is focusing now on its own eSIM products.
Not only for the reasons mentioned above, but also because eSIM is the future as adoption will grow, more and more smartphones and other devices will be eSIM enabled, and more providers worldwide will allow and support eSIM.
Furthermore, eSIM allows new features as automated (programmed) renewals and other actions triggered by smart contracts and other blockchain benefits (not only for consumers but also for IoT or M2M devices) .
But there is a downside if the team decides to focus solely on eSIM…
Of course, DENT Wireless can try to convince other eSIM providers to allow their users to sell unused data, or to offer their eSIM data products on the DENT Marketplace, but as providers of traditional plastic SIM cards products are not cooperating, why will eSIM providers cooperate?
Especially, as DENT Wireless is now a direct competitor.
So, let's assume other telco providers or MVNOs don't want to cooperate (or the DENT Wireless team can't convince them), not for traditional SIM data products, and not for eSIM data products.
As a result, DENT Wireless has to acquire new users all by themselves by offering and selling its own eSIM products.
So, in essence, "starting from scratch" as most of the current 25+ million users are either not active anymore, don't have an eSIM enabled device, or are have no interest in eSIM.
Or other reasons as: can't afford to buy a eSIM enabled telephone or device, have a long-term subscription plan, have a blocked eSIM device, have a cheap local eSIM plan and don't travel abroad (while the DENT worldwide plan is more expensive) , etc.
Also, the current user base exists of roughly speaking 90%+ users with an Android device, having a relatively cheaper (prepaid SIM only) phone, and are living in developing countries.
Not the ideal eSIM client, so to speak. And also probably not the optimal targeted start group for using referral marketing as method of acquiring new eSIM users.
On the other hand, probably not in the first 2 years, but maybe after a few years, a substantial part of the current user base will eventually switch to an eSIM enabled device as sooner or later there will be cheaper eSIM mobile phones coming on the market (and more and more providers will open up (or enter) the eSIM market).
But it will be "a hell of a job" to re-activate an "inactive" DENT App user after several years.
So, what should DENT Wireless do?
Should DENT Wireless solely focus on eSIM and concur the market as MVNO?
Hence, by betting on one horse…
Or by betting on two horses, and…
By (keep on) trying to convince telco providers to cooperate with respect to SIM data products?
(Of course, with cooperation I mean: telcos offering discounted data packages to DENT Wireless to sell on the Marketplace, becoming part of the Telco Trading Desk, or allowing their users to sell unused data)
Hence, by keeping as much current DENT users on board and offering them competitive priced SIM related products and/or a marketplace for selling unused data.
No matter what the management team will decide, they can only spend their time and energy once.
And it's for sure that focusing on eSIM alone will be challenging enough.
Let alone if the team wants to continue and expand the current SIM product range and product features.
Poll: what should the Management Team do?
So, let's discuss (with arguments) in the comments at the bottom, or in our DENT Fans Telegram Group, what you want the management team to do… betting on one or two horses?
---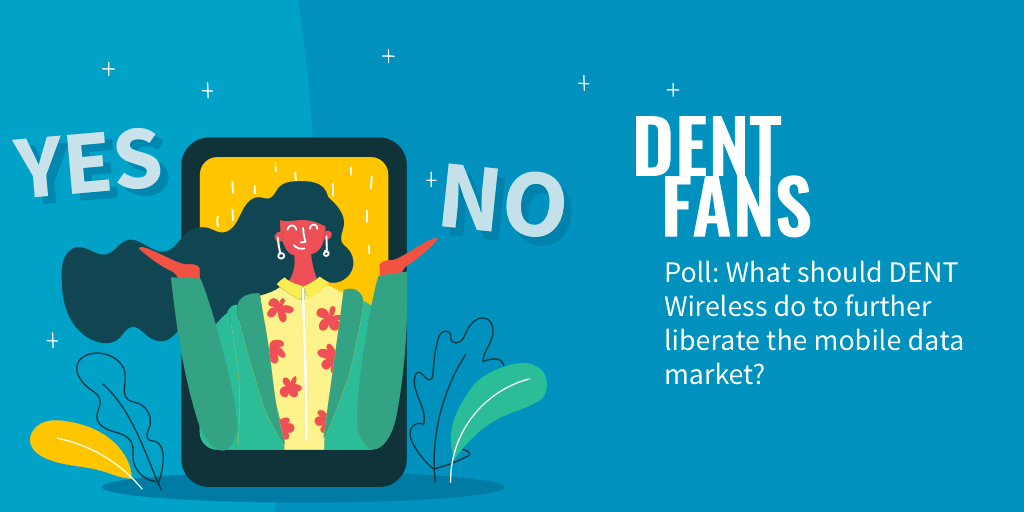 But first, answer these "unsophisticated" Yes/No questions below…
---
---
---
---
---
And if you want, add your comments at the bottom of this post…
(Comments are reviewed before published to avoid spam comments)
Update after Poll and release of new roadmap, July 2020
Although it's clear that our community has still trust in the team that they can convince telco to either sell SIM related packages with discounts, join the telco trading desk, or allow their users to sell unused data, the new roadmap clearly shows the management's focus on eSIM and setting up new distribution channels, products, and platforms for resellers (GigaStore), MVNOs (Cloud Stack Telco Platform), businesses (IoT Dashboard and DENT Teams).
With still sufficient focus on liberation of the mobile data market with roadmap items as:
Advanced sharing of data (pooling, splitting and allocation) via DENT Teams, shareable coupons, and integration with major messenger apps. Not only among users, but also among devices (smartphones, tablets/laptops, wearables).
Unused eSIM data selling feature.
Research and development on GGSN technology to enable local breakout to save mobile network capacity and to make data transfers faster for the users.
So, with less focus on the original plan to get telcos onboard for the SIM related products?
Probably, but I's sure that whenever the chance occurs the team will pick up the "old plans" and can adopt fast.
But from a technological and marketing view, eSIM is the future and will replace SIM in the coming years. Hence, the new route as laid out in the roadmap get our full support.