eSIM Market Reports, Studies, Facts & Figures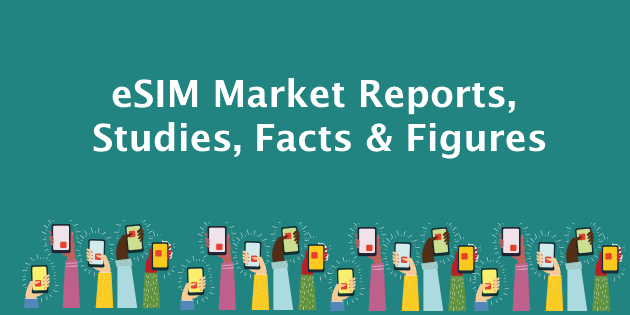 On this page, you can find hyperlinks to eSIM market studies, reports, and other news about the eSIM mobile data market.
We start with the list of all interesting public available information, and end with a summary of the key facts & figures.
As eSIM plays a central role in decreasing international roaming costs, below some info about Roaming:
---
Benefits of using eSIM in comparison to physical SIM cards
What are the main benefits and reasons why people want to use eSIM above physical SIM cards?
Having easy, fast, and remote access and management to multiple operators on the same device (without having to switch physical SIM cards) for better coverage and piece of mind (if connectivity "must be guaranteed", or is needed).
Easy access abroad while avoiding high international (roaming) costs and spending time to find, buy, and switch to local SIM cards, or the necessity to hunt for free (hotel) WiFi, and still can get incoming calls at your primary phone number.
Avoid physical SIM card problems (as it gets stuck inside, difficult to get it out and switch cards).
Connect multiple devices with one data plan (device bundling). Think about laptops/tablets and wearables all on the same data plan. But also about a still to be developed range of new, enhanced mobile-connected devices.
Share eSIM data plans among devices, or among family, friends, or team members (DENT Teams).
Remote and efficient management of all connections. For example, a HR department can easily add new phones to a corporate mobile service, swap devices between employees, or allocate data plans.
Barriers for using eSIM
Locked eSIM enabled smartphones by providers.
Post paid provider plans with a contract.
Unknowingness and unfamiliarity.
Costs for local usage are often higher than SIM plans offered by local providers.
What are the main reasons people mention why they want to try out eSIM?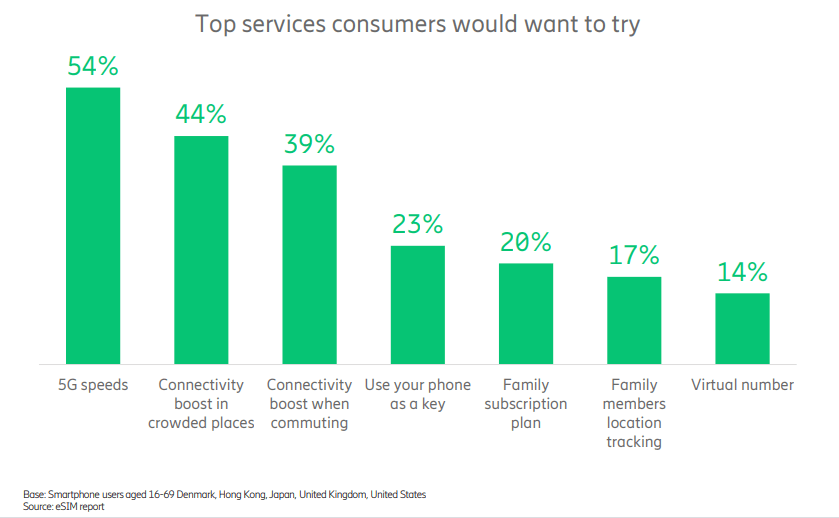 Interests to connect other devices with eSIM data plan
But eSIM has also many benefits for:
Organizations. eSIM enables remote management of subscriptions.
Distributors. Simplified logistics are possible, customization for specific operators or regions may be reduced.
Operators. Simpler means to expand their businesses into emerging markets as IoT (Internet of Things), M2M (Machine to Machine) solutions, automotive, wearables and consumer electronics. SIM card distribution costs will be eliminated, and eSIMs will enable new distribution models for devices and for marketing of subscriptions.
Device Manufacturers can exploit the reduced space within their products to make smaller devices. Their products could also be made more tolerant to environmental factors such as dampness, temperature and vibration as they can be hermetically (completely airtight) sealed. Manufacturers can also leverage eSIMs to optimize supply chain processes.
Furthermore, the eSIM/eUICC has been physically improved (in comparison to plastic SIM cards) to be able to fit extreme environments (temperature, humidity, vibration, water-resistant, and so on), and across the long life cycle of (smartphone and IoT) devices.
eSIM trends and insights for 2025
In a recent GSMA report "The future of eSim in smartphones: are we at a turning point?" with data based on surveys among GSMA members, we can conclude that end 2025:
60% of smartphone unit sales will be eSIM-compatible.
Between 2 and 3 billion smartphone connections worldwide will use eSIM (low and high adoption scenarios, respectively).
China to become the largest eSIM market, with 0.5 billion eSIM smartphone connections.
As per April 2020, there are an estimated number of 4.2 billion unique mobile internet users.
But what about IoT connections?
Based on Ericsson's latest Mobility Report, the number of Internet of Things (IoT) connections will reach nearly 25 billion by 2025. Out of those devices, 4.1 billion will have cellular connections.
But of course, not all IoT devices will be connected via eSIM.
A little older report from Counterpoint but with a nice overview of the expected average growth rate in 2018-2025 for all different devices that will use (hardware) eSIM in the future…
Other connected devices such as drones, mobile hotspots, routers, connected PCs, and smartwatches though will grow at a higher CAGR due to a relatively smaller base of adoption right now. However, in terms of shipment volumes, smartphones and B2B IoT devices will lead.
That said, many IoT devices will also need and use integrated SIM (iSIM) or iUICC within system-on-a-chip (SoCs) with specific (built-in software) requirements instead of eSIM.