What are the main benefits of using Blockchain and smart contracts?
What are the main benefits for DENT Wireless and DENT (App and Exchange) users of using DENT as a utility token in comparison to other mobile data providers who don't use blockchain technology and smart contracts?
(Note: DENT Wireless uses the ETH platform with smart contracts and sidechains, see at the bottom of this post)
Below just a few benefits:
Cheaper and easier data management (users/clients' personal, transactional, and usage data).
One single (required) method of payment, the DENT token for all transactions that can be used worldwide.
DENT Exchange where users can buy/sell (unused) mobile voice/data packages or plans with quotes and trades in DENT.
Additional DENT App features (above easy activation of data and global voice calling) as:

Storage of DENTs for future (auto-renew) payments.
Paying for and sending mobile data packages to friends all around the world.
Earn DENTs via referrals ("Invite a friend and get both free DENTs").
Earn DENTs via Offer and Survey Wall (watching daily video ads, completing surveys, performing tasks).
Afterburner Loyalty Program where users can deposit DENTs and lock them up for 30 days and get all kinds of benefits as free voice minutes, extra rewards, and discounts (trading fee).
[Upcoming feature] Integration with all major messenger Apps as WhatsApp, WeChat, and more, to easily send DENTs to others.

Micro Payments. As services as PayPal or Credit Card companies do charge transaction fees, it's "impossible" due to relative high transaction fees to do small micropayments for payments lower than $1.00. With the DENT token, it's possible to transfer small "dollar amounts" between users (including the marketing team who can pay small amounts for incentives).
The DENT ICO allowed the team to build the DENT ecosystem and to acquire 25 million App users via referral marketing by giving away free DENTs for new registered and verified App users (both new users and referrer get free DENTs). Without the DENT token, this wouldn't have been possible.
DENT Credits. All DENTs inside the DENT Apps can only be used for in-app purchases and can't be withdrawn to external wallet addresses. Hence these DENTs are called and treated as DENT Credits. So, the moment someone deposits DENTs (from an external wallet) inside the DENT App, or a DENT App user gets free DENTs as referral or Earn Tab reward, actually the DENT tokens are converted into a "right" to buy in-app telco products. This credit system ensures that free acquired DENTs have to be used inside the DENT ecosystem and can't be transferred into fiat. This credit system also opens the opportunity to reward DENT App users with (relatively) extra DENT credits, the higher the purchased $ DENT credit bundles (quantum discount the more dollars you spend as these users commit themselves to future purchases that will be paid with DENT credits).
[Smart contracts]. All kinds of automatic processing via "ETH smart contracts". Think about the automatic processing and buying of the necessary DENT if a DENT App user buys products by paying with dollars or other cryptocurrencies without the user knowing or seeing this happening.
[New Partnerships]. Think about all kind of partnerships with micro payments and DENT as rewards (or DENT/data/voice combos). For example, the expansion of the "Offer Wall" with tailor-made international marketing campaigns with multinationals (or telcos) where users get X DENTs for buying product Y (again usage of small micropayments feature where free DENTs equals to free mobile data).
Branding of the DENT label. As the DENT token is being traded on multiple crypto exchanges and can be seen as an "investment" vehicle (and not just as an internally used utility token), all news, press, and social media activity related to the DENT token, will increase the branding of DENT Wireless, the DENT token, and the DENT products.
So far a quick list of top of mind benefits. Currently, behind the scenes on the background al kinds of transactions take place on DENT Exchange that are made possible with smart contracts.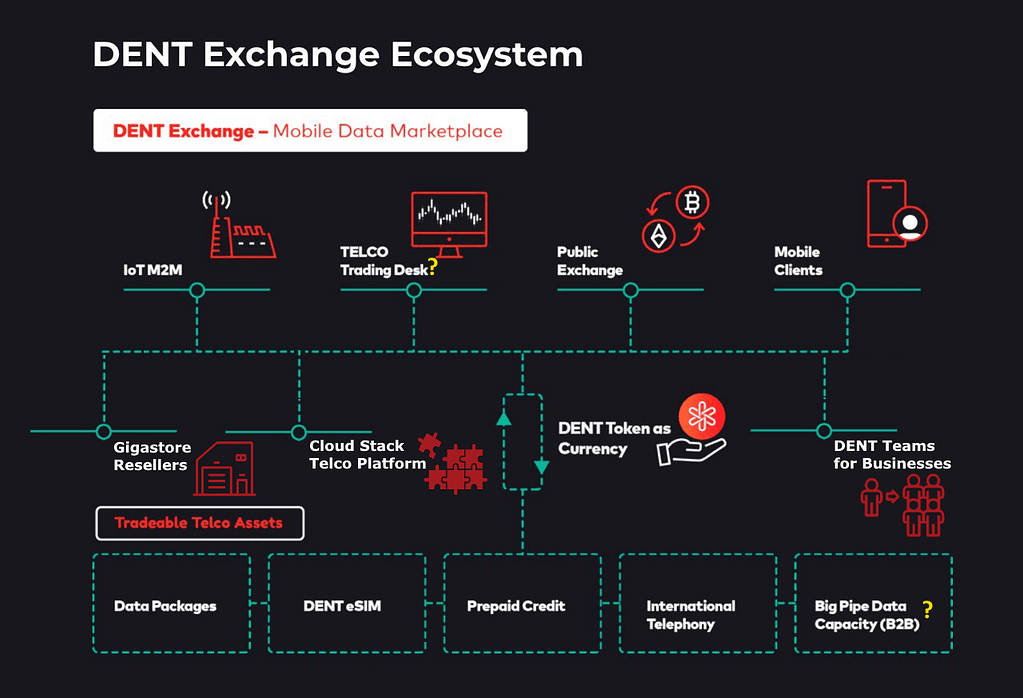 And there are many other options that can be developed as launching a Pay-as-you-go product where users are charged in DENT for actual using mobile data or voice minutes.
Or think about the automatic renewal of mobile data for IoT devices and M2M objects (Internet of Things, Machine to Machine).
You could argue whether it's better to have a public blockchain and token or by using a private "closed" blockchain technology?
As there are advantages and disadvantage by using either a public or a private blockchain.
So, to name a few advantages…
The public ICO allowed DENT Wireless to build the business and DENT ecosystem without own investments.
With the DENT token, a new international "payment method" has been created that can be used by anyone in the world for small micro payments and regular payments.
The public token creates free publicity and branding for DENT and DENT Wireless, that otherwise should have been spent on marketing.
DENT Wireless has the first-mover advantage of using a public blockchain for mobile data trading.
Finally, often heard on social media:
"When is DENT Wireless launching it's own mainnet?
Well, the simple answer is that the DENT token is created on the Ethereum (ETH) platform while using smart contracts and sidechains.
So, DENT Wireless is using all the benefits of the public ETH platform. For users, think about storing DENT tokens in wallets, transferring them to any wallet you want, trading them on exchanges (all while being anonymous).
While the (private) DENT ecosystem is based upon smart contracts and sidechains, where all processing transactions are automated and are done extremely fast without having to use the main ETH platform (and without having to pay transaction fees, aka Gas).
And as DENT Wireless can build the whole ecosystem as they want by using ETH, smart contracts and sidechains, there is no need to develop an own mainnet (i.e. blockchain).
Because why trying to build a new platform if you can "freely" use the number 1 properly working global, open-source platform for decentralized applications?
Hence, DENT Wireless is a proud member of the Enterprise Ethereum Alliance and will continue with using the ETH platform combined with smart contracts and sidechains (or parachains).