DENT Wireless vs DENT Token Holders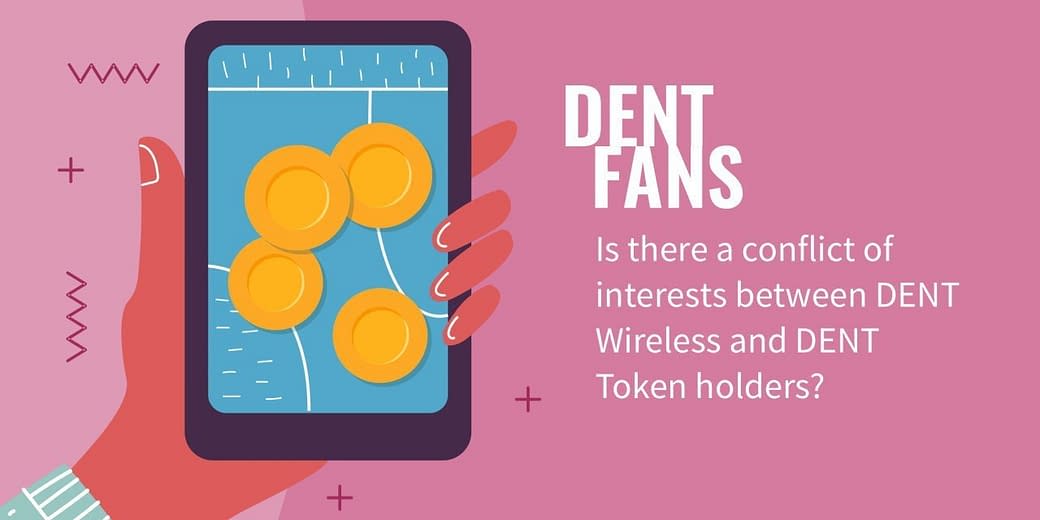 This blog post is about the relationship between DENT Wireless and DENT Token holders who keep DENTs to make a profit due to the (expected) DENT price appreciation.
As DENT Wireless has other company goals as well as to just focus on the DENT token value, I'll start to explain what the main business goals are and how DENT Wireless is supposed to make an income, to survive as business in the long-term.
Followed by the main goals for the token holders with explanation of the main factors that determine the theoretical token value.
On the basis of these factors, I try to analyze whether or not there is a conflict of interests between DENT Wireless and its token holders.
DENT Wireless' main company goals and revenue streams
Well, as for any business, DENT Wireless wants to become a profitable business while satisfying its shareholders with increasing shares price and business valuation.
So, DENT Wireless wants to sell products and/or offer services and make a profit out of them.
What are the main (expected) revenue streams?
Selling eSIM mobile data and Global Voice minutes as MVNO under private label.
Selling mobile data and prepaid top-ups from other carriers (on DENT Exchange and via DENT Marketplace).
Advertising income from in-app ads, surveys, and other tasks performed by DENT App users in the DENT Earn tab (Offer Wall).
Trading fees on DENT Exchange. Maybe extended with joiner or platform subscription fees for market participants (as telcos, resellers).
Margins on selling DENT for fiat (in-app purchases, or purchases in DENT Teams).
Or to say it in other words…
DENT Wireless will only survive if it can develop and expand at least one of the first 4 above revenue streams to such an extend that the company becomes profitable. (The last one is more or less a "side-income" as an extra service)
After analyzing the new roadmap, it looks like the management team has chosen to primarily focus on the first revenue stream by acting as an MVNO with clear focus on eSIM related products and services.
With focus on different distribution channels and niches by building different (sub)platforms (as part of the DENT ecosystem) as:
DENT Apps and DENT Teams for consumers.
DENT Teams for businesses.
DENT Gigastore for resellers.
DENT Telco Cloud for MVNOs.
DENT IoT dashboard for IoT/M2M solutions.
All with common underlying USPs as optimal user experience with as few restrictions as possible (worldwide coverage, long duration), easy sharing of data, automation and auto-renewals (via smart contracts), technological superiority (Local Breakout), "eSIM on a chip" for IoT devices, and selling of unused data.
But of course, if for example, the team can introduce a more engaging and rewarding Offer Wall (or other form where DENT App users can earn free DENTs), and with 25 million registered users, this can be a significant income stream for DENT Wireless. Especially as about 90%+ of current App users have no eSIM yet, an Android device, and are located in less developed countries, with users eagerly to get free DENTs, data, or voice minutes.
Or what about, if DENT Wireless can get telcos onboard and launch the telco trading desk? Or maybe better, can buy the mobile data and prepaid top-ups with a discount in large quantities and sell these packages directly via the DENT Marketplace (with higher margins than just trading fees)?
All interesting ways to increase the transaction volume with profitable products. And there are more options as the marketplace for selling 5G latency data, etc.
Main goals of DENT Token holders
As we focus in this article on token holders who "invest" in the token, the main goal is of course future price appreciations.
In our article about a Model for token valuation, we described this formula:
C = (T/V)/M
where
C = Price per token
T = Transaction Volume
M = Total number of tokens in circulation
V = Token Velocity
Or to say it in words…
The price of a token depends on the transaction volume. The higher the transaction volume, the higher the theoretical token price.
But transaction volume alone is not sufficient as the token velocity is also very important. The higher the token velocity, the lower the theoretical token price.
Finally, of course, the number of tokens into circulation determines the theoretical token price. The higher the number, the lower the token price as…
The theoretical DENT token price is based upon the purchase power of all the token taken together. Or what can you buy with the DENT Token if you have (theoretically) all the DENTs available. What is the equivalent USD value?
And of course, the actual price of the DENT Token on the exchanges depends on the overall (crypto)market sentiment, and actual (temporarily mismatches between) supply and demand.
Conflict of interests between DENT Wireless and DENT Token holders?
So, based upon this formula, it's easy to see that both DENT Wireless and the token holders benefit from higher transaction volume.
Hence, every new "viable" product, new participant, or extension of the DENT Ecosystem is in the interest of both DENT Wireless and the token holders.
And of course, it makes more sense to focus on those projects and products that have the most potential and have a high chance to be adopted in the market.
As the DENT Token is a utility token, it makes sense for token holders to look at the actual usage of the token. Not only as measurement for actual transactions. But also, because the more usage, the more friction, and the lower the token velocity, and in theory the higher the token price.
But for DENT Wireless the token velocity is less important.
On the contrarian, as DENT Wireless is nowadays in most cases the seller, it wants to get paid out in fiat as they have to pay their suppliers (MNOs) in fiat. Hence, it makes no sense to keep a huge amount of DENT on their balance as all purchases (data/voice, business expenses) have to be done in fiat.
Furthermore, it's not in DENT Wireless (business) interest to "speculate" with the DENT tokens and keep (in excess) revenues in DENT and wait for potential higher prices (as any certified treasurer will tell you to sell or hedge positions and don't take any unnecessary "currency risk").
Of course, there is more than the perspective of treasury, otherwise the DENT token wouldn't exist anyway. Read this article to see what the benefits are of using the DENT token instead of just USD (or any other fiat currency).
So, it's clear we can't expect DENT Wireless to keep huge numbers of DENTs (for speculative purposes), but we as token holders do want a lower token velocity.
Originally, DENT App users could only buy telco products if they first bought the (necessary) DENTs (or got them for free as incentive).
But since end of April, 2020, DENT Apps users can pay for their data purchases directly with USD by using PayPal or Credit Card.
However, for transparency but also to initiate the smart contracts (if necessary), all transactions have to take place on DENT Exchange.
Hence, on the background DENT Wireless is now buying the necessary DENTs on DENT Exchange via the DENT/BTC pair.
So, the overall effect of these purchases for the token velocity is the same as before…
DENT Wireless (as they are often the seller) get paid in DENTs and has to sell these received DENTs later due to proper treasury management and to pay for regular purchases and expenses.
But be in mind, the faster DENT Wireless is selling these DENTs, the higher the token velocity, which leads to a lower theoretical DENT token valuation.
And there is one "small" difference with a negative effect on the token velocity…
Prior, DENT App users often bought more DENTs than necessary as they bought a bundle of DENTs (bundles starting at $3.99 up to $99.99), and after buying their preferred product(s), some DENTs were left as "friction" in their balance.
This friction is gone as DENT App users are now paying the exact necessary amount in USD.
On the other hand, by allowing people to pay in USD with either PayPal or Credit Card, you can expect to onboard more people. Hence, resulting in a better user experience and higher transaction volume.
Generally speaking, the transaction volume comes first and is more important than the token velocity as it doesn't matter how fast or slow the token velocity is without much transaction volume.
Also, there are many other options to reduce the token velocity that can both benefit DENT Wireless and the DENT token holders (and can be implemented later). Read this article about DENT Token Velocity to see some suggestions.
To name a few:
Making the DENT Afterburner Loyalty Program more interesting for DENT App users, and make this program available for iOS users (via the Web App). But there should be a balance as the benefits and discounts should go to actual real buyers of telco products and not to "freebie seekers".
Making the DENT Earn tab more interesting for DENT App users. The more usage and DENT rewards people can get, the more DENTs are kept by DENT App users.
Introduce a (virtual or real) Pay-as-you-go model.
Cashbacks or a better name DENTbacks. Free DENT bonuses if you purchase a specific amount in USD.
Extra check-out feature to buy DENT for purposes as deposit into AB Vault, deposit for auto-renewals (or pay-as-you-go), extra discounts, to send DENT or data to friends.
Launching the marketplace for selling unused data.
Speaking about selling unused data…
The exchange (or marketplace) where users can easily sell unused data was one of the main drivers of DENT Wireless' mobile data market liberation.
But for (SIM) data offered by (local) carriers, these carriers have to cooperate and allow their users to sell unused data.
Unfortunately, there was only one pilot project where a local carrier (PLDT) allowed to sell unused data.
With eSIM data offered by DENT Wireless, of course, it's now easy to introduce the feature to sell unused data. But the team is also facilitating features that lower the need for selling unused data. Think about data sharing (via DENT Teams, coupons, messenger Apps), long validity (standard duration of 365 days), and worldwide coverage (as standard).
So, you can argue whether or not, the marketplace for selling unused data will be the killer feature that every DENT App user is waiting for. Hence, whether it should be on top of the "to-do-list" for the management team. But for DENT Token holders, this marketplace will definitely decrease the overall token velocity. (And it can be an interesting new product for DENT traders on DENT Exchange to make an income by buying larger sized packages and splitting them into smaller ones with in theory relatively higher prices per MB/GB)
What about the last factor that effects the theoretical price of a token, the number of tokens into circulation?
Everyone knows that sooner or later the remaining 17.8 billion DENT Tokens will come into circulation, and that the total number is "fixed" at 100 billion. Read the paragraphs 5-7 in this article about DENT Token distribution and main company releases to see why I think that the possible effects of releasing the remaining tokens out of the main company wallet into circulation on price can be ignored (at least as long as DENT Wireless will "spend" these tokens to improve the DENT Ecosystem).
So to summarize…
Conclusion
The major component for a theoretical (and long-term) increase in the token value is an increase in transaction volume. Luckily, to survive and become profitable this is for DENT Wireless essential as well. So, no conflicts of interests between DENT Wireless and its token holders.
With respect to token velocity it's less clear but there are many ways to decrease the DENT token velocity without negative business effects for DENT Wireless.
However, the focus for the team should be on the transaction volume. And later, the team can also implement one or more of the suggested improvements to slow down the token velocity.
And remember, as long as there are still 17.8 billion DENT Tokens in the main company wallet, the team benefits from a higher token price. So, the team would not purposely try to increase the token velocity with as a result a lower token price.
Also, the releases of new DENT tokens into circulation are not based upon the actual price of the token, but based on managerial decisions to expand the DENT Ecosystem (including marketing to attract new users/clients) at the best moment.
So, overall, DENT Wireless and DENT Token holders have the same interests and will benefit both if the DENT Ecosystem expands.