FAQ DENT Tokens and DENT Wireless Ltd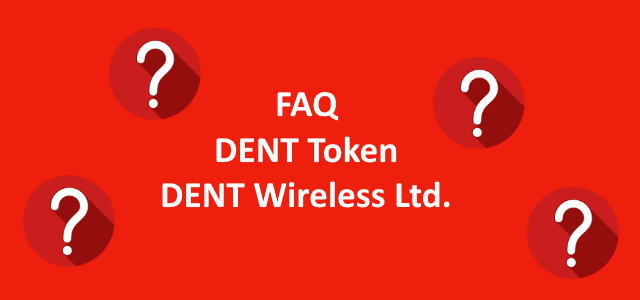 Content:
Official information about DENT Wireless Ltd and the DENT Tokens
Frequently Asked Questions about benefits of DENT Products.
Frequently Asked Questions by DENT Token holders.
Incorrect assumptions and statements on social media.
---
Official information about DENT Wireless LTD and the DENT Tokens
Website: https://www.dentwireless.com/
YouTube: YouTube Channel (with demo videos)
Twitter: https://twitter.com/dentcoin
Telegram Chat Group (discussion): https://t.me/dentcoin
Telegram News Channel: https://t.me/dentcoin_news
Instagram: https://instagram.com/_dentapp/
Facebook: https://facebook.com/dentcoin
Reddit: https://www.reddit.com/r/dent/
Original Whitepaper: https://www.dentwireless.com/whitepaper
Roadmap: https://www.dentwireless.com/roadmap
Frequently Asked Questions: https://www.dentwireless.com/faq
Download DENT Apps: https://www.dentwireless.com/dent-app
DENT Exchange: https://dent.exchange/
Terms and Conditions:
DENT Wireless Support: https://dentwireless.zendesk.com/hc/en-us
So, for specific individual questions about how to use the DENT products try the FAQ page, and if you won't find an answer, contact Support.
---
Frequently Asked Questions about benefits of the DENT products
Why do I need DENT eSIM if I live in Europe, have a monthly subscription plan with my local operator, and can use my smartphone everywhere in Europe and my operator doesn't charge extra costs?
Yes, it's true that due to the Roam like at home (RLAH) rules, you can now travel throughout the European Economic Area (EEA) countries while still using (and paying for) your local subscription without paying for roaming costs.
And of course, it depends on your individual situation, as who is your operator, what are the specific details, what are your monthly costs, how much GB are you allowed to use each month, are you using it all, what do you have to pay if you'll need more data or voice minutes?
So, when can it still be beneficial for you to use DENT eSIM?
For backup, if you'll need another provider in case of bad or no connection.
To increase upload and download speed.
For avoiding the high "out-of-plan" extra data charges. Out-of-plan relates if you are going to use more than your allowed (monthly) maximum data, or above "fair usage" limits (often applicable for usage in the other EEA countries – not your own country). Some providers even restrict the amount of extra data you can purchase op top of your monthly contract limit (for example, if you have a 1GB monthly data plan, you are only allowed to "top-up" an extra 1GB each month).
For pooling data with your family, friends who don't have access to the local provider(s) abroad (no matter where they are, can be thousands of miles away from you). But also if they stay near you on vacations, for example in case they have a prepaid or only local plan such that they can't use data abroad or only at high costs (DENT Teams feature).
Or for data pooling your other devices as laptop, tablet, smartwatch, or gaming console with your DENT eSIM plan (can you do this with via your current provider?).
Maybe you have a rather expensive monthly plan where you don't use all the available GB each month, but have once or twice a year a "peak usage". In that case, it can be beneficial to switch to a smaller plan (or SIM only plan), and buy a DENT eSIM data plan and only pay for what you use (as the plan has a duration of 365 days).
[Upcoming feature] In the near future it will be possible to sell unused eSIM data on DENT Exchange or via the DENT Marketplace.
And of course, if you are going to visit a country outside the EEA to avoid (often very high) international roaming costs.
Why do I need DENT Voice if I have WhatsApp or Skype and an internet connection?
Be in mind, you need an internet connection to use DENT Global Voice Calling, and yes it takes some bandwidth and data to call, but only very small pieces. However, the main advantage is that with DENT Voice you can call to any landline (or mobile phone) in 120 supported countries, where the receiver doesn't need to have access to the internet (only the caller). And overall (by paying for DENT Voice and for some data), your costs are (usually) still lower than calling via your own local telco provider. And if you'll take advantage of the Afterburner Loyalty Program, you can even call for free (to a certain amount of minutes each 14 days).
---
Frequently Asked Questions by DENT Token holders
What is the DENT token (aka DENT coin)? Where can you store and buy/trade the DENT token?
The DENT token is an utility token (and the required payment vehicle) for buying, selling, and trading mobile data, prepaid top-ups, and voice minutes to be used in the DENT ecosystem (DENT Apps and DENT Exchange). The DENT token is an ETH ERC-20 token. Hence, you can store your token in any ERC-20 compatible wallet. The DENT token is listed and can be traded on several cryptocurrency exchanges as Binance, KuCoin, Bittrex Global, and on DENT Exchange. (Read our blog post DENT token: exchange listings and what to know about these exchanges)
Why did Binance.com delist the Dent/BTC pair on Sept 30th, 2019?
This is direct from Binance's announcement:

"To improve liquidity and user trading experience among our wide range of available assets, Binance will remove and cease trading on the following trading pairs (as requested by most project teams) at 2019/09/30 8:00 AM (UTC):

ANKR/PAX, ANKR/TUSD, ANKR/USDC, BCPT/PAX, BCPT/TUSD, BCPT/USDC, BTT/BTC, DENT/BTC, DOGE/PAX, DOGE/USDC, ERD/PAX, ERD/USDC, FTM/PAX, FTM/TUSD, FUEL/ETH, GTO/PAX, GTO/TUSD, GTO/USDC, LUN/ETH, NCASH/BNB, NPXS/BTC, ONE/PAX, ONE/TUSD, PHB/PAX, PHB/USDC, TFUEL/PAX, TFUEL/TUSD, TFUEL/USDC, WAVES/PAX, WIN/BTC.

Note: At the moment of announcement, all 4 Token/BTC pairs that had quotes below 10 sats (BTT, WIN, NXPS, and DENT) were delisted. So, it looks like Binance is using a "cut-off" quote price at 10 sats.
When will Binance.com list the Dent/BTC pair again?
It's up to Binance… but it will probably only happen if the price of the DENT Token will be above 10 sats for a certain time.
When is DENT Wireless launching it's own mainnet?
Well, the simple answer is that the DENT token has been created and is used on the Ethereum (ETH) platform while also using smart contracts and sidechains. And as DENT Wireless can build the whole ecosystem with these elements, there is no need to develop an own mainnet (i.e. blockchain).
Because why trying to build a new platform if you can "freely" use the number 1 properly working global, open-source platform for decentralized applications?
Recommended reading: read our post What are the main benefits of using Blockchain and smart contracts? to get a better idea how the DENT ecosystem is built with smart contracts and sidechains.
---
Incorrect assumptions and statements on social media
"There are too many DENT tokens, 100 billion tokens, the team should burn some tokens."
"The team is releasing DENT token too fast at the wrong moment, for prices too low, and this has a negative effect on the DENT token price."
"It's now almost 3 years since the ICO, hence DENT Wireless should be profitable nowadays."
For more in-depth analyses with respect to all 3 above statements, read this post "DENT token distribution and main company wallet releases".