Ask Me Anything (AMA) Questions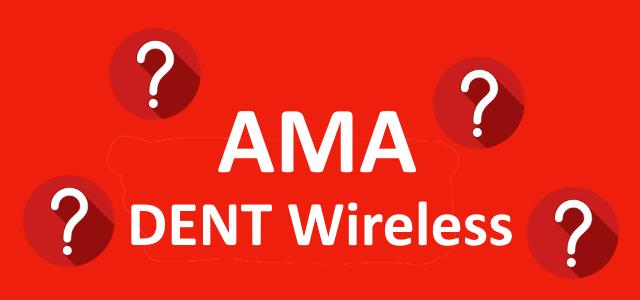 Throughout this website, in many posts and pages, we often made "suggestions and recommendations" for new features and/or we came up with tips with respect to the marketing of the DENT products and services.
As there was never a formal management "answer" to all our proposals, except the announced new features and the updated roadmap, we don't know what the status is about many of our "recommendations".
Also, sometimes we have to admit that we don't know everything about DENT Wireless' plans, policies, strategies, and roadmap.
Therefore, for the upcoming AMA, we made a list of all "outstanding" recommendations and questions we have, and about what subjects we want to get more background information.
The list is divided into:
Suggestions and recommendations about new features per DENT product/service (Apps, Exchange, Teams).
Suggestions and recommendations about marketing and pricing ideas.
Questions and clarification about new strategy as MVNO and upcoming roadmap items.
Other specific items for which we want more background information.
Specific questions about the DENT token (distribution, velocity, transaction volume).
So, let's start with the…
Suggestions and questions about new features
General DENT App features:
Are there any plans for "easy onboarding" without having to remember a new password by allowing users to use their Apple ID, Facebook, or Google account to log in?
Extra payment methods like Alipay or WeChat Pay?
Chat/Support feature inside the App (and on website)?
What does the team think about this feature? At checkout inside the DENT App, add a checkbox with option to buy some extra DENT credits for reasons as:

depositing into the Afterburner Vault.
as deposit for auto-renewals or pay-as-you-go minimum.
to get a discount "deal" on your DENT purchase
option to send some DENT to family members or friends.
DENT eSIM and Teams features:
We want to add as much additional "telco" services to the eSIM data plans? What about SMS? And when will the option to have your own telephone number be active (and with number portability or not)?
It isn't possible to see the remaining validity for the eSIM data plans inside the DENT Apps. Are there any plans to improve this and to have more features with respect to data usage and monitoring?
We want to see an auto-renewal option for both data and DENT. Hence, that when a user is going out of data that his credit card is automatically charged for a new data plan. Or better that his DENT balance is used to pay for the recharge. And of course, when running out of DENT, that new DENTs are automatically purchased. Any plans to add this feature?
For DENT Teams, we want to see an auto-sharing feature. For example, that the team manager (at every purchase) can automatically allocate or share a fixed number of GB to his team members.
Auto-sharing of DENTs between DENT App users. For example, a dad who want to give his kids a certain amount of DENT each month. Will this be possible as new Teams feature?
DENT Marketplace features:
Launch of the telco trading desk with onboarding of telcos who offer packages directly on the marketplace. End of story?
What does the team think about an auction based marketplace for selling (new or unused) eSIM data?
DENT Voice features:
We want a longer duration, extended from the current 90 days to 365 days (just the same as with the eSIM data plan duration).
But preferable, we would like to see that voice minutes are offered in the form of a "Pay as you go" model.
DENT Earn Tab features:
Dent daily (video ad) rewards should be based upon received (USD) ad income. So, rewards should be higher for Tier1 countries, and lower for countries with lower ad income (per video view). Any plans to change this in the future?
Why is the Earn Tab inaccessible in many countries? At least, the reason should be communicated more clearly and there should be a "mechanism" that users are notified when this feature is "on" again. Just checking periodically is very annoying and frustrating.
DENT Afterburner features:
Of course, every addition or improvement of the Afterburner Loyalty Program is highly appreciated. Think about:
Add Afterburner Loyalty Program to DENT iOS App if it can be adjusted such that it will be approved by Apple in accordance to their TOS.
Or add the AB to the DENT Teams web application. Especially important for iOS users who can't have access to DENT Exchange (as they live outside the 43 "supported" countries.
Or create a "DENT Exchange Lite" with just one functionality, the AB Program (here users can't trade, have to do the proper KYC, and can only deposit and withdraw into/from AB Vault. Again to give iOS App users the option to get access to the AB Loyalty program.
Increase maximum for DENT App users to 10 million DENT but allow users to withdraw all DENT above 2 million (or other threshold). (Note: most of the users who have more than 2 million did buy these DENT and did not acquire them via incentives).
Some extra benefits, we like to see:

Add discount percentages to the Afterburner Loyalty Program. For example, if you have X amount DENT locked up, you'll get Y% discount on all your DENT App purchases. Of course, as with the other benefits and discounts, the more you lock the higher the discount percentage.
[Already included in the roadmap] eSIM data benefits. Either a free amount of MB each 14 days, or a discount percentage.
Auto-renewal feature where the AB Vault is automatically used to pay for preset auto-renewal purchases.
Extra benefits and discount the longer you'll keep your DENT in the Afterburner Vault.
DENT Exchange features:
Increase the daily ($1,000) and monthly ($5,000) withdrawal limits.
Make DENT/USDT the main trading pair, and skip the DENT/BTC trading. (Where the USDT should be transferred to a "better and by SEC supported stable coin (CBDC) if applicable)
Allow users from more than the current 43 countries to open an account on DENT Exchange.
Suggestions and questions about marketing and pricing
Most data and prepaid packages in the Marketplace have non-competitive prices. (Not only inflated prices by traders, but also for non-tradeable packages offered by DW). Even, sometimes multiple times higher than the local carrier charges his own users. This is a very bad user experience… What is DW going to do about it?
DENT eSIM: Instead of the one worldwide plan, will the team add more individual country or regional plans, and/or come up with a Pay As You Go plan?
Will DW come up with a website store where (new) users can easily buy all products (from their PC or laptop) in addition to in-app purchases?
We want to see more DENT usage discounts/benefits (for users who use DENT instead of fiat payments). Think about extra discounts, DENTbacks (cashback in DENTs, for example, get 1,000 DENTs for each purchased 1GB), or bulk DENT (credits) discounts. Any plans to stimulate DENT usages?
Does DW consider partnerships with:

an international online "eSIM unlock service"?
VPN provider?
OEM supplier as Samsung or Apple to install the DENT App as firmware?
Travel agencies (bookings, flights, hotels, car rentals)?

Any improvements with respect to the referral program? 100 DENTs is not that exciting. Especially, if you can only use these DENTs for in-app telco purchases.
Introduction of an affiliate program?
What will DW do to improve its web presence and SEO ranks?
What are the plans to re-activate the majority of the 25+ million "inactive" users? Some of our ideas:

Make the prices of data and prepaid packages competitive (this assumes that DW can purchase these top-ups from the local carriers). For the non-tradeable packages, DW can set the pricing as they want. For the tradeable packages, this means sufficient supply to keep pricing low, or just stop the trading platform.
Keep prices higher but allow users to earn more free DENTs by turning "on" the Earn Tab, and make improvements with respect to the Earn Tab like extra tasks, surveys, ads, and offers.
Launch a worldwide DENT physical SIM card like other providers as OnlySIM, WorldSIM, HelloSIM, SIMcorner, Keepgo, AIS, etc. All these providers now have a "worldwide" SIM card, but still, no eSIM product while others as Surfroam, MTX Connect, OneSimCard have both a physical SIM card solution and an eSIM solution.
Of course, DW can also partner with one of the above mentioned "providers" who will take care of the SIM users while DW will take care of the eSIM users…

Does the team consider to become an Amazon Merchant and offer the DENT eSIM plans in all international Amazon stores?
Please more details about the new distribution channels as GigaStore, Cloud Telco Stack, IoT platform, and businesses (Teams). What kind of ne DENT products and services are going to be offered?
Questions and clarification about new strategy as MVNO and upcoming roadmap items.
Before discussing the new roadmap items, it's probably a good plan to give some extra background information (and consequences) about the change in direction as originally aimed in the whitepaper from "building a transparent marketplace for selling, buying and donating mobile data packages" into the new direction "DENT Wireless as your new digital and global mobile operator".
Especially, which "old" roadmap and white paper items have been "removed" from the roadmap and what their current status is. Questions as:
Is the aimed telco trading desk out of sight or still an option?
Will there ever be a marketplace for selling unused carriers' "SIM" data?
What about the B2B (low latency) trading desk?
Below is the list of the roadmap items for the next 10 months. As these are just highlighted in a single sentence, maybe some need more explanation. So, a short status update and explanation of each item will be appreciated.
Still outstanding Key Milestones for Q3/ 2020
List DENT Exchange BTC market on CoinMarketCap. Why does it take that long to get more than an untracked listing? What's the current status?
Research and development on GGSN technology to enable local breakout to save mobile network capacity and to make data transfers faster for the users. More details please.
Key Milestones for Q4/ 2020:
Develop a prototype of DENT eSIM with an embedded telephone number. Number portability possible?
Launch DENT Gigastore for B2B resellers to enable global distribution for travelers. More details please.
Improve offer wall functionality for app users. The latest release is not really an improvement especially as rewards are lower than before. Any plans to really improve it and get higher rewards?
Launch digital coupons to make data sharing more easy. Are these the recently introduced redeem codes? Or can users create coupons themselves?
Connect DENT with popular messaging apps like Apple iMessage, WhatsApp,  Facebook Messenger and others to be able to send data packages in an integrated way. Any plans to also allow DENT App users to transfer DENTs to other DENT App users?
Add eSIM benefits for Afterburner. Discount percentage, free data every 14 days, or other form of benefits?
Research on SM-DP+ Technology for eSIM management, to extend the "Cloud Telco" platform of DENT Wireless. More details please.
Key Milestones for the fist half year 2021:
Enable DENT eSIM for Windows 10 tablets and laptops.
Launch Data Trading for eSIM on Exchange and on Mobile. As DENT iOS App users are not allowed to trade (i.e. earn crypto tokens) from within the app in accordance to Apple's developer guidelines, how will the team handle this with respect to unused data?
Launch a major update on DENT Exchange to enable new kind of trading experience for mobile assets. Can you tell us more about the type of trading. Will an auction model be used?
Launch a new world-wide marketing campaign, targeting travelers in international markets. More details please?
Launch eSIM Promotions on Facebook, Snapchat, Instagram and on Twitter. With DENT rewards for people who share?
Add reseller partners to open up the B2B sales channels. More details please.
Optimize device & network connectivity for Summer Olympics in Tokyo. Originally planned with a local partner to offer eSIM data plan for visitors in Japan. What has been changed in the plan?
Add 20 more countries in global pack for eSIM.
Research and development for a new iOT product' "eSIM on a chip" to create an open-source "operating system" for connected device to replace WLAN setup features with a pre-connected DENT eSIM on a chip for manufactures to embed onto their products as default. More details please.
Other specific items for which we want more background information
For DENT eSIM users while traveling abroad, it's not clear upfront which local carrier is being used and whether this carrier offers the best quality (bandwidth, speed, network type 2G/3G/LTE/4G/5G), or why this carrier is chosen. Some other Global eSIM providers do mention their international partners, and indicate that most of the network connections have a certain level as 4G/LTE. What's DWs policy?
We know that DW wants to "evaporate" international mobile data roaming costs with smart technical features (to save costs and data). Can you tell more about these technical features? Especially, in simple words what these terms mean for DW: smart break-out (local internet and IP addresses), traffic steering, circuit switched routing services, caching, nodes (GGSN and SGSN), and GPRS tunneling.
At the moment, there is no reporting about any business metrics. We used to get information about the number of registered users, and long ago we get some info about the number of active users. As token holders we want to see some progress and want to monitor business metrics.
Specific questions about the DENT token (distribution, velocity, transaction volume)
Why do DENT app users have to pay a markup on the market/conversion price if they buy one of the DENT credits $ bundles? Shouldn't DENT app users get a discount as they committed themselves to purchase future telco products from DW?
Are there any plans (other than improving the AB program) to stimulate DENT token holdings and/or to decrease token velocity)?
Can you be more transparent about the "these wallets" with total 22 billion DENT? I mean, the wallets financed from the main company wallet (wallet #4 6B DENT, wallet #6 5B DENT, wallet #7 5B DENT, wallet #8 4B, wallets #13 + #14 both 1B DENT)? Are they still owned by DW?
Are there any other wallets used for DENT Exchange and/or DENT App such as the wallets mentioned in the prior point? Are all DENTs kept by DENT (exchange and App) users kept in these DENT Exchange wallets?
How much DENT is being deposited (and locked) into the AB Vault?
Will there be any expected changes with respect to the DENT token releases from the main company wallet?
When does the team expect that all DENTs will be in circulation (i.e. the main company wallet is empty)?
What will be the major forces (i.e. products and/or distribution channels) that will increase the transaction volume in the coming years?
What's the team opinion about our proposal to set up a DENT/(W)ETH liquidity pool on decentral exchanges as UniSwap?
In this article DENT Token Velocity, we proposed a so-called "Virtual pay-as-you-go model". What does the team think about this idea?