About DENT Fans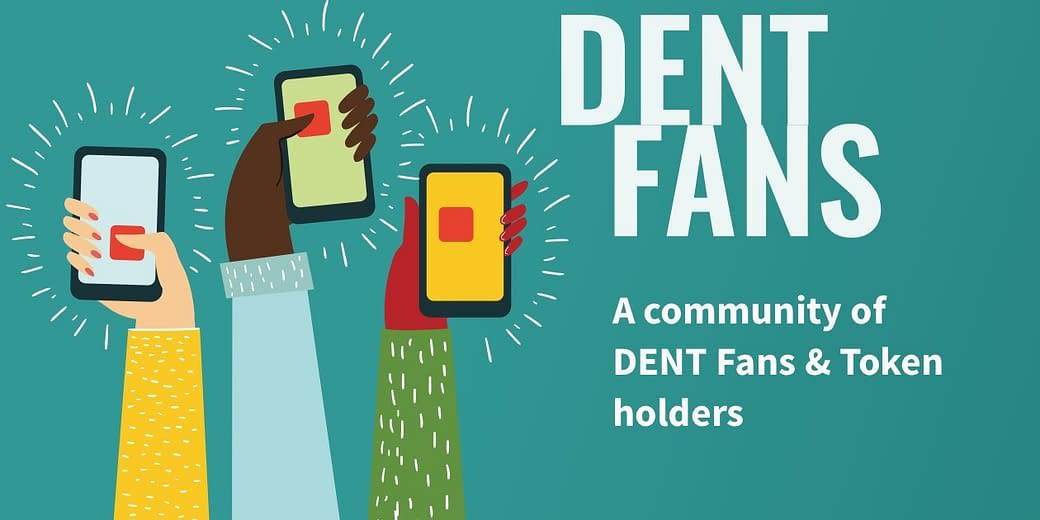 Hi, Welcome to DENT Fans.
Let us introduce ourselves.
We are a community of DENT fans and token holders who discuss and chat with each other in our Telegram Group – DENT Fans.
(The hyperlink is an invitation link to join our private Community on Telegram )
Here, we discuss everything related to DENT Wireless Limited, the DENT token, the progress of the DENT ecosystem, the mobile data market, news, and updates about products and services in the market. Well, just about anything that affects the mobile data market.
Why?
Because we want to be part of and contribute to DENT Wireless' mission…
"To disrupt and liberate the mobile data market and create a global marketplace using blockchain, where everyone on this planet has the opportunity to buy, sell, share (pool), and transfer mobile data packages between each other."
For us (as Fans) this means… A market place with "fair" prices without unnecessary barriers and restrictions (as long-term contracts), and/or high costs (as international roaming costs), or inefficient and time-consuming procedures (as changing SIM cards or need to visit a store (instead of using the internet)."
Some other background information copied from the original DENT Wireless Whitepaper (July 2017)…
"The telco industry is a complicated, fragmented mess and so 1990's. There are a handful of telcos in each country, isolated silos that don't interoperate properly with each other on the mobile market. Telco users are stuck in a trap, where their purchased data packages expire every month, even if they paid for it. We are striving to liberate it, while creating new opportunities for telcos too."
3 key points on how to disrupt mobile operators – Mikko Linnamäki, Co-Founder @ Dent Wireless
3 Disruption Megatrends on Mobile Operator Business that DENT is addressing: (Source: Whitepaper)
Liberation of Mobile Data. DENT enables a "Data Sharing Economy" where users are able to freely buy, sell, transfer, and share their mobile data, from any user to any user. The DENT Exchange acts as horizontal marketplace for trading of mobile data. The DENT Token will be the world-wide currency for Mobile Data between telcos and the user community.
Roaming. DENT facilitates the removal of data roaming cost drivers, such as expensive routings between telcos. For example, with local data break-out, the foreign telco terminates the user traffic directly to the internet, instead of routing the pay-load to the home telco.
Automated IoT data purchases. DENT enables automated purchase capability of data packages for consumers and IoT devices. The user always gets the best price from the mostsuitable operator in his region, without having to worry about buying too much or too little data. Operators can easily connect with the DENT platform to serve a global customer base, without the need to establish silo'ed own platforms. Hence, no fixed contracts and spoiling of unused data but purchases based upon actual usages and when needed.
We as Fans really like Steve Jobs quote, and want to put a dent in the universe ourselves…
To help and contribute to the DENT team with their mission and vision.
We think mobile data and easy internet access is a "basic need" for anyone on this planet, just like water, food, health care, and energy.
---
Disclaimer: No affiliation or relationship with DentWireless Ltd:
This site is not part of the Dentwireless.com website or DENT Wireless Ltd. Additionally, this site is NOT endorsed by DENT Wireless Ltd. in any way. DENT is a trademark of DentWireless Ltd.
---
What to expect on this DENT Fans website?
As we are a "community", in the daily chats we often have to explain or refer to "basic" information. But it can be annoying to see the same explanations or questions over and over again.
So, we wanted to have a place where we can refer to with all necessary information about the DENT products and DENT token related subjects. This website has the objective to achieve this goal and is the place where…
We target 3 groups of audiences:
DENT App and DENT Exchange users.
DENT Token holders.
DENT Wireless' Management Team.
DENT App and DENT Exchange users
Of course, we advice you to visit the official DentWireless.com website, but our Fans website has a broader goal…
For the DENT users we go into much detail about all current products. Think about the purpose, features, benefits, possible shortcomings, upcoming features, wanted extra features and improvements, and answers on frequently asked questions about the product.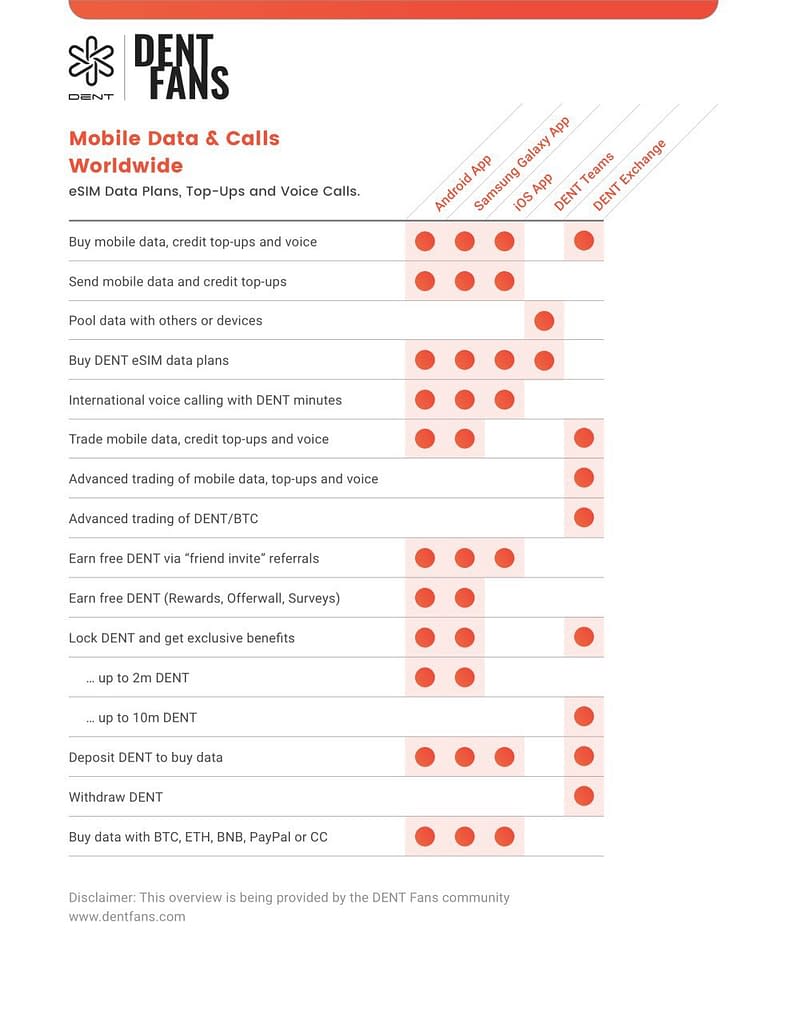 Check your individual situation…
Besides the distinction based upon different types of mobile operating systems (Android, iOS, Samsung Galaxy), and distinction between DENT Apps and the DENT Exchange, it depends on your situation whether or not you can use all these features:
Who your local telco provider is, and whether or not you can buy mobile data or prepaid top-ups from inside the DENT Marketplace for this provider. (See list of supported countries and operators)
What type of mobile phone you have? eSIM enabled or not.
Where you live. "Only" inhabitants of 43 countries are allowed to open up an account on DENT Exchange (due to different legal international policies about exchanges). Also referral bonuses and Offer Wall offers are subject to availability and are different in each country.
Where you are abroad? You can use DENT eSIM in 60 countries.
If you have internet access or not. You can only use DENT Global Voice Calling (to call to any mobile or landline in 141 countries) if the caller has internet access as it uses VoIP technique. (Note: the receiver doesn't need internet access, just a mobile phone or landline)
Below the links to all current DENT products (as described and analyzed in-depth on this website):
Note: these posts above are continuously updated with the latest updates or insights.
DENT Token holders
Of course, an understanding of all the product ins and outs is essential for token holders, but we also have some specific blog posts for token holders:
DENT Wireless' Management Team
In our DENT "product" articles, we often end the article with wanted extra features. Of course, we hope that DWs management will introduce, or at least will consider our wanted features.
Also inside the "token" and "marketing" articles, there are many tips and recommendations about how DW can improve the products, marketing, and/or tokenomics.
We base our articles on publicly available information and often have to make assumptions without knowing all the details.
Especially, with new upcoming products or features, we have to make guesses how these will look like in the future. Based upon these guesses and common knowledge, we try to predict the possible effects.
We don't look just at the positive effects, but also take into account the possible negative effects.
Just as with the existing "product" features, we'll discuss the "good", the "bad", and the "ugly".
The idea is not to spread FUD or negative information. However, if we don't like something about the (current and future) products and policies (especially viewed from a DENT token holder's viewpoint), we give our opinion and arguments about what we think can be improved and what we want the management to change.
This website is our "mean" to "talk to" DWs management. Even if the team doesn't respond to all our recommendations (and sometimes "worries" and "frustrations").
So, although we are DENT Fans, we are also critical, and we are always looking for ways to improve the products, marketing, and token economics.
We believe in "transparency" but we can understand that the team doesn't want to discuss with us "in public" about all possible improvements or made choices.
Of course, we understand that sometimes the team prefers to keep (part of the) information "secret" as they don't want to inform their competitors about all the (strategic and marketing) plans.
On the other hand, we as DENT token holders, of course, to "advise" the team and make proper investment decisions, we want as much (background) information as possible.
Therefore, we made a list of all questions we would like to be answered by the team, preferable via an AMA session.
We hope that members of DWs management and marketing team will have a look at our website once in a while and will internally discuss our "proposals".
But of course, DWs team members are always welcome to discuss these items in our DENT Fans Telegram Chat Group.
---
Disclaimer: The content on this website is for informational purposes only, you should not construe any such information or other material as legal, tax, investment, financial, or other advice. Nothing contained on our site constitutes a solicitation, recommendation, endorsement, or offer by DENT Fans to buy or sell DENT tokens or any securities or other financial instruments.
---
As we discuss the progress in our Telegram Group, we often don't use comments on our blog posts. But of course, you can comment by replying to tweets on our Twitter Page or post messages inside our Telegram Chat Group.
If you have any remarks about this website, please contact us via [email protected]
Enjoy the DENT experience…
DENT Donation Wallet address:
0x81f8548a9a44De71dDEF106b874B4351c55F4d85